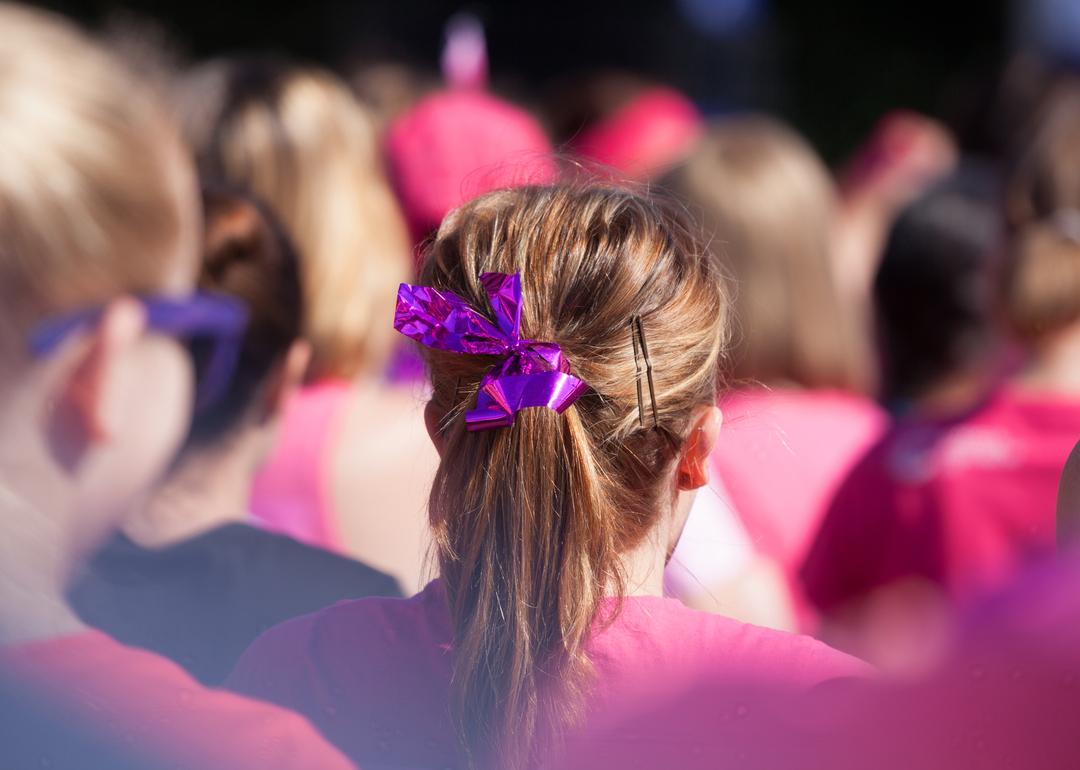 States with the highest cancer rates
Anita van den Broek // Shutterstock
States with the highest cancer rates
An estimated 38% of adults will be diagnosed with cancer in their lifetimes, according to the National Cancer Institute, making cancer a top medical priority: National Center for Health Statistics reports cancer is the most-researched disease in the U.S.
The National Institutes of Health dedicated more than $6 billion to cancer research in 2020. While this research has led to new treatments contributing to a consistent decrease in cancer mortality rates throughout the 21st century, about one-third of patients will not survive five years after their diagnoses. This threat is still a long way from being eradicated.
It's difficult to generalize trends of how cancer spreads across different populations. The term "cancer" in fact refers to a collection of more than 100 related diseases, each of which involves a breakdown in normal body processes due to cells dividing uncontrollably and spreading into surrounding areas. Every one of these individual diseases has different potential causes, and scientists are still hard at work identifying links between possible carcinogens and actual disease rates. Still, we can see a clear variation between groups of people on a geographic level—particularly when comparing cancer rates across all 50 U.S. states. What factors might cause some states to have more people diagnosed with cancer each year, while other states have less? These questions are still being investigated, but hospitals and other research centers in every state are working to find answers.
To examine this geographic distribution, Stacker used data from the Centers for Disease Control and Prevention, which carefully track the rates at which cancer affects the American population. We ranked all 50 states and the District of Columbia by their incidence rates of cancer in 2017 (the most recent data available). The incidence rate refers to the number of people out of 100,000 who are diagnosed with cancer in a given year and is age-adjusted to the 2000 U.S. standard population. We've also included incidence rates for the three most prevalent types of cancer in the U.S.: lung and bronchus cancer, prostate cancer, and breast cancer. Incidence rates for breast cancer and prostate cancer are only available for women and men respectively, even though both of these conditions may impact all genders. And, for 39 of 51 slides, the story includes local charities that support cancer patients and medical research in these states, collected via Charity Navigator.
Read on to find out how your state fares.
You may also like: Best states for health care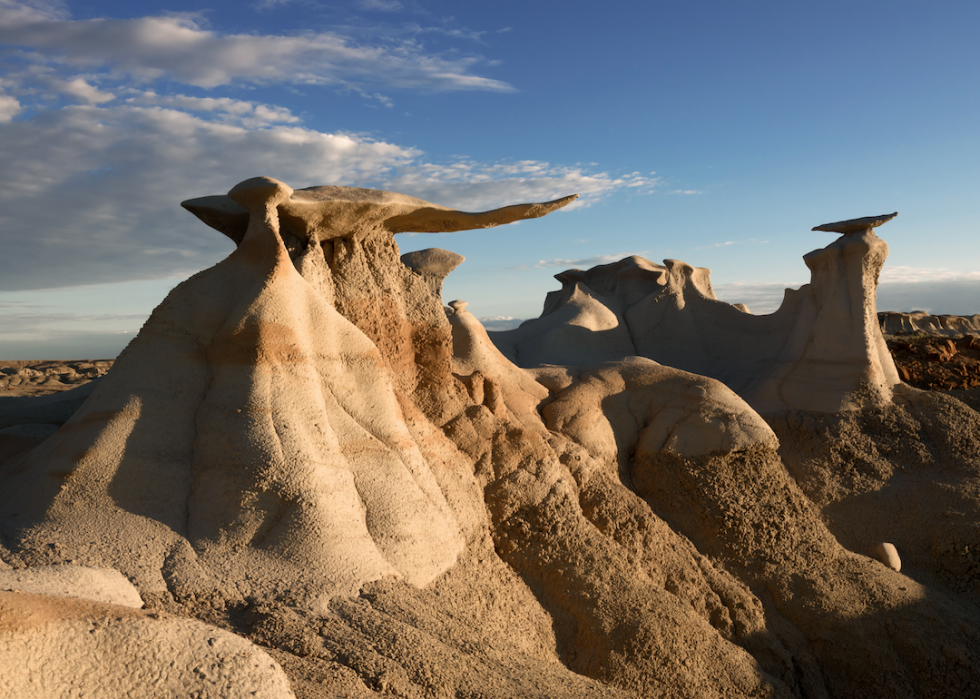 1 / 51
kojihirano // Shutterstock
#51. New Mexico
- Cancer rate: 361.1 new incidents per 100,000 people (17.6% below U.S. average)
- Cancer rate by gender: 373.5 per 100k men; 354.9 per 100k women
- Deaths due to cancer: 138.2 per 100k (9.7% below U.S. average; #7 lowest among all states)
- Lung and bronchus cancer rate: 33.7 per 100k (38.7% below U.S. average; #2 lowest among all states)
- Breast cancer rate: 112.7 per 100k women (9.8% below U.S. average; #6 lowest among all states)
- Prostate cancer rate: 81.7 per 100k men (23.6% below U.S. average; #2 lowest among all states)
- Notable local charity: Not applicable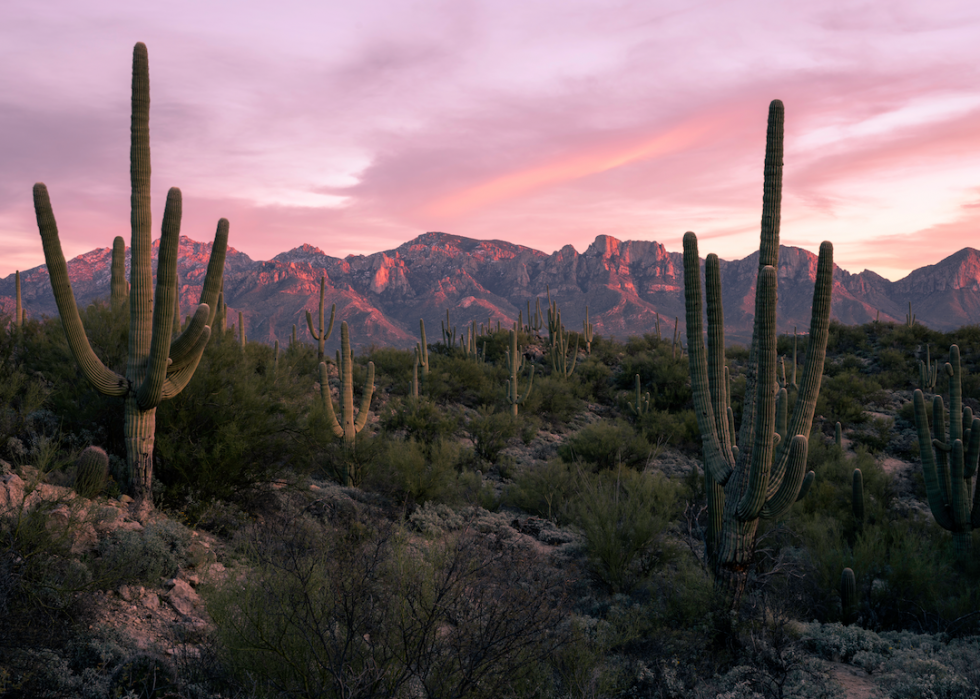 2 / 51
Yuko Smith // Shutterstock
#50. Arizona
- Cancer rate: 374.9 new incidents per 100,000 people (14.4% below U.S. average)
- Cancer rate by gender: 402 per 100k men; 355.3 per 100k women
- Deaths due to cancer: 134.9 per 100k (11.8% below U.S. average; #4 lowest among all states)
- Lung and bronchus cancer rate: 43.3 per 100k (21.3% below U.S. average; #7 lowest among all states)
- Breast cancer rate: 109 per 100k women (12.8% below U.S. average; #2 lowest among all states)
- Prostate cancer rate: 79.7 per 100k men (25.5% below U.S. average; #1 lowest among all states)
- Notable local charity: Southwest Center for HIV/AIDS (Charity Navigator score: 85.63, Goal: All are welcome here!)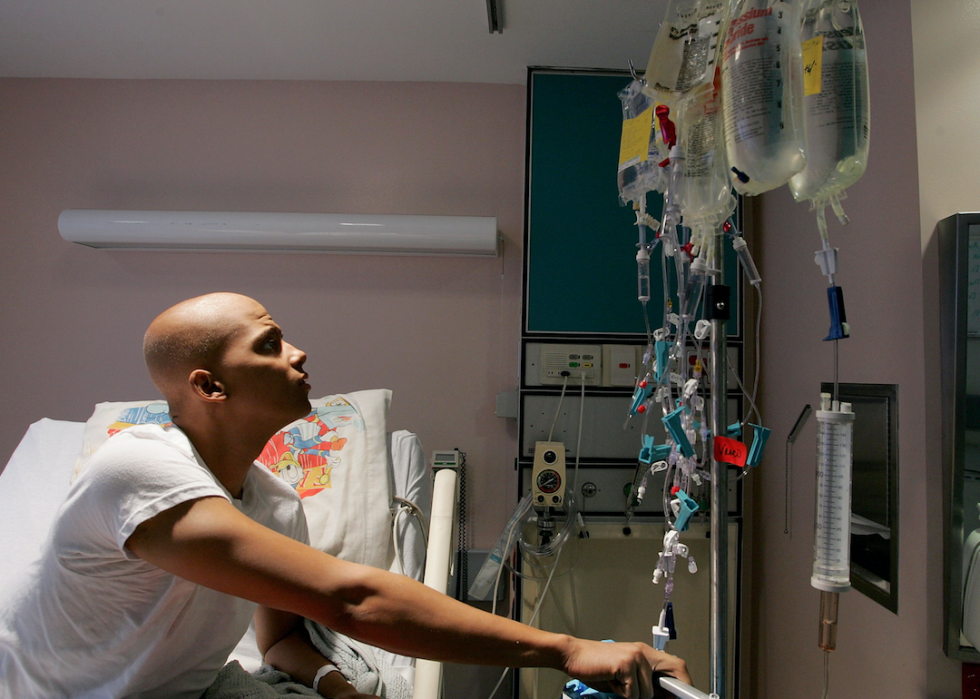 3 / 51
Justin Sullivan // Getty Images
#49. California
- Cancer rate: 392.4 new incidents per 100,000 people (10.4% below U.S. average)
- Cancer rate by gender: 416.1 per 100k men; 379.2 per 100k women
- Deaths due to cancer: 137.2 per 100k (10.3% below U.S. average; #6 lowest among all states)
- Lung and bronchus cancer rate: 38.8 per 100k (29.5% below U.S. average; #3 lowest among all states)
- Breast cancer rate: 121.2 per 100k women (3.0% below U.S. average; #19 lowest among all states)
- Prostate cancer rate: 93.9 per 100k men (12.2% below U.S. average; #9 lowest among all states)
- Notable local charity: Cancer Support Community San Francisco Bay Area (Charity Navigator score: 97.53, Goal: Facing cancer together)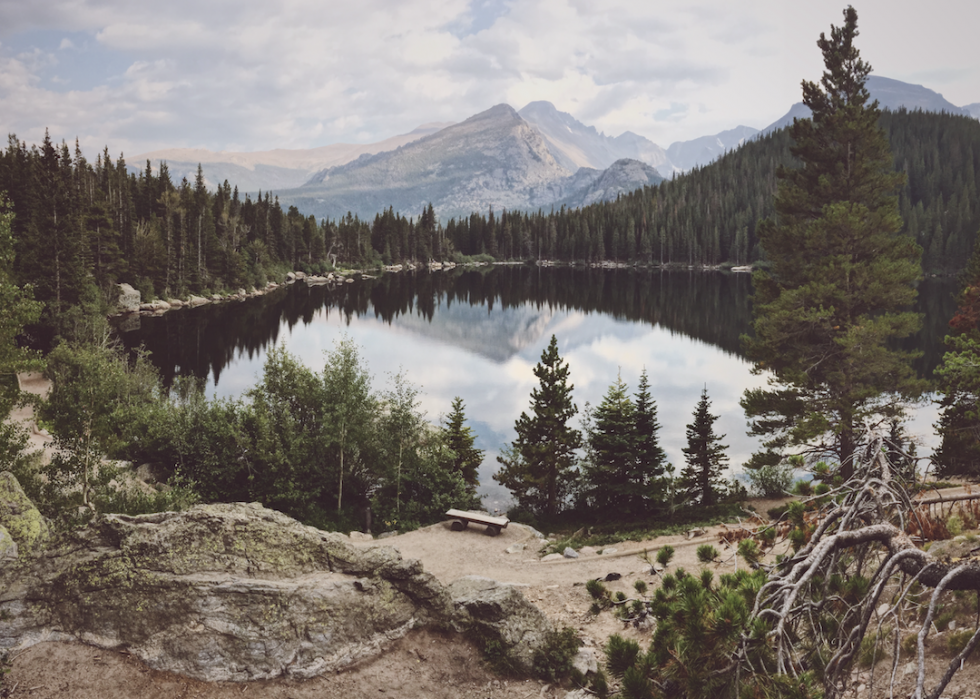 4 / 51
#48. Colorado
- Cancer rate: 394.3 new incidents per 100,000 people (10.0% below U.S. average)
- Cancer rate by gender: 405.5 per 100k men; 391.5 per 100k women
- Deaths due to cancer: 131.1 per 100k (14.3% below U.S. average; #3 lowest among all states)
- Lung and bronchus cancer rate: 39.8 per 100k (27.6% below U.S. average; #5 lowest among all states)
- Breast cancer rate: 132 per 100k women (5.6% above U.S. average; #17 highest among all states)
- Prostate cancer rate: 91.2 per 100k men (14.8% below U.S. average; #7 lowest among all states)
- Notable local charity: Family Resource Center Association (Charity Navigator score: 96.66, Goal: Providing a comprehensive approach to improving self-sufficiency for families and individuals)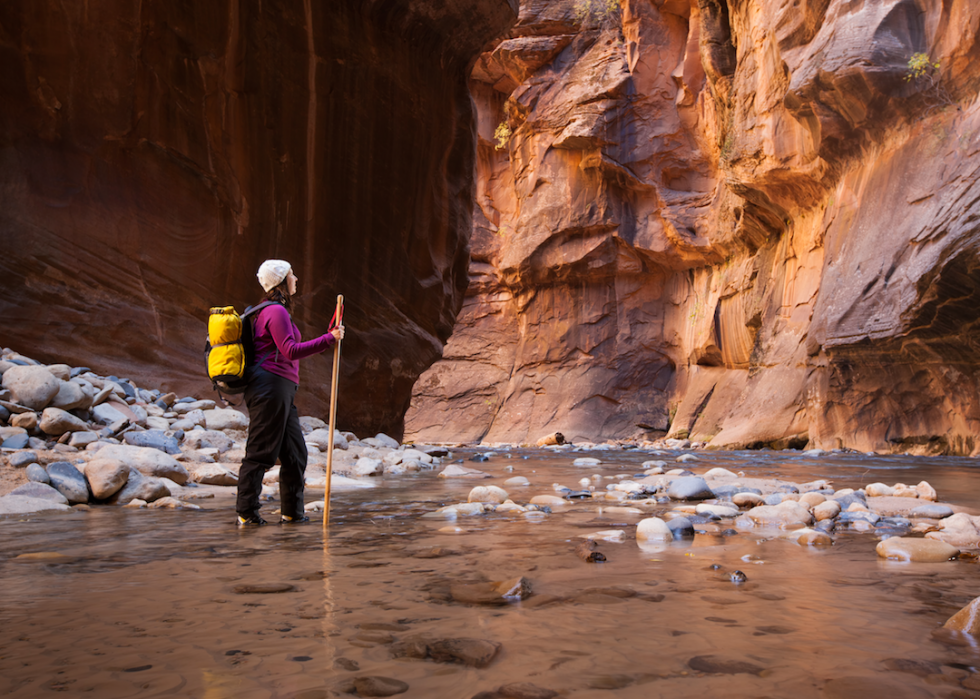 5 / 51
Jim David // Shutterstock
#47. Utah
- Cancer rate: 397.1 new incidents per 100,000 people (9.3% below U.S. average)
- Cancer rate by gender: 438.9 per 100k men; 365.4 per 100k women
- Deaths due to cancer: 121 per 100k (20.9% below U.S. average; #1 lowest among all states)
- Lung and bronchus cancer rate: 25.1 per 100k (54.4% below U.S. average; #1 lowest among all states)
- Breast cancer rate: 112.4 per 100k women (10.1% below U.S. average; #4 lowest among all states)
- Prostate cancer rate: 112.3 per 100k men (5.0% above U.S. average; #23 highest among all states)
- Notable local charity: Crossroads Urban Center (Charity Navigator score: 93.95, Goal: Fighting Poverty and Building Community)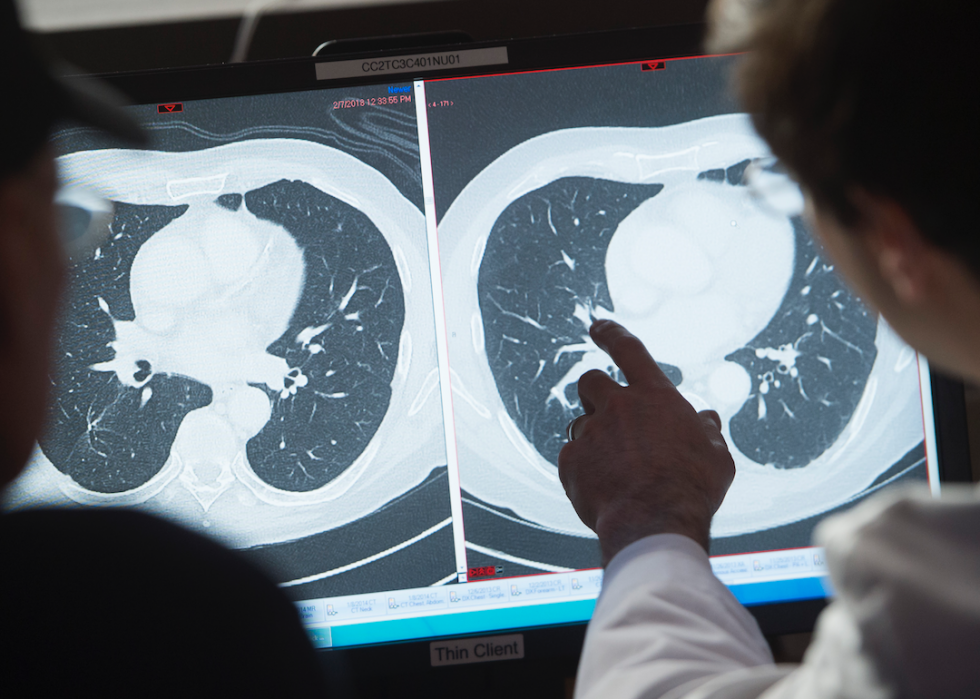 6 / 51
SAUL LOEB/AFP // Getty Images
#46. Virginia
- Cancer rate: 400 new incidents per 100,000 people (8.7% below U.S. average)
- Cancer rate by gender: 431.9 per 100k men; 379.3 per 100k women
- Deaths due to cancer: 152.5 per 100k (0.3% below U.S. average; #21 lowest among all states)
- Lung and bronchus cancer rate: 51.3 per 100k (6.7% below U.S. average; #15 lowest among all states)
- Breast cancer rate: 121.1 per 100k women (3.1% below U.S. average; #18 lowest among all states)
- Prostate cancer rate: 99.7 per 100k men (6.8% below U.S. average; #18 lowest among all states)
- Notable local charity: The Lamb Center (Charity Navigator score: 95.84, Goal: Serving the poor and homeless, transforming lives, and sharing God's love)
7 / 51
michelmond // Shutterstock
#45. Texas
- Cancer rate: 400.1 new incidents per 100,000 people (8.7% below U.S. average)
- Cancer rate by gender: 443.6 per 100k men; 369.4 per 100k women
- Deaths due to cancer: 147.3 per 100k (3.7% below U.S. average; #15 lowest among all states)
- Lung and bronchus cancer rate: 47.8 per 100k (13.1% below U.S. average; #11 lowest among all states)
- Breast cancer rate: 112.6 per 100k women (9.9% below U.S. average; #5 lowest among all states)
- Prostate cancer rate: 98.7 per 100k men (7.8% below U.S. average; #15 lowest among all states)
- Notable local charity: The Children's Assessment Center Foundation (Charity Navigator score: 100, Goal: Providing a safehaven to sexually abused children and their families)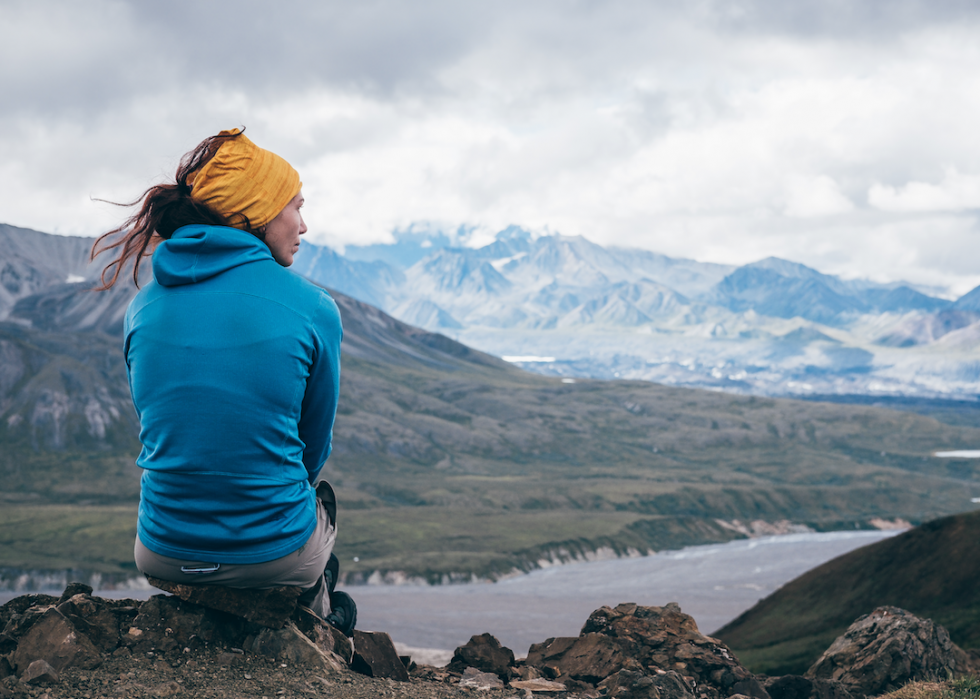 8 / 51
attilio pregnolato // Shutterstock
#44. Alaska
- Cancer rate: 404.5 new incidents per 100,000 people (7.6% below U.S. average)
- Cancer rate by gender: 427.3 per 100k men; 387.4 per 100k women
- Deaths due to cancer: 139.8 per 100k (8.6% below U.S. average; #9 lowest among all states)
- Lung and bronchus cancer rate: 52.9 per 100k (3.8% below U.S. average; #18 lowest among all states)
- Breast cancer rate: 111.2 per 100k women (11.0% below U.S. average; #3 lowest among all states)
- Prostate cancer rate: 89.5 per 100k men (16.4% below U.S. average; #4 lowest among all states)
- Notable local charity: Not applicable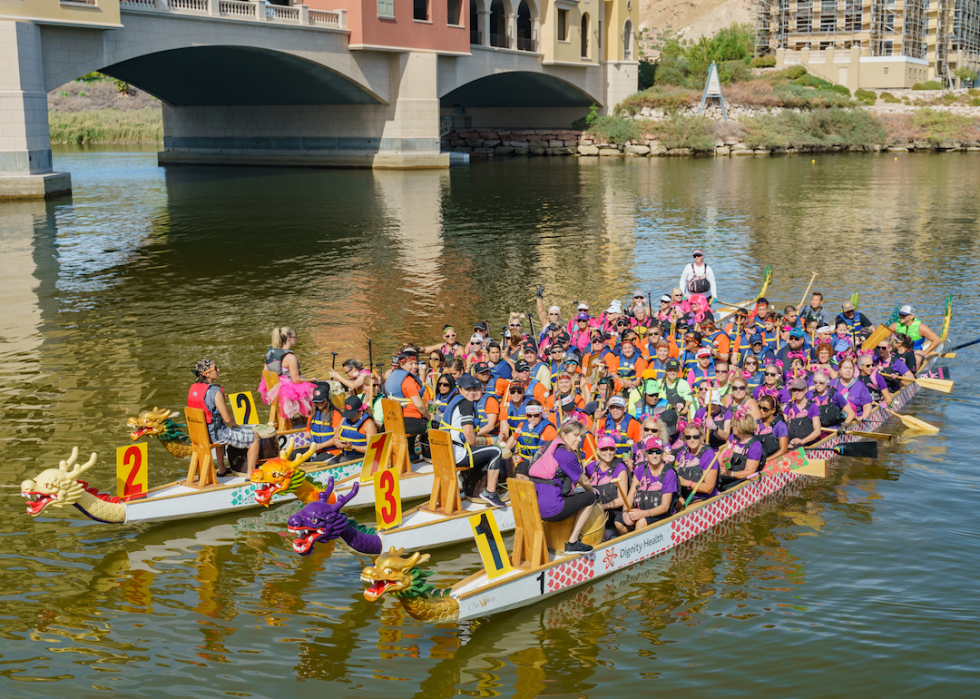 9 / 51
Kit Leong // Shutterstock
#43. Nevada
- Cancer rate: 405.4 new incidents per 100,000 people (7.4% below U.S. average)
- Cancer rate by gender: 421.6 per 100k men; 394.8 per 100k women
- Deaths due to cancer: 156.3 per 100k (2.2% above U.S. average; #23 highest among all states)
- Lung and bronchus cancer rate: 48.5 per 100k (11.8% below U.S. average; #13 lowest among all states)
- Breast cancer rate: 118 per 100k women (5.6% below U.S. average; #11 lowest among all states)
- Prostate cancer rate: 95.5 per 100k men (10.7% below U.S. average; #12 lowest among all states)
- Notable local charity: Nevada Childhood Cancer Foundation (Charity Navigator score: 91.4, Goal: Improving the quality of life for children and adults fighting a daily battle against disease)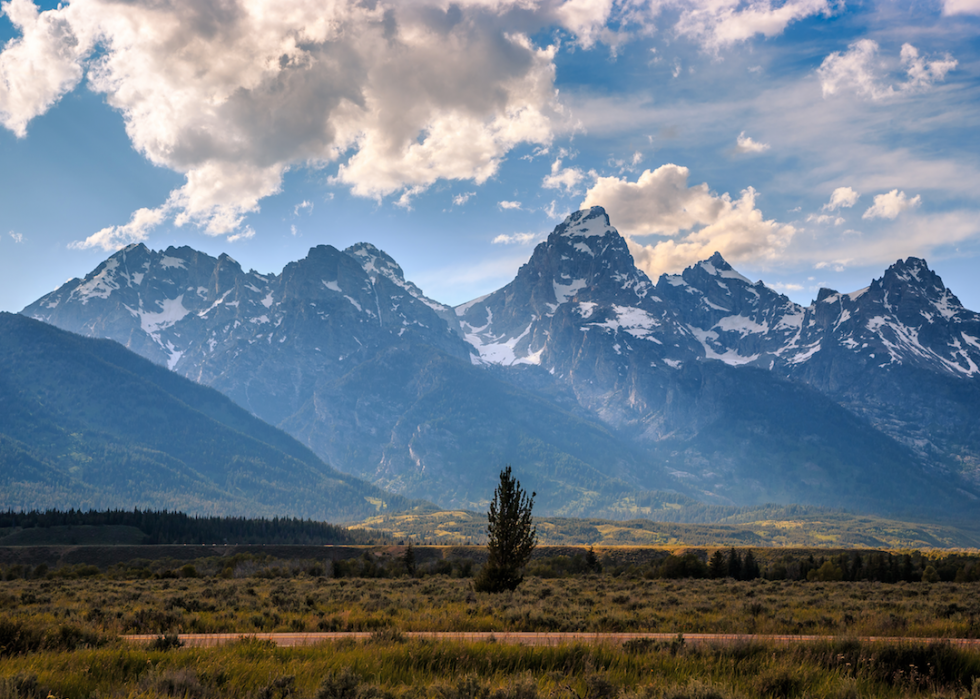 10 / 51
Stephen Moehle // Shutterstock
#42. Wyoming
- Cancer rate: 411.7 new incidents per 100,000 people (6.0% below U.S. average)
- Cancer rate by gender: 451.9 per 100k men; 377.3 per 100k women
- Deaths due to cancer: 136 per 100k (11.1% below U.S. average; #5 lowest among all states)
- Lung and bronchus cancer rate: 39.6 per 100k (28.0% below U.S. average; #4 lowest among all states)
- Breast cancer rate: 107.6 per 100k women (13.9% below U.S. average; #1 lowest among all states)
- Prostate cancer rate: 126.7 per 100k men (18.4% above U.S. average; #10 highest among all states)
- Notable local charity: Not applicable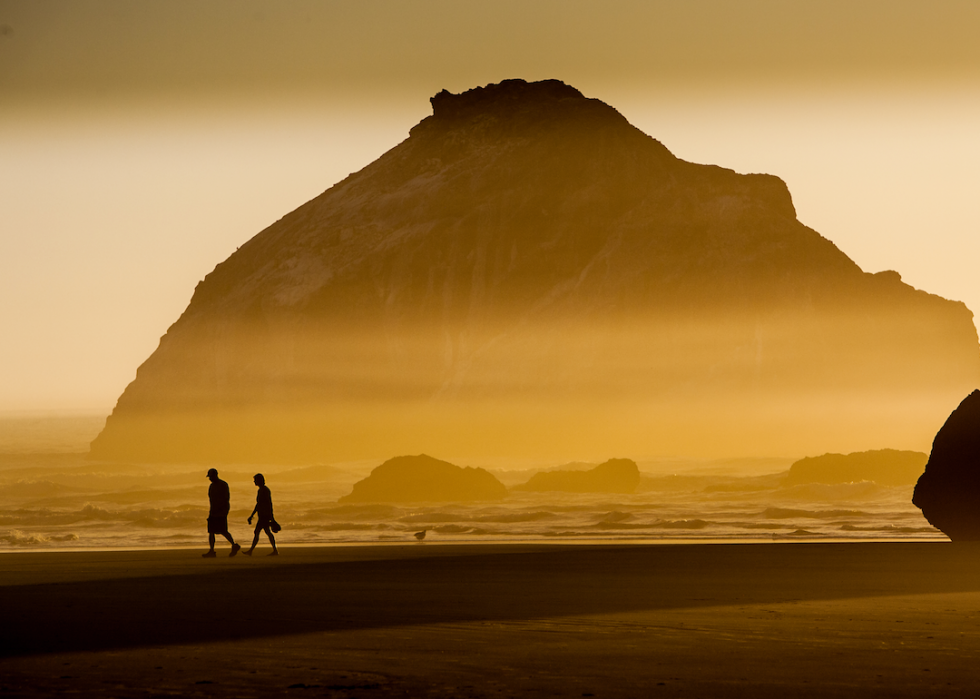 11 / 51
#41. Oregon
- Cancer rate: 412.2 new incidents per 100,000 people (5.9% below U.S. average)
- Cancer rate by gender: 435.6 per 100k men; 397 per 100k women
- Deaths due to cancer: 154.1 per 100k (0.7% above U.S. average; #25 highest among all states)
- Lung and bronchus cancer rate: 48.4 per 100k (12.0% below U.S. average; #12 lowest among all states)
- Breast cancer rate: 119 per 100k women (4.8% below U.S. average; #15 lowest among all states)
- Prostate cancer rate: 91.2 per 100k men (14.8% below U.S. average; #7 lowest among all states)
- Notable local charity: Pearl Buck Center (Charity Navigator score: 97.17, Goal: Offering people with various abilities and their families quality choices and supports to achieve their goals)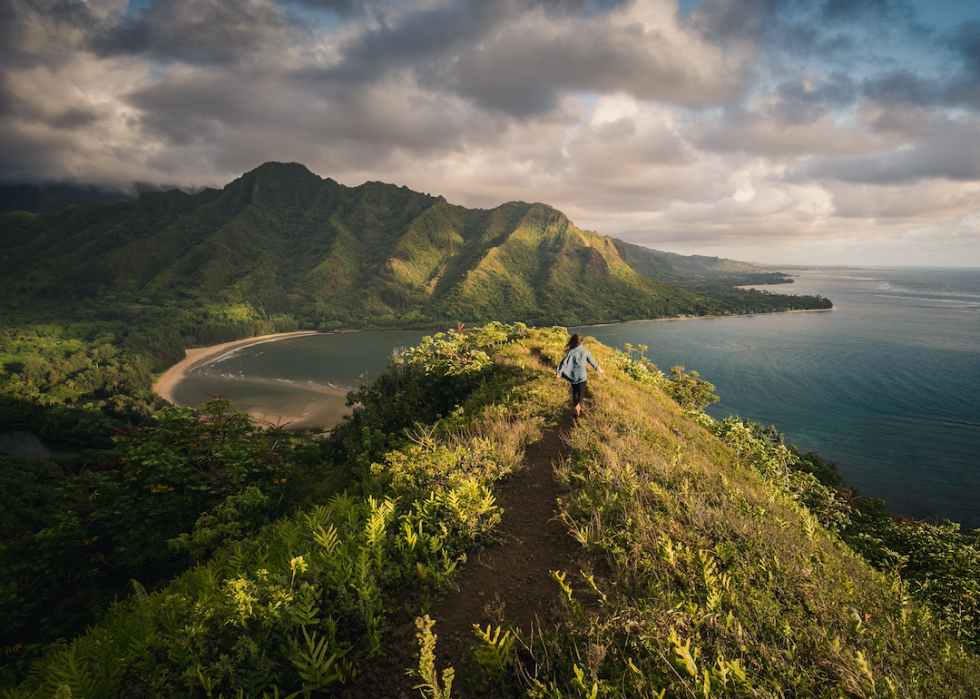 12 / 51
#40. Hawaii
- Cancer rate: 418.9 new incidents per 100,000 people (4.4% below U.S. average)
- Cancer rate by gender: 440.3 per 100k men; 408.9 per 100k women
- Deaths due to cancer: 128.5 per 100k (16.0% below U.S. average; #2 lowest among all states)
- Lung and bronchus cancer rate: 44.7 per 100k (18.7% below U.S. average; #8 lowest among all states)
- Breast cancer rate: 144.3 per 100k women (15.4% above U.S. average; #2 highest among all states)
- Prostate cancer rate: 98.9 per 100k men (7.6% below U.S. average; #16 lowest among all states)
- Notable local charity: Not applicable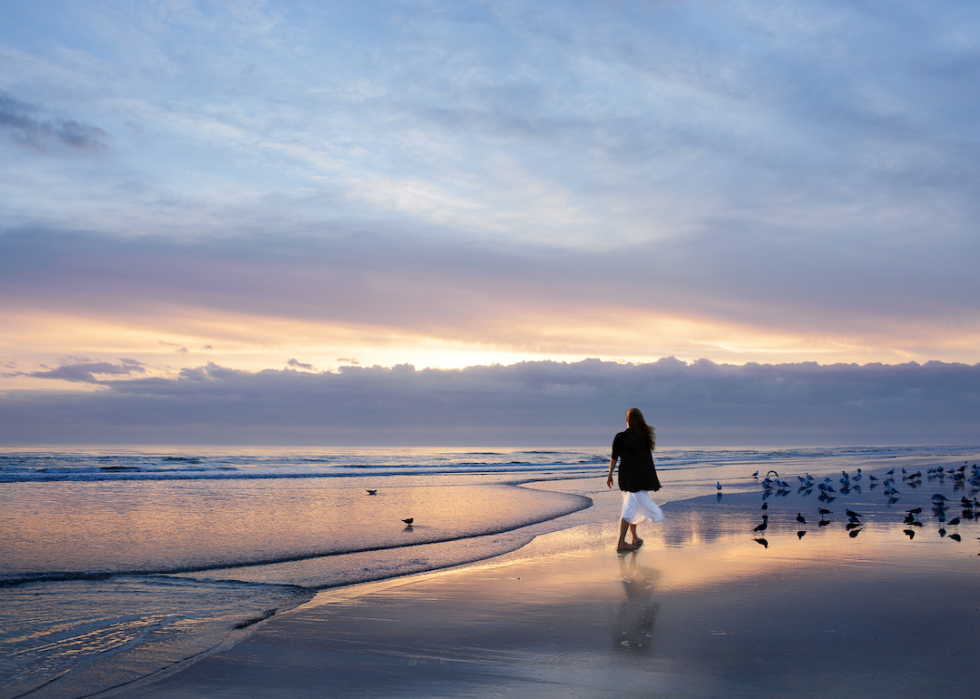 13 / 51
margaret.wiktor // Shutterstock
#39. Florida
- Cancer rate: 426.1 new incidents per 100,000 people (2.7% below U.S. average)
- Cancer rate by gender: 456 per 100k men; 405.2 per 100k women
- Deaths due to cancer: 145.3 per 100k (5.0% below U.S. average; #12 lowest among all states)
- Lung and bronchus cancer rate: 54.2 per 100k (1.5% below U.S. average; #20 lowest among all states)
- Breast cancer rate: 113.7 per 100k women (9.0% below U.S. average; #7 lowest among all states)
- Prostate cancer rate: 84.1 per 100k men (21.4% below U.S. average; #3 lowest among all states)
- Notable local charity: Florida Breast Cancer Foundation (Charity Navigator score: 100, Goal: To end the suffering caused by breast cancer)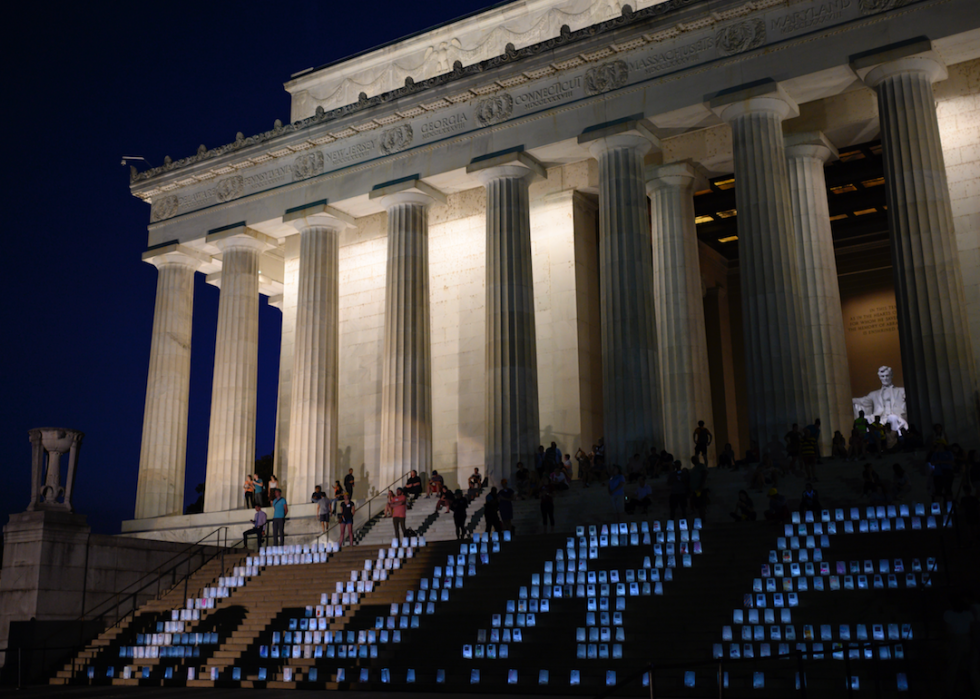 14 / 51
ERIC BARADAT/AFP // Getty Images
#38. District of Columbia
- Cancer rate: 429.5 new incidents per 100,000 people (1.9% below U.S. average)
- Cancer rate by gender: 467.1 per 100k men; 409.1 per 100k women
- Deaths due to cancer: 152.5 per 100k (0.3% below U.S. average; #21 lowest among all states)
- Lung and bronchus cancer rate: 42.8 per 100k (22.2% below U.S. average; #6 lowest among all states)
- Breast cancer rate: 145.9 per 100k women (16.7% above U.S. average; #1 highest among all states)
- Prostate cancer rate: 143 per 100k men (33.6% above U.S. average; #1 highest among all states)
- Notable local charity: Smith Center for Healing and the Arts (Charity Navigator score: 83.38, Goal: Community. Creativity. Cancer Support.)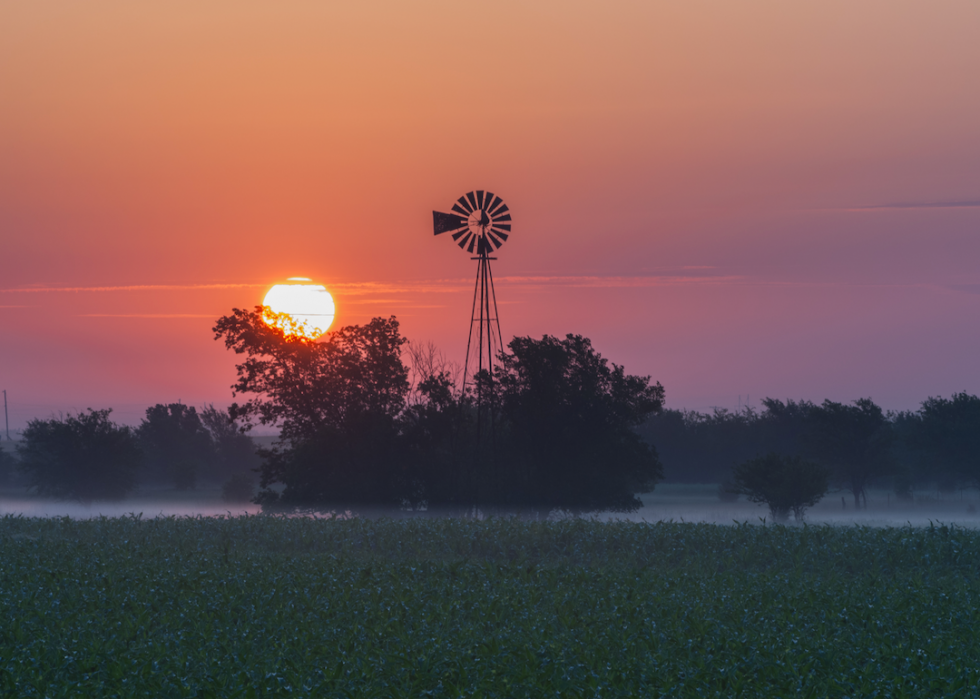 15 / 51
David Fossler // Shutterstock
#37. Oklahoma
- Cancer rate: 432.3 new incidents per 100,000 people (1.3% below U.S. average)
- Cancer rate by gender: 463.1 per 100k men; 412.4 per 100k women
- Deaths due to cancer: 176.7 per 100k (15.5% above U.S. average; #4 highest among all states)
- Lung and bronchus cancer rate: 61.9 per 100k (12.5% above U.S. average; #13 highest among all states)
- Breast cancer rate: 124.1 per 100k women (0.7% below U.S. average; #20 lowest among all states)
- Prostate cancer rate: 91.4 per 100k men (14.6% below U.S. average; #8 lowest among all states)
- Notable local charity: Crosstown Learning Center (Charity Navigator score: 90.66, Goal: Providing educational opportunities in a nurturing environment for children and their families to learn and grow together)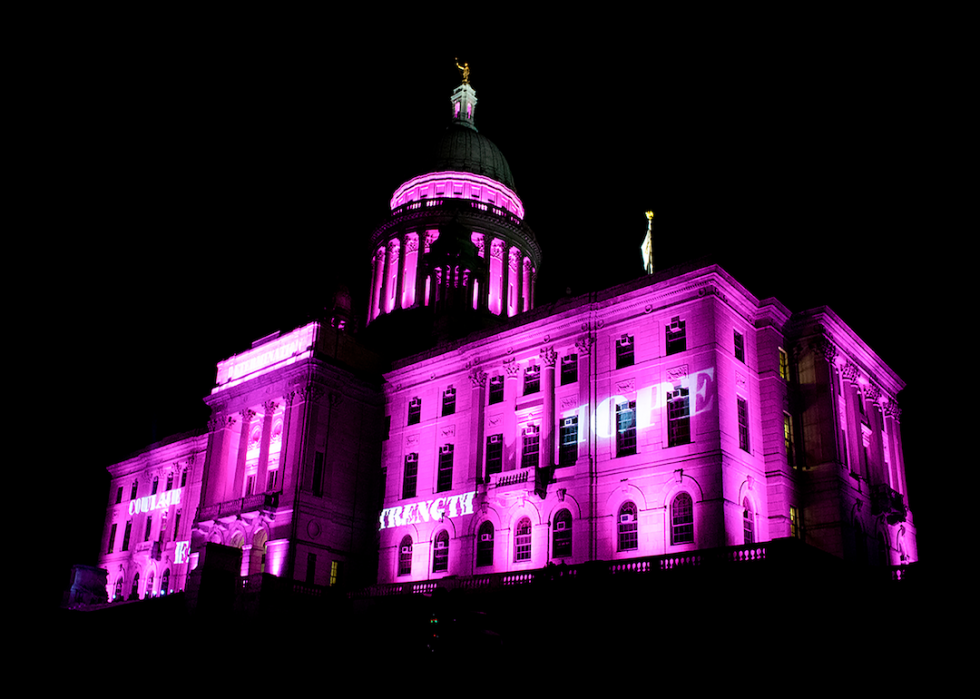 16 / 51
DanOBPhotography // Shutterstock
#36. Rhode Island
- Cancer rate: 434.3 new incidents per 100,000 people (0.8% below U.S. average)
- Cancer rate by gender: 452.3 per 100k men; 426.5 per 100k women
- Deaths due to cancer: 154 per 100k (0.7% above U.S. average; #26 highest among all states)
- Lung and bronchus cancer rate: 61.8 per 100k (12.4% above U.S. average; #14 highest among all states)
- Breast cancer rate: 137.3 per 100k women (9.8% above U.S. average; #6 highest among all states)
- Prostate cancer rate: 99.2 per 100k men (7.3% below U.S. average; #17 lowest among all states)
- Notable local charity: Gloria Gemma Breast Cancer Resource Foundation (Charity Navigator score: 80.8, Goal: We're Here for You!)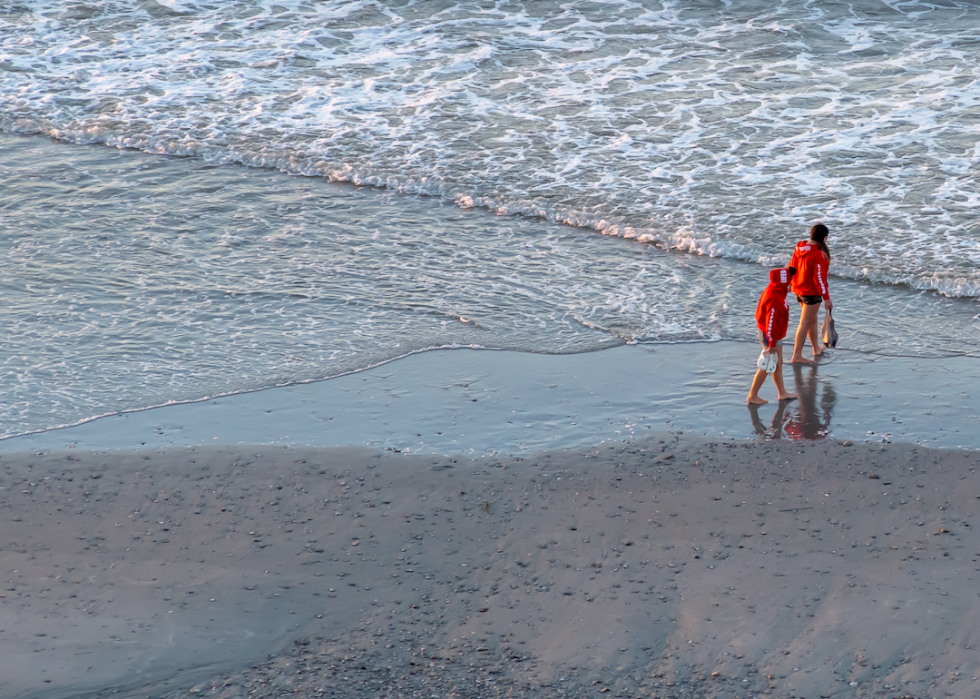 17 / 51
#35. South Carolina
- Cancer rate: 434.4 new incidents per 100,000 people (0.8% below U.S. average)
- Cancer rate by gender: 482.6 per 100k men; 399.3 per 100k women
- Deaths due to cancer: 162.6 per 100k (6.3% above U.S. average; #14 highest among all states)
- Lung and bronchus cancer rate: 61.6 per 100k (12.0% above U.S. average; #17 highest among all states)
- Breast cancer rate: 129.8 per 100k women (3.8% above U.S. average; #23 highest among all states)
- Prostate cancer rate: 107.5 per 100k men (0.5% above U.S. average; #22 lowest among all states)
- Notable local charity: Center for Development Services (Charity Navigator score: 94.69, Goal: Our doors open many more.)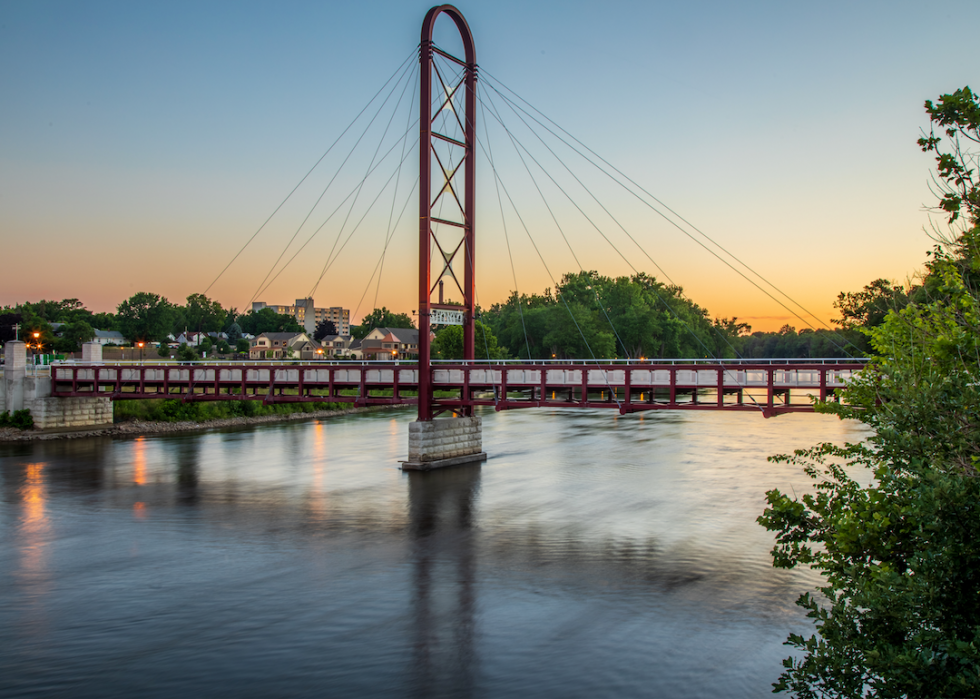 18 / 51
Taylor_A_Stewart // Shutterstock
#34. Indiana
- Cancer rate: 434.8 new incidents per 100,000 people (0.7% below U.S. average)
- Cancer rate by gender: 475.8 per 100k men; 408.6 per 100k women
- Deaths due to cancer: 170.4 per 100k (11.4% above U.S. average; #9 highest among all states)
- Lung and bronchus cancer rate: 66.2 per 100k (20.4% above U.S. average; #8 highest among all states)
- Breast cancer rate: 119.5 per 100k women (4.4% below U.S. average; #17 lowest among all states)
- Prostate cancer rate: 94.6 per 100k men (11.6% below U.S. average; #10 lowest among all states)
- Notable local charity: Little Red Door Cancer Agency (Charity Navigator score: 93.78, Goal: Making the most of life and the least of Cancer.)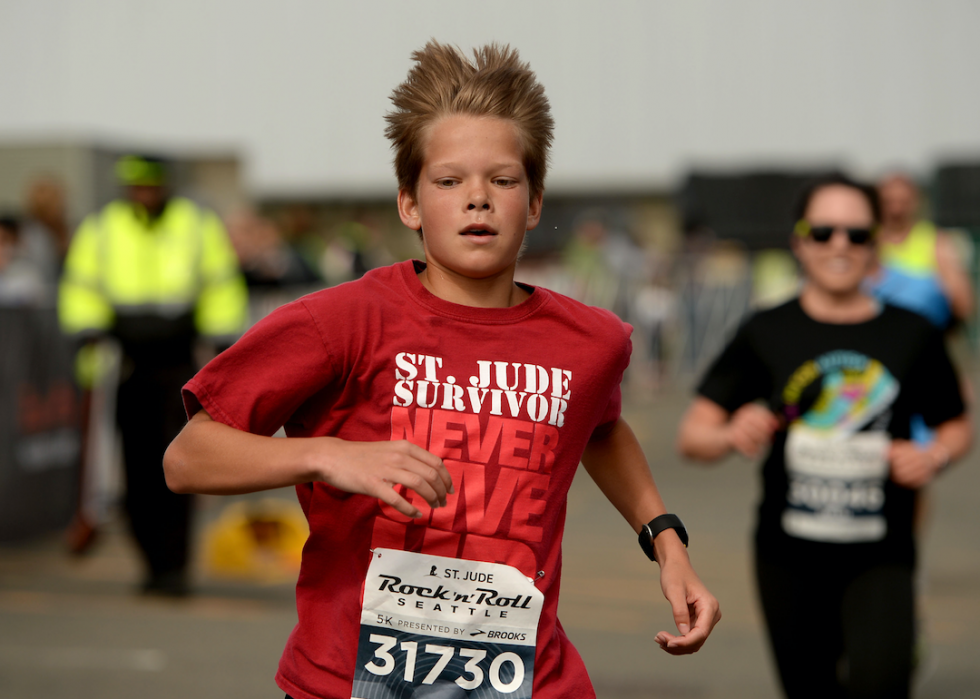 19 / 51
Donald Miralle // Getty Images for Rock'n'Roll Marathon
#33. Washington
- Cancer rate: 435.1 new incidents per 100,000 people (0.7% below U.S. average)
- Cancer rate by gender: 459.1 per 100k men; 421.1 per 100k women
- Deaths due to cancer: 148.4 per 100k (3.0% below U.S. average; #16 lowest among all states)
- Lung and bronchus cancer rate: 49.6 per 100k (9.8% below U.S. average; #14 lowest among all states)
- Breast cancer rate: 132.9 per 100k women (6.3% above U.S. average; #16 highest among all states)
- Prostate cancer rate: 98.7 per 100k men (7.8% below U.S. average; #15 lowest among all states)
- Notable local charity: Cancer Lifeline (Charity Navigator score: 81.69, Goal: Optimizing the quality of life for all people living with cancer)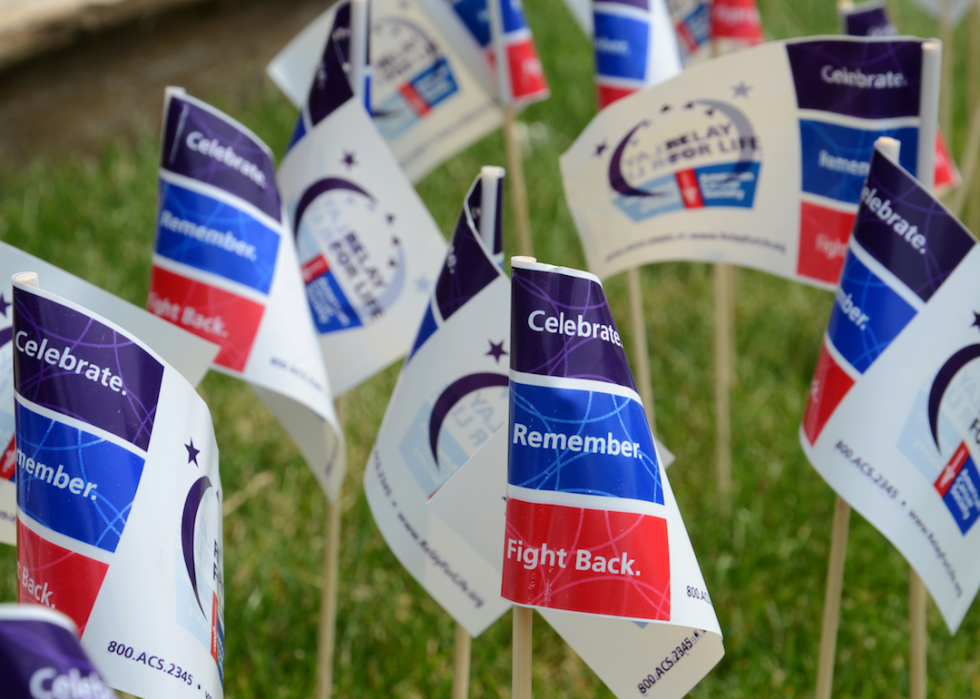 20 / 51
Susan Montgomery // Shutterstock
#32. Michigan
- Cancer rate: 435.4 new incidents per 100,000 people (0.6% below U.S. average)
- Cancer rate by gender: 474.3 per 100k men; 408.3 per 100k women
- Deaths due to cancer: 161.2 per 100k (5.4% above U.S. average; #15 highest among all states)
- Lung and bronchus cancer rate: 60.1 per 100k (9.3% above U.S. average; #21 highest among all states)
- Breast cancer rate: 119 per 100k women (4.8% below U.S. average; #15 lowest among all states)
- Prostate cancer rate: 105.7 per 100k men (1.2% below U.S. average; #21 lowest among all states)
- Notable local charity: SafeHouse Center (Charity Navigator score: 93.78, Goal: Building communities free of domestic violence and sexual assault.)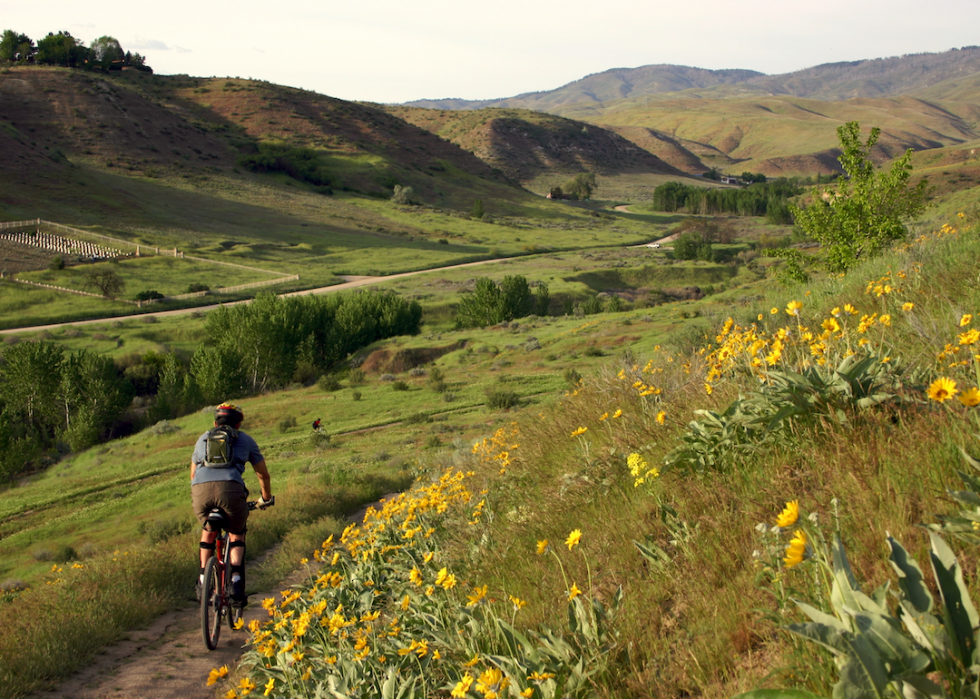 21 / 51
CSNafzger // Shutterstock
#31. Idaho
- Cancer rate: 436.3 new incidents per 100,000 people (0.4% below U.S. average)
- Cancer rate by gender: 469 per 100k men; 411.6 per 100k women
- Deaths due to cancer: 153.2 per 100k (0.1% above U.S. average; #24 lowest among all states)
- Lung and bronchus cancer rate: 46.9 per 100k (14.7% below U.S. average; #9 lowest among all states)
- Breast cancer rate: 135.9 per 100k women (8.7% above U.S. average; #10 highest among all states)
- Prostate cancer rate: 111.1 per 100k men (3.8% above U.S. average; #25 highest among all states)
- Notable local charity: Swiftsure Ranch Theraputic Equestrian Center (Charity Navigator score: 72.45, Goal: Encouraging the physical, mental and emotional well-being of children and adults with disabilities through equine-assisted activities and therapies.)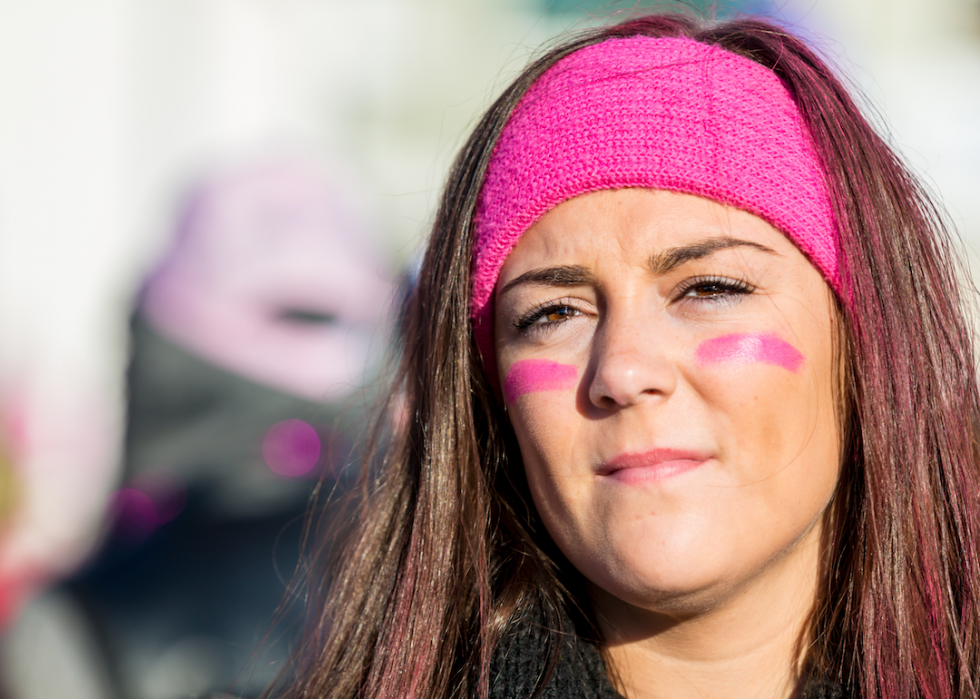 22 / 51
Eliyahu Yosef Parypa // Shutterstock
#30. Maryland
- Cancer rate: 442.6 new incidents per 100,000 people (1.1% above U.S. average)
- Cancer rate by gender: 478.3 per 100k men; 420.4 per 100k women
- Deaths due to cancer: 151.8 per 100k (0.8% below U.S. average; #18 lowest among all states)
- Lung and bronchus cancer rate: 54.6 per 100k (0.7% below U.S. average; #22 lowest among all states)
- Breast cancer rate: 131.1 per 100k women (4.9% above U.S. average; #21 highest among all states)
- Prostate cancer rate: 124.7 per 100k men (16.5% above U.S. average; #11 highest among all states)
- Notable local charity: Operation Second Chance (Charity Navigator score: 100, Goal: Providing support for the soldiers at WRNMMC)
23 / 51
jo Crebbin // Shutterstock
#29. Massachusetts
- Cancer rate: 444.7 new incidents per 100,000 people (1.5% above U.S. average)
- Cancer rate by gender: 477.2 per 100k men; 425.1 per 100k women
- Deaths due to cancer: 149.4 per 100k (2.4% below U.S. average; #17 lowest among all states)
- Lung and bronchus cancer rate: 58.8 per 100k (6.9% above U.S. average; #23 highest among all states)
- Breast cancer rate: 135.4 per 100k women (8.3% above U.S. average; #11 highest among all states)
- Prostate cancer rate: 108.1 per 100k men (1.0% above U.S. average; #23 lowest among all states)
- Notable local charity: Falmouth Service Center (Charity Navigator score: 97.17, Goal: Helping Neighbors in Need.)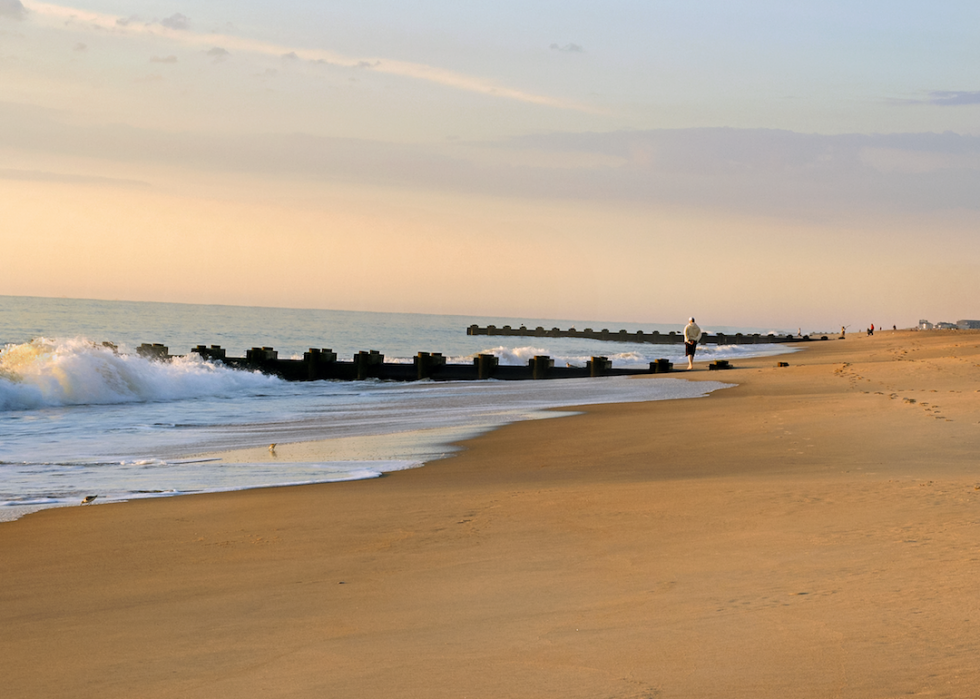 24 / 51
Bruce Goerlitz Photo // Shutterstock
#28. Delaware
- Cancer rate: 445.7 new incidents per 100,000 people (1.8% above U.S. average)
- Cancer rate by gender: 496.2 per 100k men; 407.8 per 100k women
- Deaths due to cancer: 160.9 per 100k (5.2% above U.S. average; #16 highest among all states)
- Lung and bronchus cancer rate: 56.7 per 100k (3.1% above U.S. average; #26 highest among all states)
- Breast cancer rate: 119.3 per 100k women (4.6% below U.S. average; #16 lowest among all states)
- Prostate cancer rate: 122.6 per 100k men (14.6% above U.S. average; #12 highest among all states)
- Notable local charity: Not applicable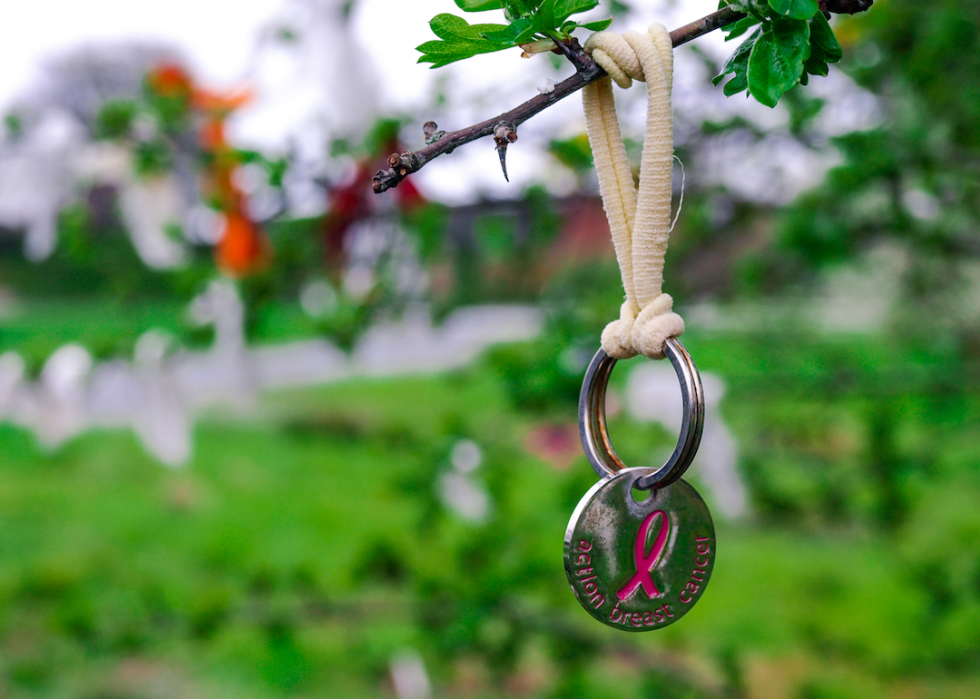 25 / 51
travelevents // Shutterstock
#27. Alabama
- Cancer rate: 446.9 new incidents per 100,000 people (2.0% above U.S. average)
- Cancer rate by gender: 514.1 per 100k men; 397.4 per 100k women
- Deaths due to cancer: 169.5 per 100k (10.8% above U.S. average; #11 highest among all states)
- Lung and bronchus cancer rate: 61.7 per 100k (12.2% above U.S. average; #15 highest among all states)
- Breast cancer rate: 117.1 per 100k women (6.3% below U.S. average; #10 lowest among all states)
- Prostate cancer rate: 129.8 per 100k men (21.3% above U.S. average; #7 highest among all states)
- Notable local charity: Not applicable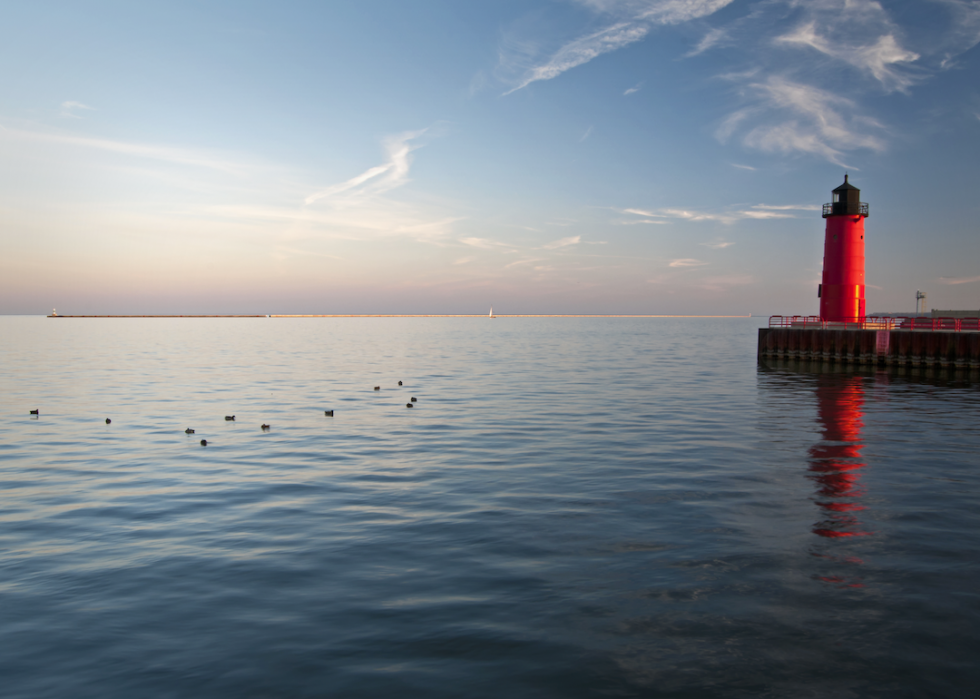 26 / 51
Mark Baldwin // Shutterstock
#26. Wisconsin
- Cancer rate: 448.3 new incidents per 100,000 people (2.4% above U.S. average)
- Cancer rate by gender: 481.5 per 100k men; 426.1 per 100k women
- Deaths due to cancer: 153.3 per 100k (0.2% above U.S. average; #25 lowest among all states)
- Lung and bronchus cancer rate: 56 per 100k (1.8% above U.S. average; #24 lowest among all states)
- Breast cancer rate: 133.1 per 100k women (6.5% above U.S. average; #15 highest among all states)
- Prostate cancer rate: 112.6 per 100k men (5.2% above U.S. average; #22 highest among all states)
- Notable local charity: The Women's Center, Wisconsin (Charity Navigator score: 86.26, Goal: Provide safety, shelter & support to empower all impacted by domestic abuse, sexual violence, child abuse & trafficking)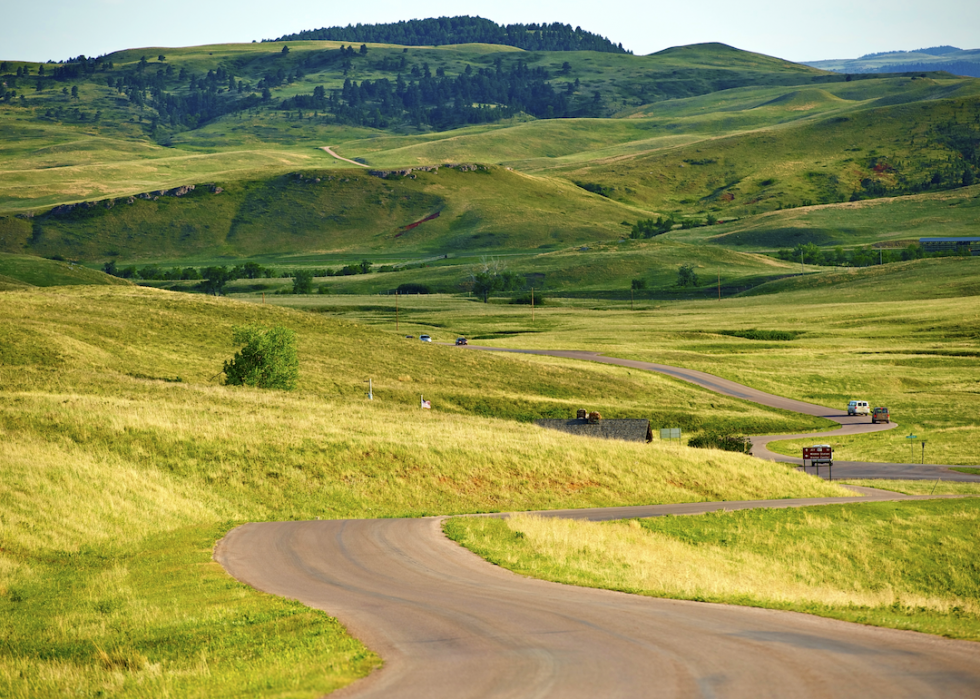 27 / 51
#25. South Dakota
- Cancer rate: 449.6 new incidents per 100,000 people (2.6% above U.S. average)
- Cancer rate by gender: 480 per 100k men; 429.9 per 100k women
- Deaths due to cancer: 157.4 per 100k (2.9% above U.S. average; #20 highest among all states)
- Lung and bronchus cancer rate: 55.9 per 100k (1.6% above U.S. average; #23 lowest among all states)
- Breast cancer rate: 125 per 100k women (0.0% below U.S. average; #21 lowest among all states)
- Prostate cancer rate: 116.7 per 100k men (9.1% above U.S. average; #19 highest among all states)
- Notable local charity: Sacred Heart Center (Charity Navigator score: 70.5, Goal: A safe place for new beginnings)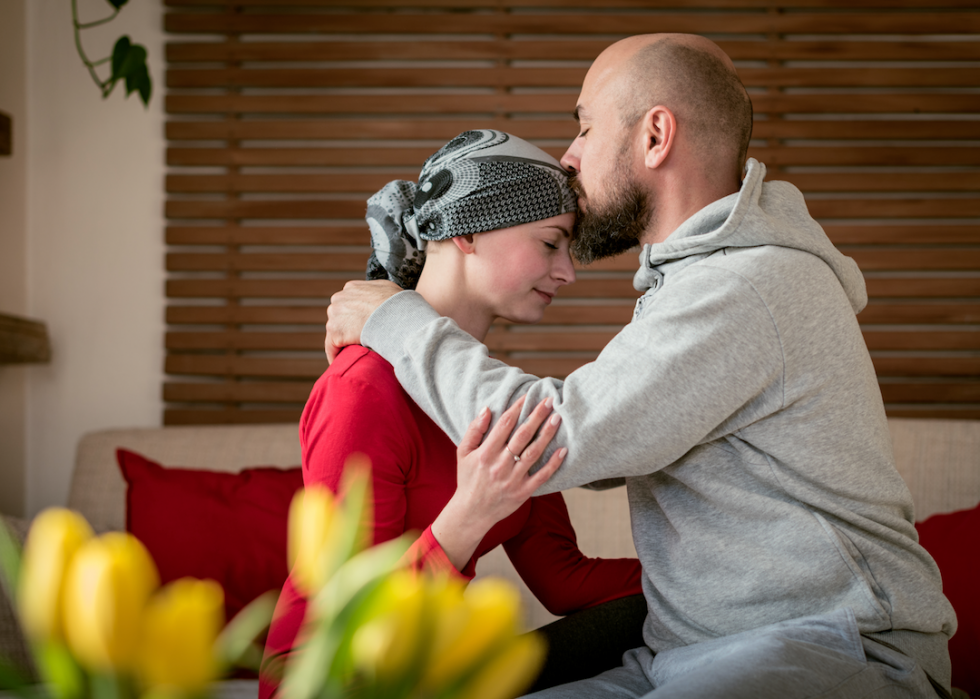 28 / 51
ABO PHOTOGRAPHY // Shutterstock
#24. Kansas
- Cancer rate: 450.6 new incidents per 100,000 people (2.9% above U.S. average)
- Cancer rate by gender: 490.6 per 100k men; 423.9 per 100k women
- Deaths due to cancer: 157.1 per 100k (2.7% above U.S. average; #22 highest among all states)
- Lung and bronchus cancer rate: 52.7 per 100k (4.2% below U.S. average; #17 lowest among all states)
- Breast cancer rate: 133.3 per 100k women (6.6% above U.S. average; #13 highest among all states)
- Prostate cancer rate: 116.8 per 100k men (9.2% above U.S. average; #18 highest among all states)
- Notable local charity: Capper Foundation (Charity Navigator score: 90.94, Goal: Building Abilities Together)
29 / 51
Jon Kraft // Shutterstock
#23. Missouri
- Cancer rate: 452.7 new incidents per 100,000 people (3.4% above U.S. average)
- Cancer rate by gender: 487.8 per 100k men; 429.6 per 100k women
- Deaths due to cancer: 167.1 per 100k (9.2% above U.S. average; #12 highest among all states)
- Lung and bronchus cancer rate: 70.8 per 100k (28.7% above U.S. average; #6 highest among all states)
- Breast cancer rate: 131.9 per 100k women (5.5% above U.S. average; #19 highest among all states)
- Prostate cancer rate: 90.3 per 100k men (15.6% below U.S. average; #5 lowest among all states)
- Notable local charity: Fight Colorectal Cancer (Charity Navigator score: 95.05, Goal: Get behind a cure)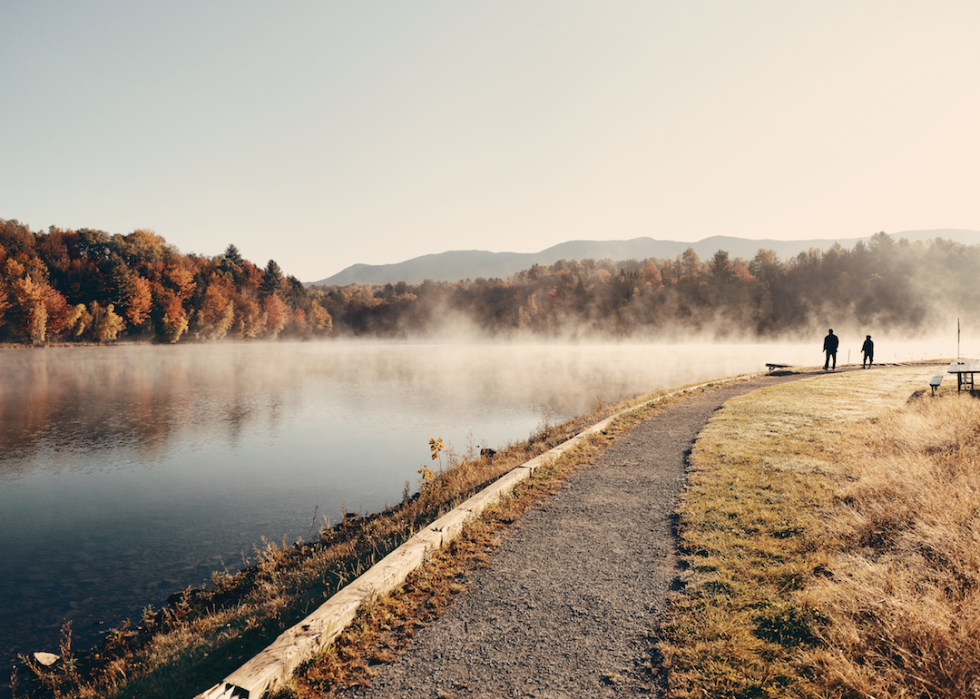 30 / 51
Songquan Deng // Shutterstock
#22. Vermont
- Cancer rate: 454.4 new incidents per 100,000 people (3.7% above U.S. average)
- Cancer rate by gender: 488.7 per 100k men; 432.6 per 100k women
- Deaths due to cancer: 164.4 per 100k (7.5% above U.S. average; #13 highest among all states)
- Lung and bronchus cancer rate: 56.5 per 100k (2.7% above U.S. average; #25 lowest among all states)
- Breast cancer rate: 125.1 per 100k women (0.1% above U.S. average; #22 lowest among all states)
- Prostate cancer rate: 100.1 per 100k men (6.4% below U.S. average; #19 lowest among all states)
- Notable local charity: King Street Center (Charity Navigator score: 85.54, Goal: Embracing the fundamental belief in all children)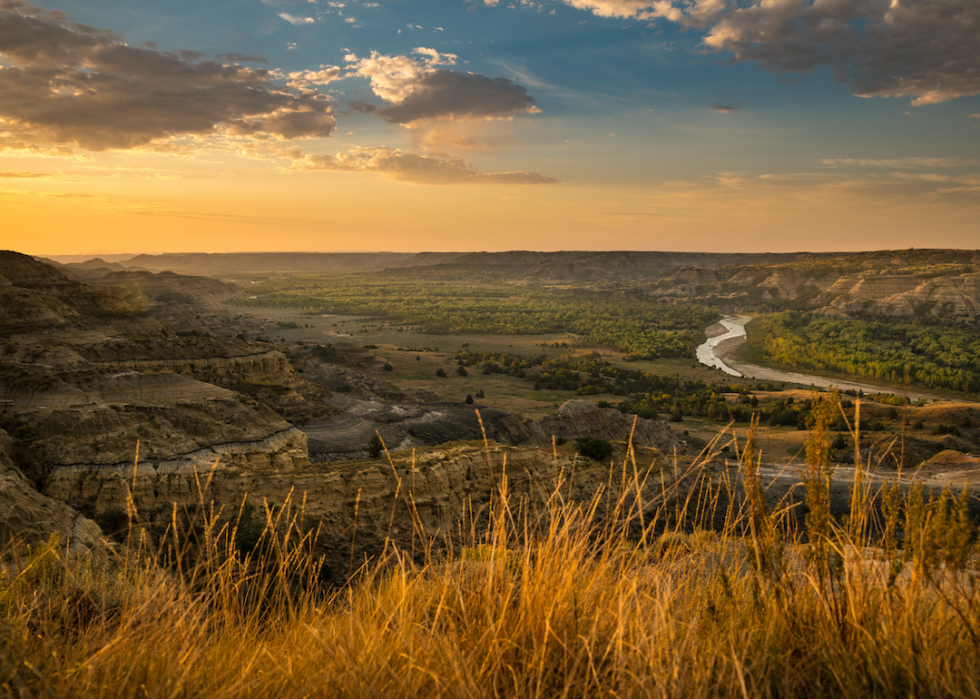 31 / 51
#21. North Dakota
- Cancer rate: 455.5 new incidents per 100,000 people (4.0% above U.S. average)
- Cancer rate by gender: 487.7 per 100k men; 436.1 per 100k women
- Deaths due to cancer: 142.2 per 100k (7.1% below U.S. average; #11 lowest among all states)
- Lung and bronchus cancer rate: 60.2 per 100k (9.5% above U.S. average; #20 highest among all states)
- Breast cancer rate: 129.3 per 100k women (3.4% above U.S. average; #25 highest among all states)
- Prostate cancer rate: 110.3 per 100k men (3.1% above U.S. average; #26 highest among all states)
- Notable local charity: Not applicable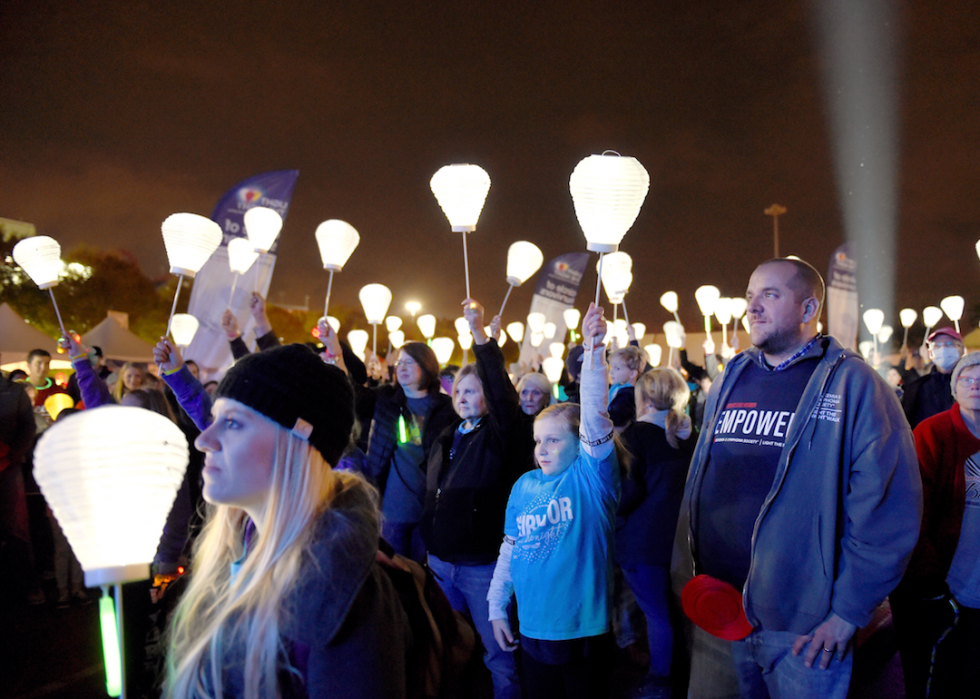 32 / 51
Jason Kempin // Getty Images
#20. Tennessee
- Cancer rate: 457.8 new incidents per 100,000 people (4.5% above U.S. average)
- Cancer rate by gender: 518.7 per 100k men; 412.6 per 100k women
- Deaths due to cancer: 173.5 per 100k (13.4% above U.S. average; #6 highest among all states)
- Lung and bronchus cancer rate: 70.9 per 100k (28.9% above U.S. average; #5 highest among all states)
- Breast cancer rate: 118.4 per 100k women (5.3% below U.S. average; #12 lowest among all states)
- Prostate cancer rate: 118.6 per 100k men (10.8% above U.S. average; #17 highest among all states)
- Notable local charity: Faith Family Medical Center (Charity Navigator score: 93.88, Goal: Affordable, quality healthcare for uninsured and underinsured working people and their families)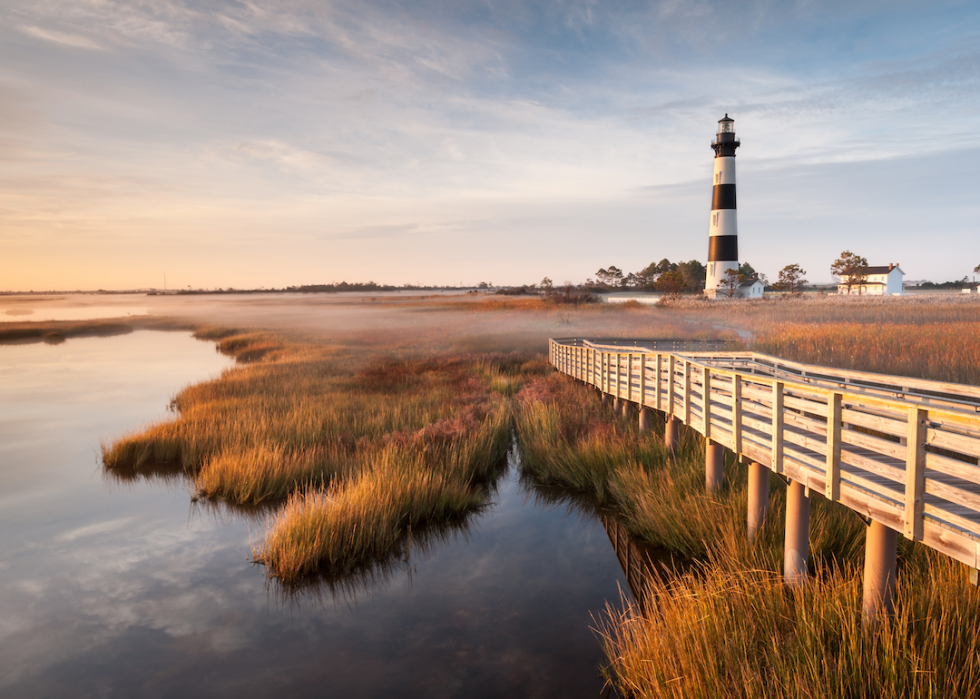 33 / 51
MarkVanDykePhotography // Shutterstock
#19. North Carolina
- Cancer rate: 458.2 new incidents per 100,000 people (4.6% above U.S. average)
- Cancer rate by gender: 509.1 per 100k men; 423.4 per 100k women
- Deaths due to cancer: 157.2 per 100k (2.7% above U.S. average; #21 highest among all states)
- Lung and bronchus cancer rate: 62.9 per 100k (14.4% above U.S. average; #11 highest among all states)
- Breast cancer rate: 133.3 per 100k women (6.6% above U.S. average; #13 highest among all states)
- Prostate cancer rate: 120.7 per 100k men (12.8% above U.S. average; #14 highest among all states)
- Notable local charity: Urban Ministry Center (Charity Navigator score: 94.07, Goal: Dedicated to bringing the community together to end homelessness)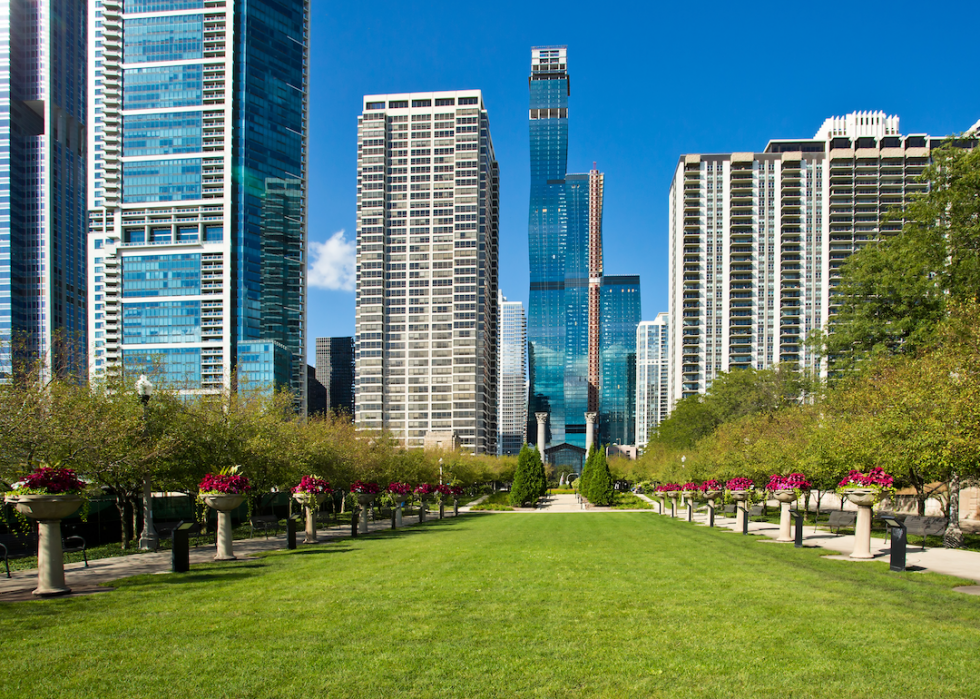 34 / 51
Carlos Yudica // Shutterstock
#18. Illinois
- Cancer rate: 458.5 new incidents per 100,000 people (4.7% above U.S. average)
- Cancer rate by gender: 497.4 per 100k men; 434 per 100k women
- Deaths due to cancer: 158.3 per 100k (3.5% above U.S. average; #18 highest among all states)
- Lung and bronchus cancer rate: 61.2 per 100k (11.3% above U.S. average; #18 highest among all states)
- Breast cancer rate: 132 per 100k women (5.6% above U.S. average; #17 highest among all states)
- Prostate cancer rate: 111.2 per 100k men (3.9% above U.S. average; #24 highest among all states)
- Notable local charity: People's Resource Center (Charity Navigator score: 95.01, Goal: Meeting our community needs - neighbor to neighbor)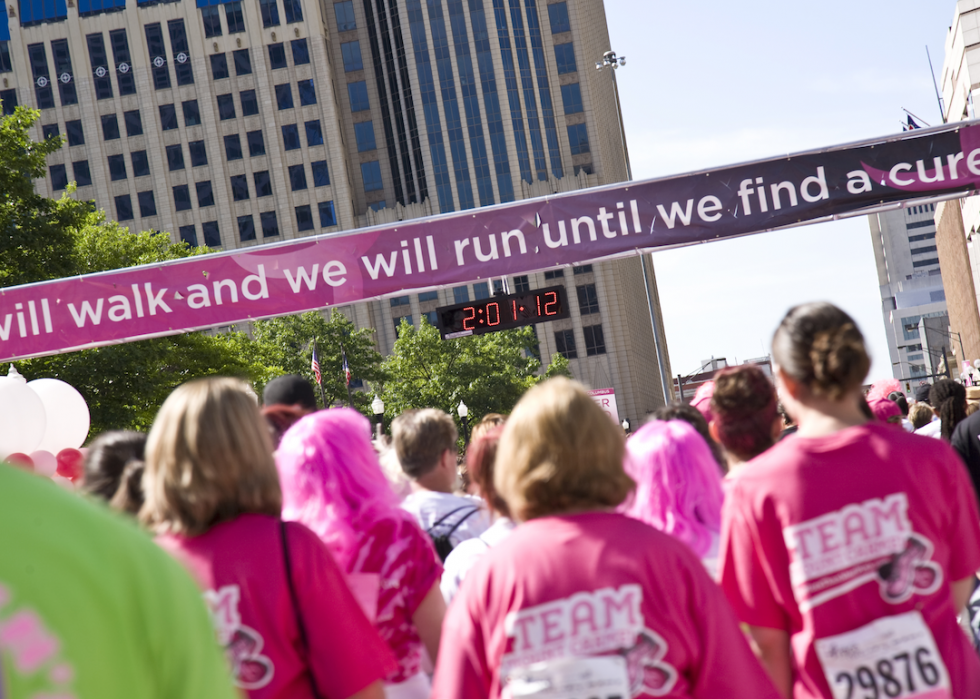 35 / 51
#17. Ohio
- Cancer rate: 458.9 new incidents per 100,000 people (4.8% above U.S. average)
- Cancer rate by gender: 496.3 per 100k men; 435.1 per 100k women
- Deaths due to cancer: 171.1 per 100k (11.8% above U.S. average; #8 highest among all states)
- Lung and bronchus cancer rate: 63.8 per 100k (16.0% above U.S. average; #9 highest among all states)
- Breast cancer rate: 130.1 per 100k women (4.1% above U.S. average; #22 highest among all states)
- Prostate cancer rate: 109.9 per 100k men (2.7% above U.S. average; #25 lowest among all states)
- Notable local charity: Cleveland Sight Center (Charity Navigator score: 93.79, Goal: Empowering people with vision loss to realize their full potential)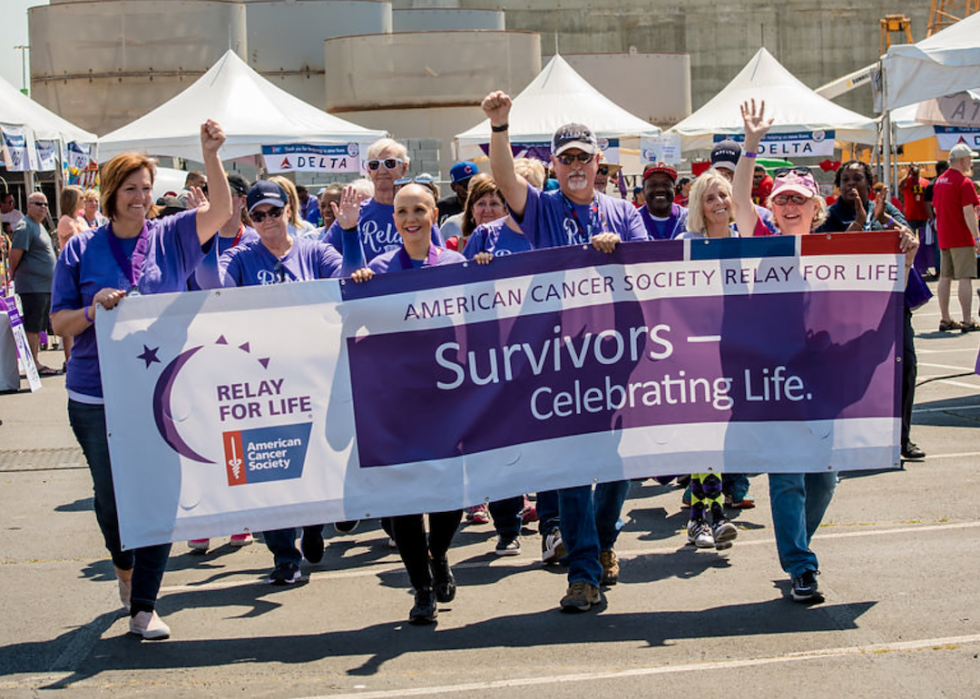 36 / 51
#16. Georgia
- Cancer rate: 461.3 new incidents per 100,000 people (5.3% above U.S. average)
- Cancer rate by gender: 524.7 per 100k men; 415.5 per 100k women
- Deaths due to cancer: 155.4 per 100k (1.6% above U.S. average; #24 highest among all states)
- Lung and bronchus cancer rate: 59.9 per 100k (8.9% above U.S. average; #22 highest among all states)
- Breast cancer rate: 127 per 100k women (1.6% above U.S. average; #24 lowest among all states)
- Prostate cancer rate: 131.8 per 100k men (23.2% above U.S. average; #5 highest among all states)
- Notable local charity: Southern Center for Human Rights (Charity Navigator score: 99.61, Goal: Reimagining Equal Justice)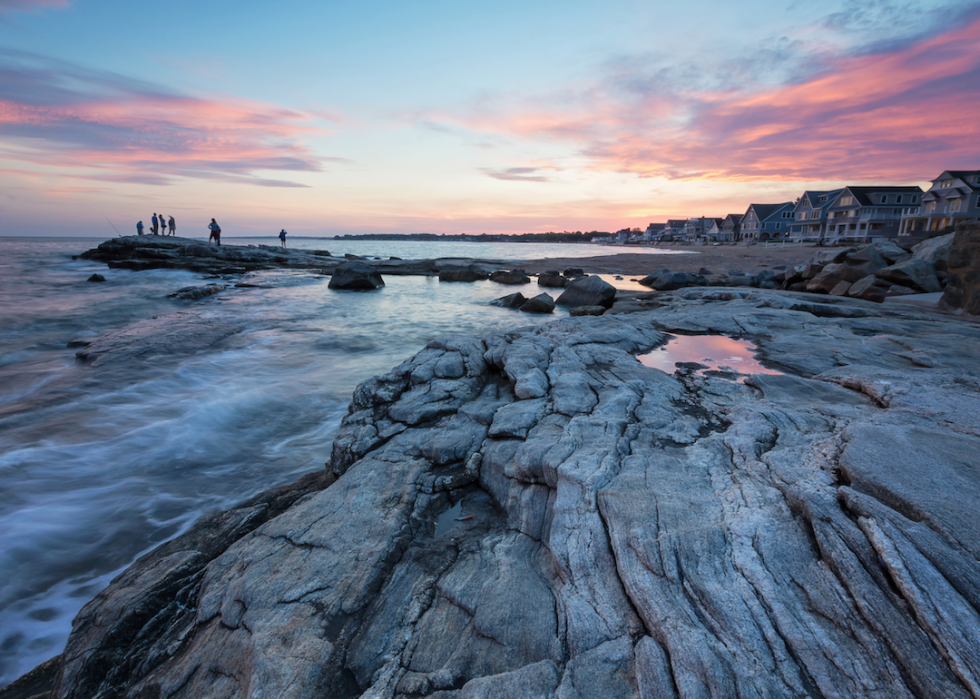 37 / 51
Romiana Lee // Shutterstock
#15. Connecticut
- Cancer rate: 464.7 new incidents per 100,000 people (6.1% above U.S. average)
- Cancer rate by gender: 501.8 per 100k men; 440.9 per 100k women
- Deaths due to cancer: 139.8 per 100k (8.6% below U.S. average; #9 lowest among all states)
- Lung and bronchus cancer rate: 58.7 per 100k (6.7% above U.S. average; #24 highest among all states)
- Breast cancer rate: 136.9 per 100k women (9.5% above U.S. average; #8 highest among all states)
- Prostate cancer rate: 122.2 per 100k men (14.2% above U.S. average; #13 highest among all states)
- Notable local charity: Breast Cancer Alliance (Charity Navigator score: 92.26, Goal: Funding Early Stage, Novel Breast Cancer Research, Outreach and Education, Breast Surgery Fellowships)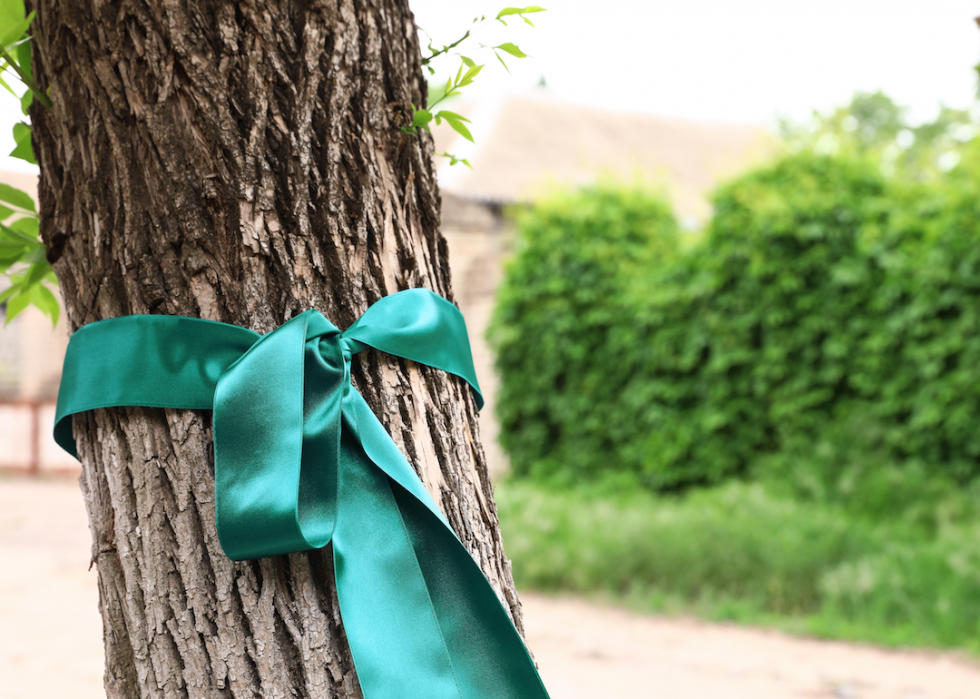 38 / 51
New Africa // Shutterstock
#14. Mississippi
- Cancer rate: 465.3 new incidents per 100,000 people (6.2% above U.S. average)
- Cancer rate by gender: 539.9 per 100k men; 410.7 per 100k women
- Deaths due to cancer: 182.8 per 100k (19.5% above U.S. average; #2 highest among all states)
- Lung and bronchus cancer rate: 71.7 per 100k (30.4% above U.S. average; #3 highest among all states)
- Breast cancer rate: 118.9 per 100k women (4.9% below U.S. average; #13 lowest among all states)
- Prostate cancer rate: 128.4 per 100k men (20.0% above U.S. average; #8 highest among all states)
- Notable local charity: Mississippi Center for Justice (Charity Navigator score: 88.75, Goal: advancing racial and economic justice)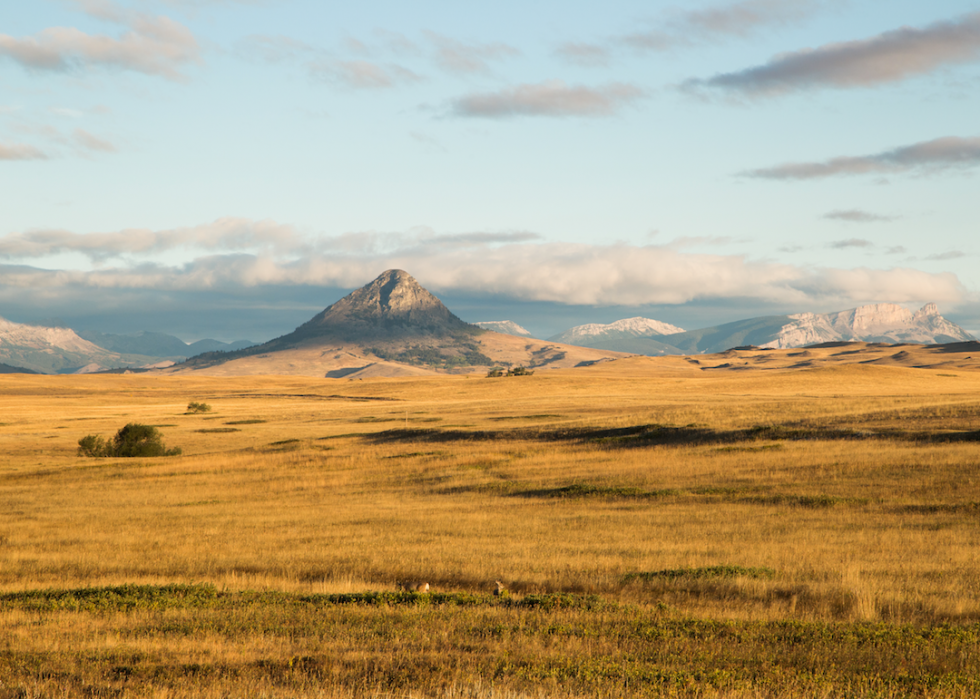 39 / 51
Cameron Best // Shutterstock
#13. Montana
- Cancer rate: 466.9 new incidents per 100,000 people (6.6% above U.S. average)
- Cancer rate by gender: 494.8 per 100k men; 445.3 per 100k women
- Deaths due to cancer: 152.1 per 100k (0.6% below U.S. average; #19 lowest among all states)
- Lung and bronchus cancer rate: 47.4 per 100k (13.8% below U.S. average; #10 lowest among all states)
- Breast cancer rate: 137.5 per 100k women (10.0% above U.S. average; #5 highest among all states)
- Prostate cancer rate: 130.9 per 100k men (22.3% above U.S. average; #6 highest among all states)
- Notable local charity: Not applicable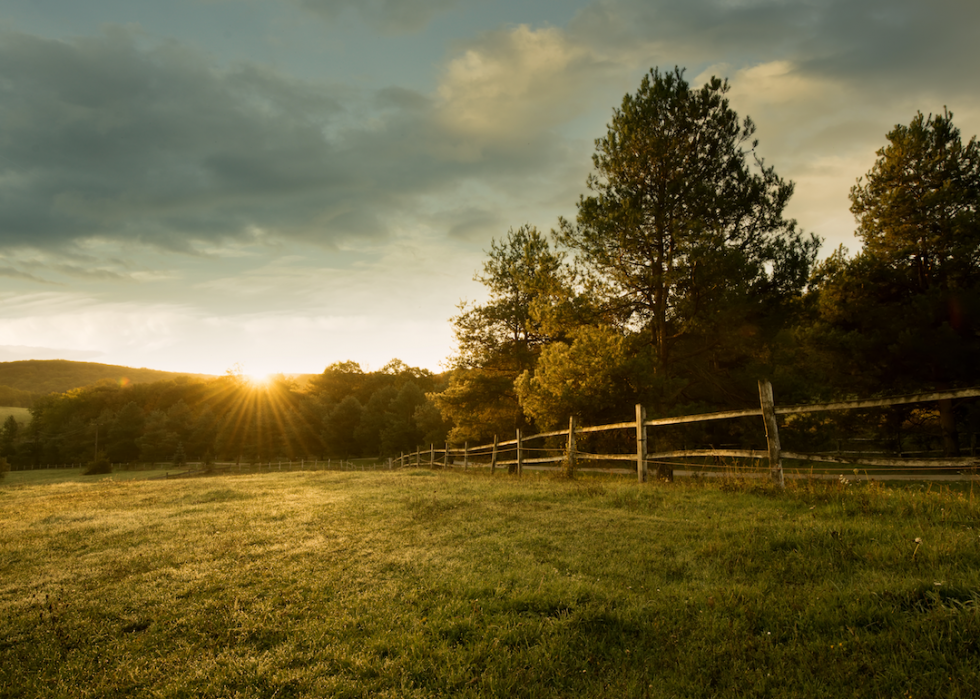 40 / 51
Gergely Zsolnai // Shutterstock
#12. Pennsylvania
- Cancer rate: 471.2 new incidents per 100,000 people (7.6% above U.S. average)
- Cancer rate by gender: 502.1 per 100k men; 453.9 per 100k women
- Deaths due to cancer: 160.6 per 100k (5.0% above U.S. average; #17 highest among all states)
- Lung and bronchus cancer rate: 61.7 per 100k (12.2% above U.S. average; #15 highest among all states)
- Breast cancer rate: 131.2 per 100k women (5.0% above U.S. average; #20 highest among all states)
- Prostate cancer rate: 102.4 per 100k men (4.3% below U.S. average; #20 lowest among all states)
- Notable local charity: Living Beyond Breast Cancer (Charity Navigator score: 95.67, Goal: Connecting people with trusted breast cancer information and a community of support.)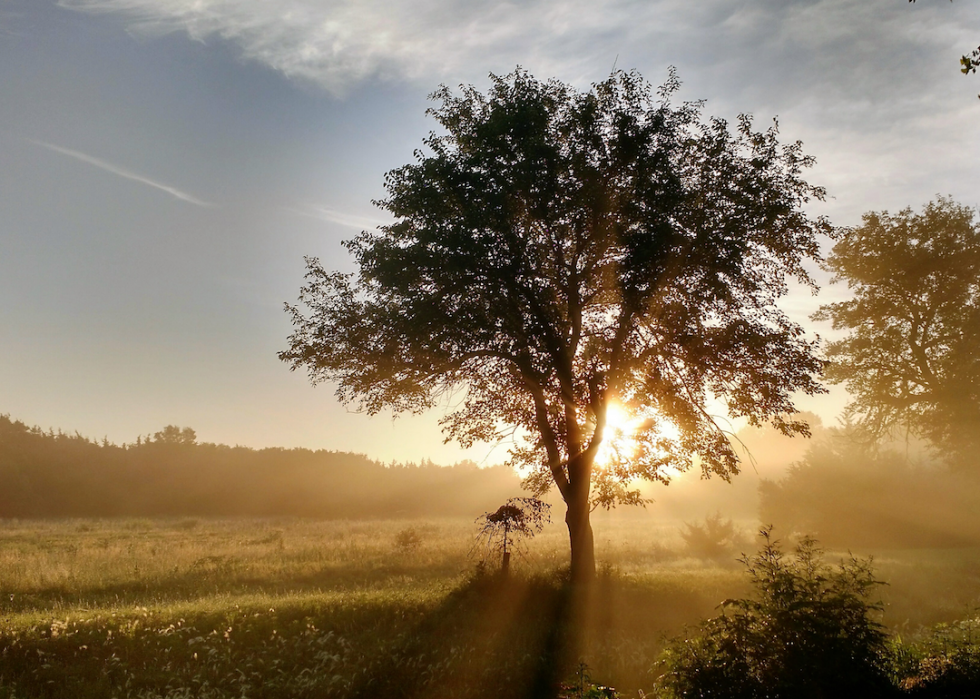 41 / 51
#11. Nebraska
- Cancer rate: 471.3 new incidents per 100,000 people (7.6% above U.S. average)
- Cancer rate by gender: 514.6 per 100k men; 441.2 per 100k women
- Deaths due to cancer: 152.9 per 100k (0.1% below U.S. average; #22 lowest among all states)
- Lung and bronchus cancer rate: 54.6 per 100k (0.7% below U.S. average; #22 lowest among all states)
- Breast cancer rate: 129.6 per 100k women (3.7% above U.S. average; #24 highest among all states)
- Prostate cancer rate: 132.4 per 100k men (23.7% above U.S. average; #4 highest among all states)
- Notable local charity: Hope Center for Kids (Charity Navigator score: 90.17, Goal: Faithfully inspiring hope in youth and children)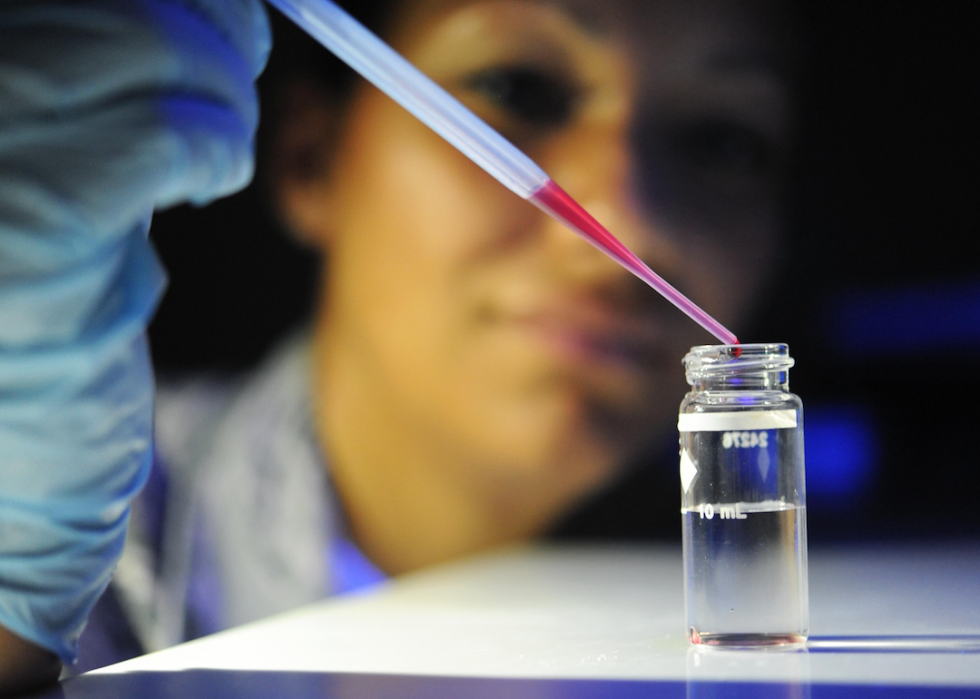 42 / 51
Grace Nichols // U.S. Air Force
#10. Arkansas
- Cancer rate: 471.4 new incidents per 100,000 people (7.6% above U.S. average)
- Cancer rate by gender: 537.6 per 100k men; 422 per 100k women
- Deaths due to cancer: 173.3 per 100k (13.3% above U.S. average; #7 highest among all states)
- Lung and bronchus cancer rate: 71.4 per 100k (29.8% above U.S. average; #4 highest among all states)
- Breast cancer rate: 114.6 per 100k women (8.3% below U.S. average; #8 lowest among all states)
- Prostate cancer rate: 119.7 per 100k men (11.9% above U.S. average; #15 highest among all states)
- Notable local charity: Not applicable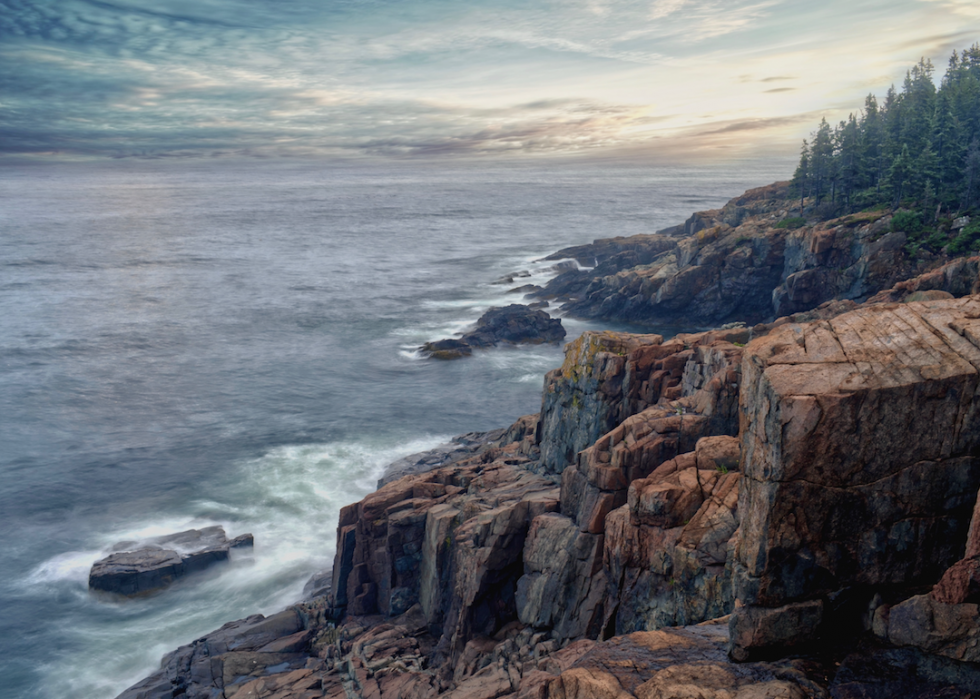 43 / 51
#9. Maine
- Cancer rate: 471.6 new incidents per 100,000 people (7.7% above U.S. average)
- Cancer rate by gender: 500 per 100k men; 454.1 per 100k women
- Deaths due to cancer: 169.7 per 100k (10.9% above U.S. average; #10 highest among all states)
- Lung and bronchus cancer rate: 68.4 per 100k (24.4% above U.S. average; #7 highest among all states)
- Breast cancer rate: 128.4 per 100k women (2.7% above U.S. average; #25 lowest among all states)
- Prostate cancer rate: 96.9 per 100k men (9.4% below U.S. average; #13 lowest among all states)
- Notable local charity: Not applicable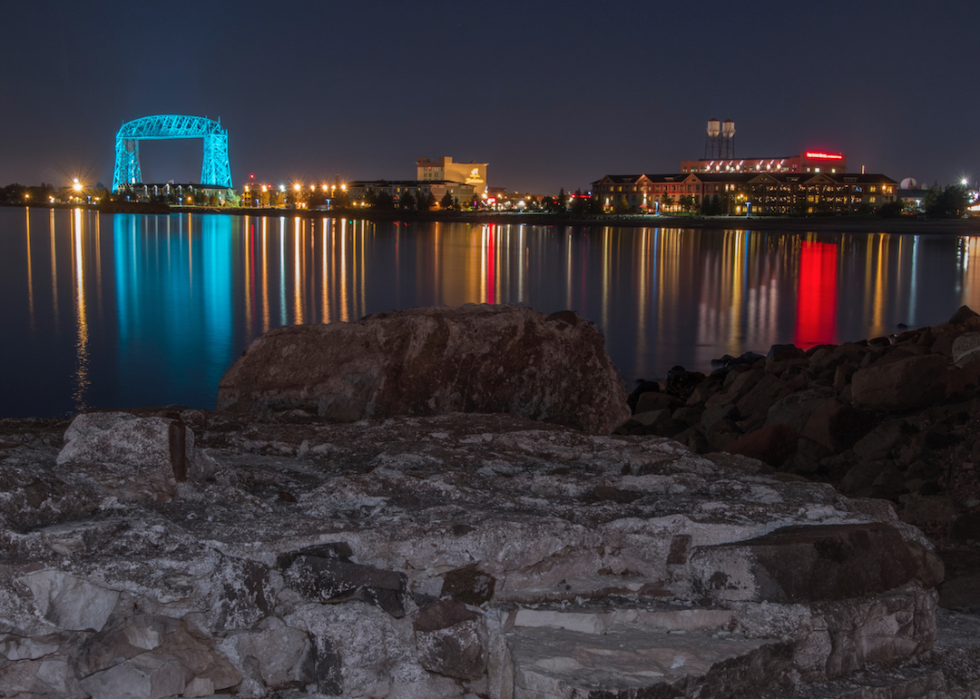 44 / 51
Jacob Boomsma // Shutterstock
#8. Minnesota
- Cancer rate: 472.3 new incidents per 100,000 people (7.8% above U.S. average)
- Cancer rate by gender: 510 per 100k men; 446 per 100k women
- Deaths due to cancer: 147.1 per 100k (3.9% below U.S. average; #14 lowest among all states)
- Lung and bronchus cancer rate: 53.7 per 100k (2.4% below U.S. average; #19 lowest among all states)
- Breast cancer rate: 138.3 per 100k women (10.6% above U.S. average; #4 highest among all states)
- Prostate cancer rate: 119.3 per 100k men (11.5% above U.S. average; #16 highest among all states)
- Notable local charity: Immigrant Law Center of Minnesota (Charity Navigator score: 94.07, Goal: Taking action to make immigration systems work for all)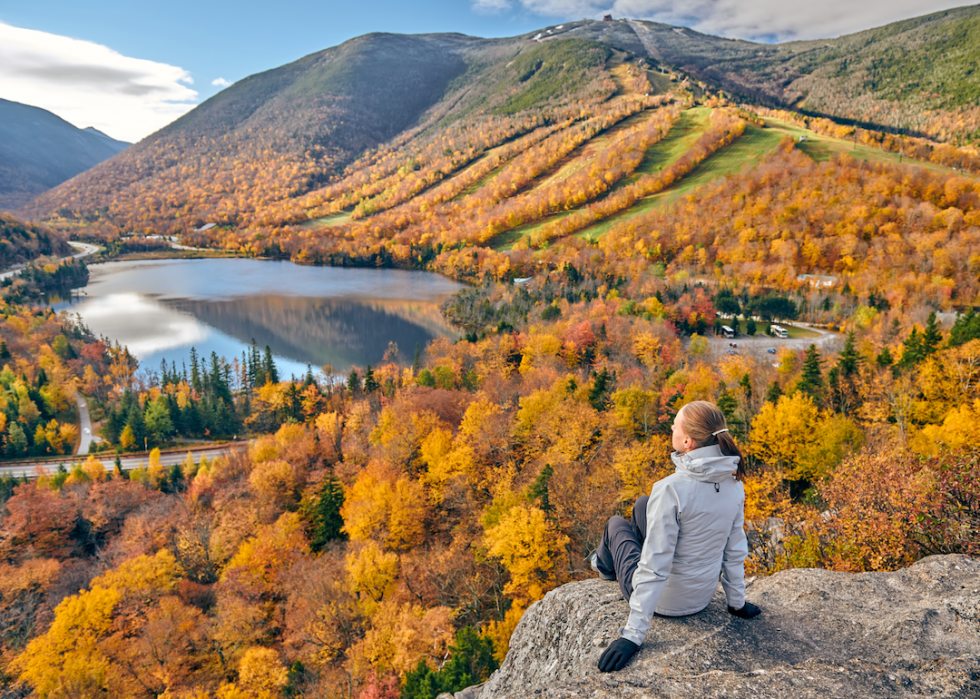 45 / 51
#7. New Hampshire
- Cancer rate: 473.6 new incidents per 100,000 people (8.1% above U.S. average)
- Cancer rate by gender: 517.9 per 100k men; 441.2 per 100k women
- Deaths due to cancer: 153.2 per 100k (0.1% above U.S. average; #24 lowest among all states)
- Lung and bronchus cancer rate: 60.5 per 100k (10.0% above U.S. average; #19 highest among all states)
- Breast cancer rate: 136.3 per 100k women (9.0% above U.S. average; #9 highest among all states)
- Prostate cancer rate: 113.7 per 100k men (6.3% above U.S. average; #21 highest among all states)
- Notable local charity: The Gibson Center for Senior Services (Charity Navigator score: 80.38, Goal: Providing services to seniors of Northern Carroll County NH)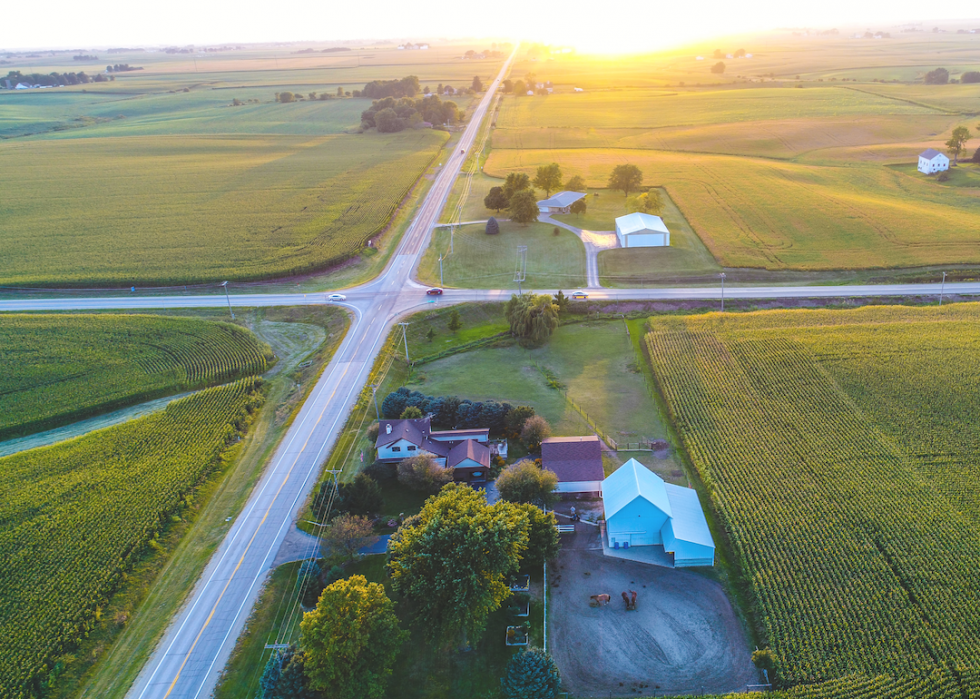 46 / 51
JamesPatrick.pro // Shutterstock
#6. Iowa
- Cancer rate: 477.3 new incidents per 100,000 people (9.0% above U.S. average)
- Cancer rate by gender: 520.2 per 100k men; 448.1 per 100k women
- Deaths due to cancer: 157.8 per 100k (3.1% above U.S. average; #19 highest among all states)
- Lung and bronchus cancer rate: 62.8 per 100k (14.2% above U.S. average; #12 highest among all states)
- Breast cancer rate: 137.2 per 100k women (9.8% above U.S. average; #7 highest among all states)
- Prostate cancer rate: 116.4 per 100k men (8.8% above U.S. average; #20 highest among all states)
- Notable local charity: Not applicable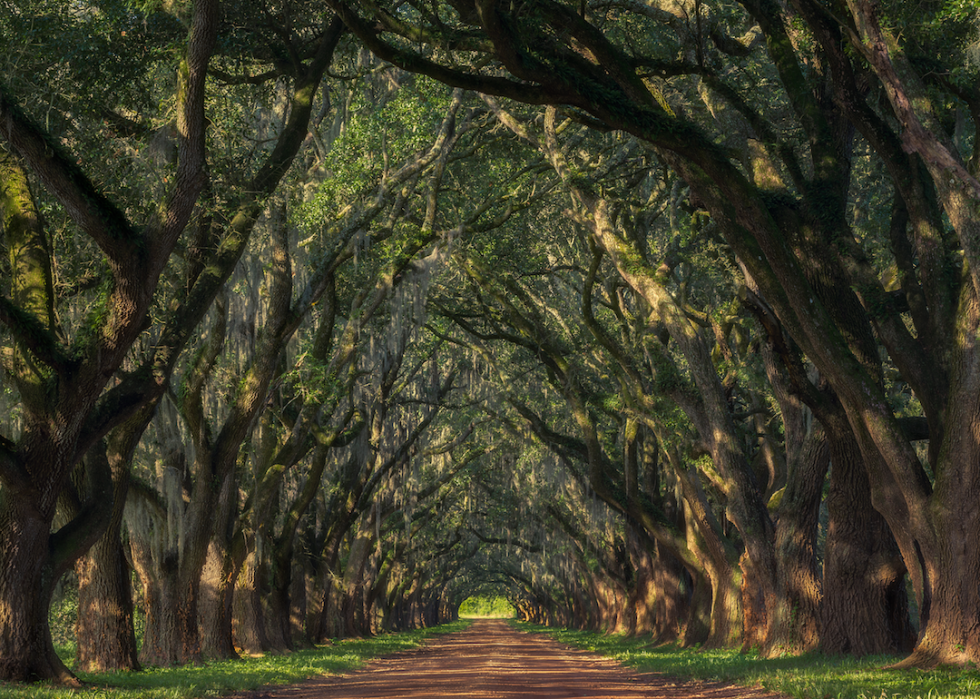 47 / 51
#5. Louisiana
- Cancer rate: 478.6 new incidents per 100,000 people (9.3% above U.S. average)
- Cancer rate by gender: 548.5 per 100k men; 426.4 per 100k women
- Deaths due to cancer: 174.7 per 100k (14.2% above U.S. average; #5 highest among all states)
- Lung and bronchus cancer rate: 63.4 per 100k (15.3% above U.S. average; #10 highest among all states)
- Breast cancer rate: 128.8 per 100k women (3.0% above U.S. average; #26 highest among all states)
- Prostate cancer rate: 135.3 per 100k men (26.4% above U.S. average; #3 highest among all states)
- Notable local charity: Miles Perret Cancer Services (Charity Navigator score: 83.82, Goal: Helping families fight, survive, and live with cancer)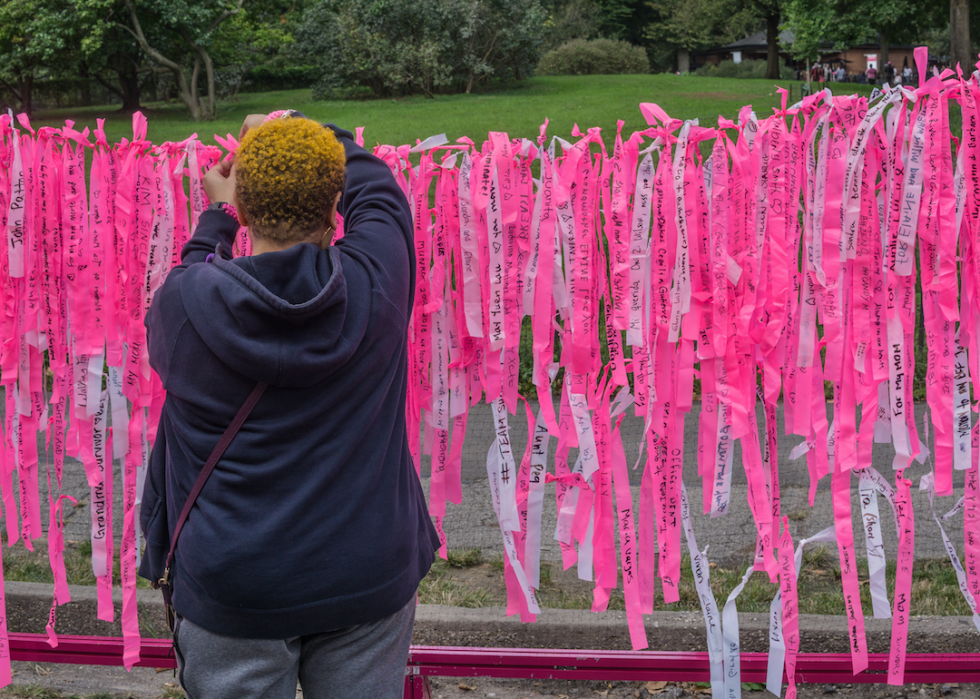 48 / 51
Steve Sanchez Photos // Shutterstock
#4. New York
- Cancer rate: 480.6 new incidents per 100,000 people (9.7% above U.S. average)
- Cancer rate by gender: 524.2 per 100k men; 453.4 per 100k women
- Deaths due to cancer: 142 per 100k (7.2% below U.S. average; #10 lowest among all states)
- Lung and bronchus cancer rate: 58.3 per 100k (6.0% above U.S. average; #25 highest among all states)
- Breast cancer rate: 134.6 per 100k women (7.7% above U.S. average; #12 highest among all states)
- Prostate cancer rate: 128.2 per 100k men (19.8% above U.S. average; #9 highest among all states)
- Notable local charity: Hope & Heroes Children's Cancer Fund (Charity Navigator score: 89.30, Goal: Supporting the best care for children with cancer in our community)
49 / 51
Barbara Barbour // Shutterstock
#2. New Jersey (tie)
- Cancer rate: 482.4 new incidents per 100,000 people (10.1% above U.S. average)
- Cancer rate by gender: 530.1 per 100k men; 452 per 100k women
- Deaths due to cancer: 145.7 per 100k (4.8% below U.S. average; #13 lowest among all states)
- Lung and bronchus cancer rate: 51.4 per 100k (6.5% below U.S. average; #16 lowest among all states)
- Breast cancer rate: 138.4 per 100k women (10.7% above U.S. average; #3 highest among all states)
- Prostate cancer rate: 139.6 per 100k men (30.5% above U.S. average; #2 highest among all states)
- Notable local charity: Adler Aphasia Center (Charity Navigator score: 92.22, Goal: Improving the quality of life for those with Aphasia)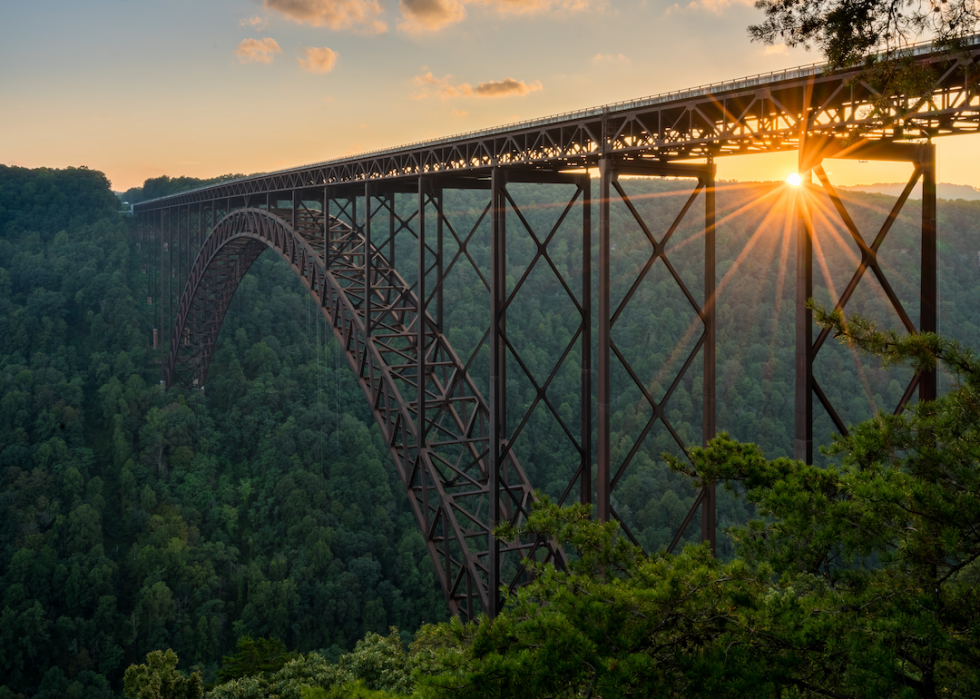 50 / 51
Steve Heap // Shutterstock
#2. West Virginia (tie)
- Cancer rate: 482.4 new incidents per 100,000 people (10.1% above U.S. average)
- Cancer rate by gender: 518.8 per 100k men; 457.7 per 100k women
- Deaths due to cancer: 178.6 per 100k (16.7% above U.S. average; #3 highest among all states)
- Lung and bronchus cancer rate: 81.3 per 100k (47.8% above U.S. average; #2 highest among all states)
- Breast cancer rate: 115.3 per 100k women (7.8% below U.S. average; #9 lowest among all states)
- Prostate cancer rate: 95.3 per 100k men (10.9% below U.S. average; #11 lowest among all states)
- Notable local charity: Not applicable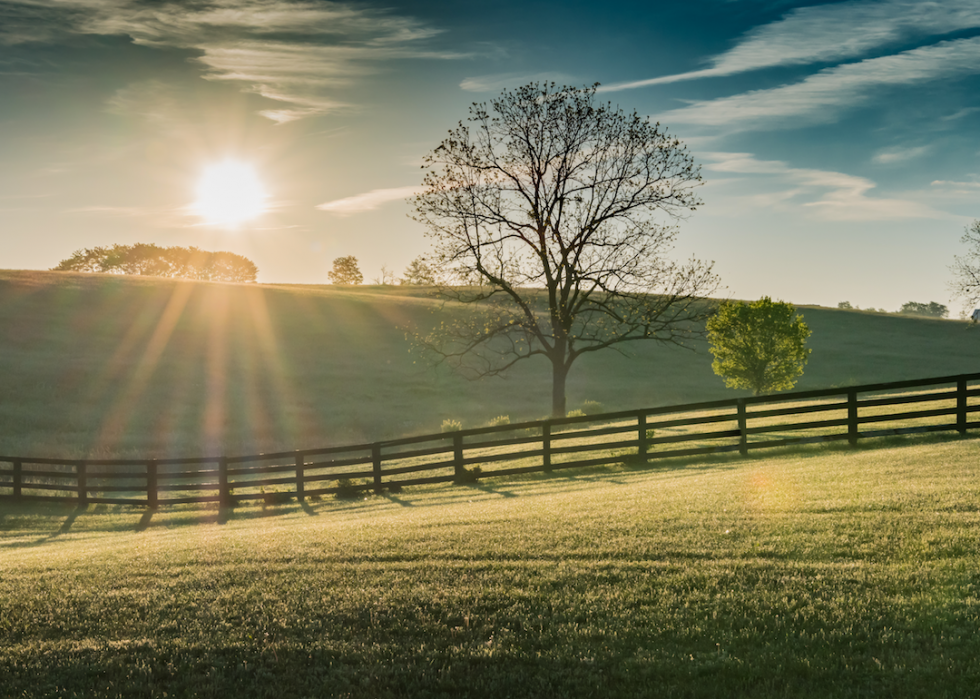 51 / 51
Kelly vanDellen // Shutterstock
#1. Kentucky
- Cancer rate: 510.2 new incidents per 100,000 people (16.5% above U.S. average)
- Cancer rate by gender: 557.9 per 100k men; 479 per 100k women
- Deaths due to cancer: 186 per 100k (21.6% above U.S. average; #1 highest among all states)
- Lung and bronchus cancer rate: 87 per 100k (58.2% above U.S. average; #1 highest among all states)
- Breast cancer rate: 125.7 per 100k women (0.6% above U.S. average; #23 lowest among all states)
- Prostate cancer rate: 108.8 per 100k men (1.7% above U.S. average; #24 lowest among all states)
- Notable local charity: The Center for Women and Families (Charity Navigator score: 87.74, Goal: Helping victims of intimate partner abuse and sexual violence since 1912)
You may also like: 40 most nutritious fruits and vegetables, according to experts