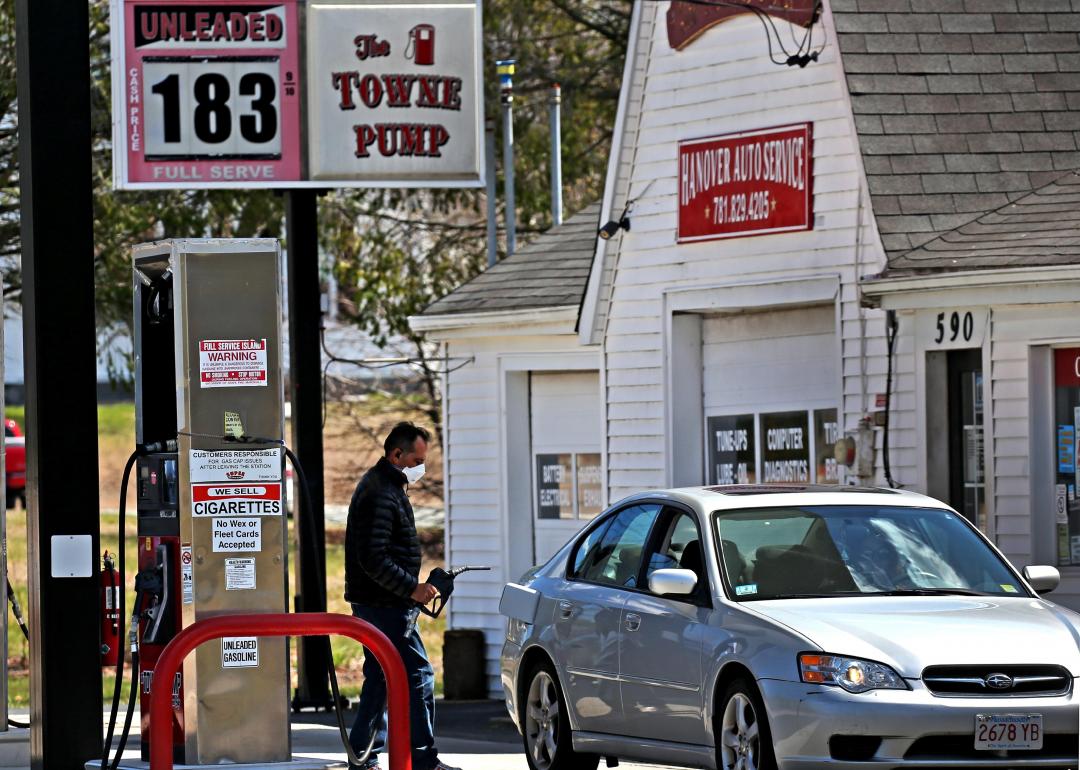 The cost of gasoline the year you started driving
Boston Globe Contributor via Boston Globe // Getty Images
The cost of gasoline the year you started driving
Since the introduction of Henry Ford's Model T in the early 20th century, cars and driving have become synonymous with American industry and culture. Our wheels have become more than just a way to get from A to B—they're a way to shape and define our identity.
For nearly every mile driven, American consumers find themselves inextricably linked to a complex global commodity that can have a major impact on the cost of cruising: fuel. But that may change in the coming decades.
General Motors announced in January 2021 an ambitious plan to sell only zero-emission cars by 2035, phasing out gas-powered cars in favor of electric cars. The company seeks to become wholly carbon neutral by 2040, joining a broader effort to fight global climate change. GE's announcement is expected to prompt more auto companies in the U.S. and around to work to make similar commitments. In just a few decades, the new car market will look radically different than it does today, and the gas and oil industries, whose fortunes are tied to the auto industry, will also experience radical change.
Most of the time, both the highs and the lows of gas prices are out of drivers' hands. During the Arab-Israeli War in 1973, Arab oil manufacturers banned exports to the U.S. due to their support of Israel, leading to a gas shortage and sky-high prices. In recent years, an increase in demand for oil in developing economies alongside an expansion in production from countries (like the U.S.) that once imported most of their oil, led to a sharp drop in oil prices. In the early months of the COVID-19 pandemic, stay-at-home orders caused oil prices to crater as demand for oil bottomed out.
To find out more about how has the price of gas changed throughout the years, Stacker ran the numbers on the cost of a gallon of gasoline for each of the last 84 years. Using data from the Bureau of Labor Statistics (released in January 2021), we analyzed the average price for a gallon of unleaded regular gasoline from 1976 to 2020 along with the Consumer Price Index (CPI) for unleaded regular gasoline from 1937 to 1976, including the absolute and inflation-adjusted prices for each year.
Read on to explore the cost of gas over time and rediscover just how much a gallon was when you first started driving.
You may also like: Iconic American companies started the year you were born