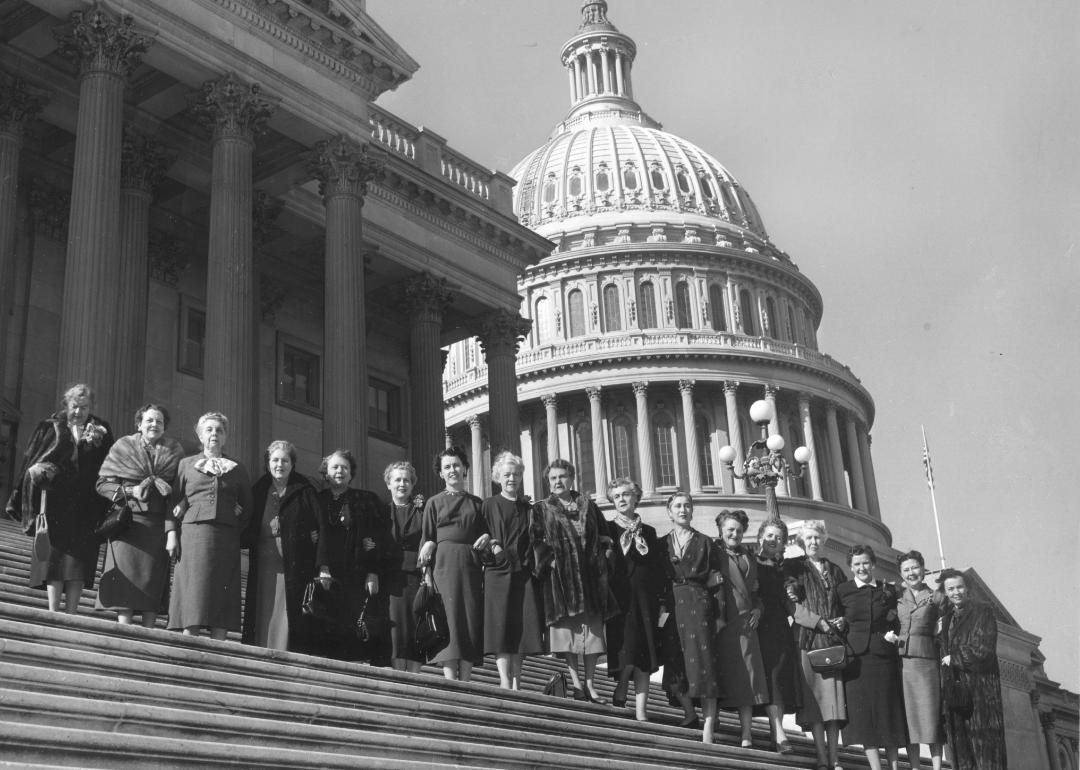 Women in public office the year you were born
PhotoQuest // Getty Images
Women in public office the year you were born
On Jan. 20, 2021, a new chapter in American history began when Joe Biden and Kamala Harris, the country's first female vice president, were sworn into office. Harris' role in the position is certainly monumental, but her nomination, while significant, was not a first. That honor, of being the first woman nominated by the Democratic party for the role of vice president, belongs to Geraldine A. Ferraro. In 1984, Ferraro, a congresswoman from Queens, strode on stage alongside Walter F. Mondale to accept the nomination, telling attendees at the Democratic National Convention, "If we can do this, we can do anything." While the duo lost to Reagan, the New York Times summarized the significance of the campaign perfectly: "64 years after women won the right to vote, a woman had removed the 'men only' sign from the White House door."
Ferraro's first is a significant moment in the history of women in politics, but it's hardly the only first that matters. After all, she wasn't the first woman to hold political office. Since 1776, there have been thousands of women who have held office in all levels of government, from local to state to federal.
To get a better idea of the role women have played in the shaping of the United States, Stacker used data from Rutgers University's Center for American Women and Politics to analyze the number of women in U.S. public office. For every year between 1932-2021, Stacker noted how many women there were in office, their political party breakdown, and the level of government they were in. Federal executive or Congress indicates any position in the U.S. Senate, House of Representatives, or as a U.S. Delegate for one of the territories. State legislature is a position as either a state senator or state representative. Statewide executive positions include governors, lieutenant governors, superintendents, secretaries of state, comptrollers, treasurers, auditors, and commissioners. Finally, D.C. or other territory legislature includes positions as senators or representatives within the legislatures of U.S. territories.
Read on to learn more about some important firsts and influential female players in American political history.
You may also like: Can you answer these real 'Jeopardy!' questions about politics?