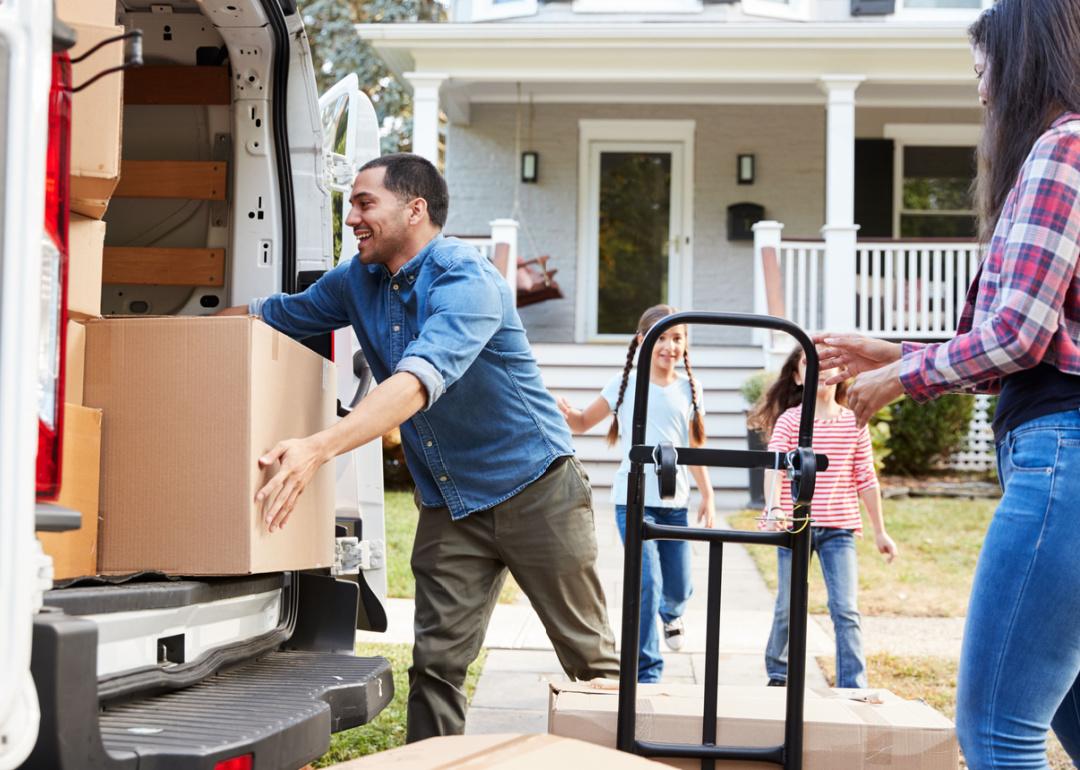 Stacker Studio
Homebuyers are leaving big cities for affordability—here's where they're going and how much they're saving
Monkey Business Images // Shutterstock
Homebuyers are leaving big cities for affordability—here's where they're going and how much they're saving
It's an age-old trend supercharged by the economic conditions of the COVID-19 pandemic: Homebuyers look to the suburbs for a home with enough space that also meets their budget.
American Home Shield looked at data from Freddie Mac to see which major metropolitan areas are experiencing an outflow of homebuyers, as well as where they are going and how much they could save on monthly mortgage payments. Metropolitan areas include the main city as well as its surrounding towns and suburbs.
Monthly mortgage payments were calculated using the median home price for that metro based on Freddie Mac loan applications over the past year. It assumes a 15% down payment and a 6% interest rate on a 30-year fixed-rate mortgage. It does not include the costs of property tax and insurance.
The analysis reveals that those able to purchase a home in the past year are fanning out from urban centers. Many affordable places people are moving to are in the same state but farther away from the city center. In many cases, homebuyers are moving to suburban areas and, in some cases, the exurbs beyond them.
And by doing so, they're potentially saving a considerable amount of money.
Based on the weighted average of median home prices, the typical mortgage payment is about $3,000 in the top 20 urban metro areas. People who move from these places to more affordable alternatives save about $600 on average.
Big cities lost their appeal over the last five or so years, and the invisible threat that was the pandemic gave homebuyers only more reasons to seek out less dense spaces. Now that home prices are roughly 43.3% higher on average than in 2019, the price differential in these areas continues to appeal to buyers looking to stretch out their dollars.
Continue reading to see where homebuyers in the top 20 metros are heading.
This story originally appeared on American Home Shield and was produced and distributed in partnership with Stacker Studio.