States with the highest COVID-19 hospitalization rates
MARK FELIX // Getty Images
States with the highest COVID-19 hospitalization rates
As of Nov. 29, there were 93,238 Americans hospitalized with COVID-19, according to the COVID Tracking Project. That number represents a new record for the number of people hospitalized at any given time since the start of the pandemic. While those hospitalized with the virus are experiencing higher survival rates than earlier this year, those gains are attributed in part to underburdened hospitals capable of dedicating staff to care for patients. That is a luxury not afforded to many hospitals around the country today, with 25 states reporting critical hospital staff shortages as of Nov. 19. 
To determine the states with the highest rates of reported COVID-19 hospitalizations, Stacker compared hospitalizations reported by the Department of Health and Human Services with population data from the U.S. Census (American Community Survey 2018 5-year estimates). All 50 states and Washington D.C. are ranked according to their number of COVID-19 patients per 100,000 people. Data on hospital capacity and the share of hospitals in each state experiencing staffing shortages are also included, as are recent counts of cases and deaths from the COVID Tracking Project. All data in the story are as of Nov. 29.
With so many hospitals maxed out on staff, officials around the country sounded a warning just ahead of Thanksgiving last week that spending the holiday with people outside of individual households was likely to push case counts and associated hospitalizations even higher. Meanwhile, more affluent hospitals are bringing in additional workers at a rate as high as $10,000 a week for a nurse—yet another sign of hospitals with less funding falling behind, particularly in rural areas already stretched thin.
Keep reading to see which states have the highest COVID-19 hospital rates as of Nov. 29.
You may also like: Counties in every state with the highest unemployment rate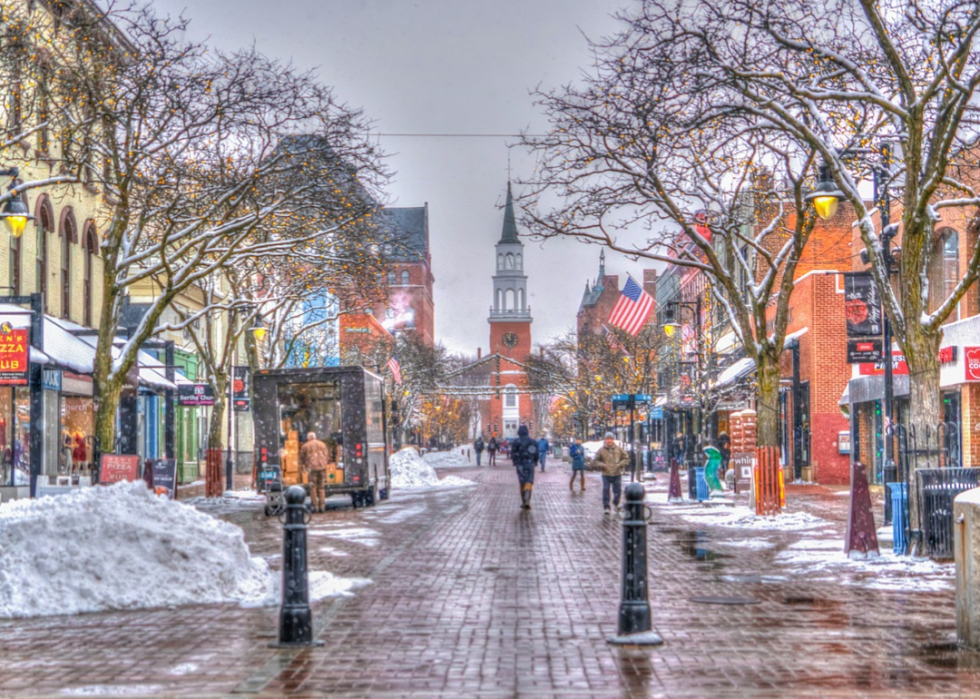 1 / 51
#51. Vermont
COVID-19 patients currently hospitalized in Vermont as of Nov. 29:
- 21 total patients (3 per 100,000 people)
- 17 patients in the ICU (3 per 100K)
Hospital capacity as of Nov. 29:
- Inpatient beds: 50.4% occupied (1.6% with COVID-19 patients)
- ICU beds: 57.7% occupied (15.3% with COVID-19 patients)
Hospital staffing shortages:
- Current staffing shortage: 1 hospitals (5.9%)
- Anticipating a shortage in the next week: 1 hospitals (5.9%)
Reported in the past week (Nov. 23 to Nov. 29):
- New cases: 471 (75 per 100K, #50 highest among all states)
- New deaths: 4.0 (0.6 per 100K, #51 highest)
- Test positive ratio: 1.3% (#50 highest, recommended ratio: under 5%)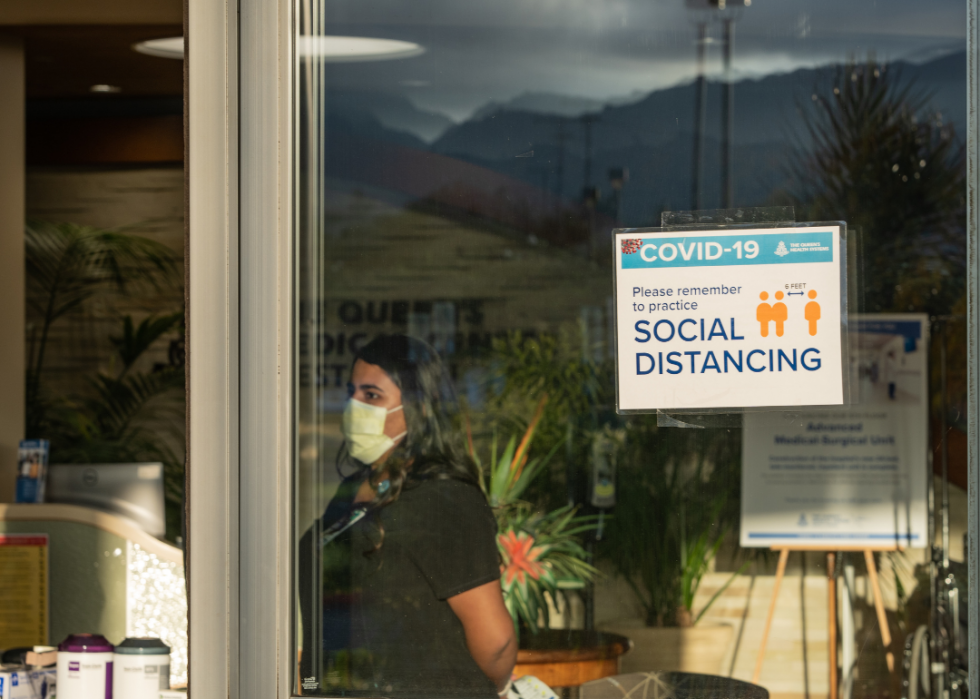 2 / 51
Impassioned Images // Shutterstock
#50. Hawaii
COVID-19 patients currently hospitalized in Hawaii as of Nov. 29:
- 65 total patients (5 per 100,000 people)
- 24 patients in the ICU (2 per 100K)
Hospital capacity as of Nov. 29:
- Inpatient beds: 65.6% occupied (2.5% with COVID-19 patients)
- ICU beds: 61.8% occupied (11.1% with COVID-19 patients)
Hospital staffing shortages:
- Current staffing shortage: 2 hospitals (8.3%)
- Anticipating a shortage in the next week: 3 hospitals (12.5%)
Reported in the past week (Nov. 23 to Nov. 29):
- New cases: 655 (46 per 100K, #51 highest among all states)
- New deaths: 11.0 (0.8 per 100K, #50 highest)
- Test positive ratio: 2.8% (#49 highest, recommended ratio: under 5%)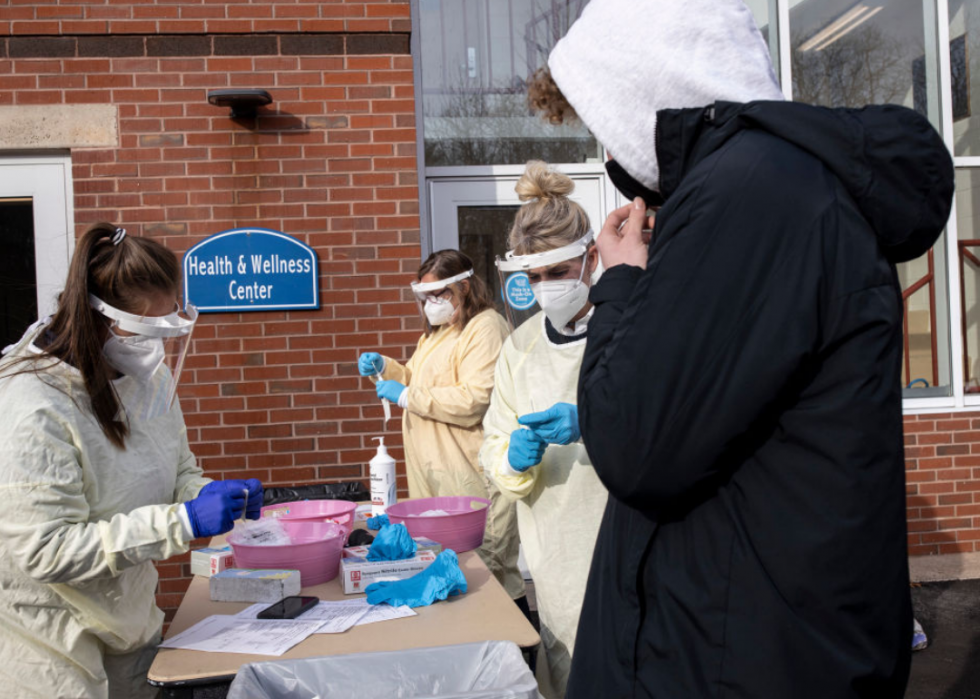 3 / 51
Portland Press Herald // Getty Images
#49. Maine
COVID-19 patients currently hospitalized in Maine as of Nov. 29:
- 152 total patients (11 per 100,000 people)
- 38 patients in the ICU (3 per 100K)
Hospital capacity as of Nov. 29:
- Inpatient beds: 62.1% occupied (5.0% with COVID-19 patients)
- ICU beds: 71.1% occupied (12.3% with COVID-19 patients)
Hospital staffing shortages:
- Current staffing shortage: 8 hospitals (21.1%)
- Anticipating a shortage in the next week: 7 hospitals (18.4%)
Reported in the past week (Nov. 23 to Nov. 29):
- New cases: 1,149 (86 per 100K, #49 highest among all states)
- New deaths: 15.0 (1.1 per 100K, #47 highest)
- Test positive ratio: 43.8% (#6 highest, recommended ratio: under 5%)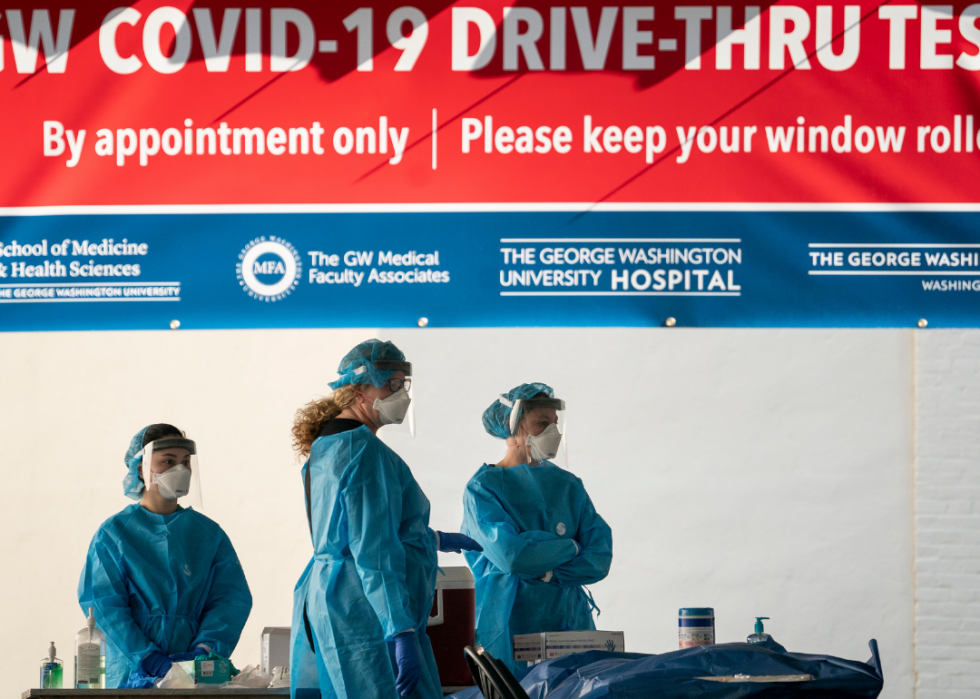 4 / 51
Drew Angerer // Getty Images
#48. Washington
COVID-19 patients currently hospitalized in Washington as of Nov. 29:
- 976 total patients (13 per 100,000 people)
- 102 patients in the ICU (1 per 100K)
Hospital capacity as of Nov. 29:
- Inpatient beds: 65.2% occupied (7.1% with COVID-19 patients)
- ICU beds: 69.9% occupied (7.8% with COVID-19 patients)
Hospital staffing shortages:
- Current staffing shortage: 13 hospitals (12.7%)
- Anticipating a shortage in the next week: 20 hospitals (19.6%)
Reported in the past week (Nov. 23 to Nov. 29):
- New cases: 19,374 (266 per 100K, #34 highest among all states)
- New deaths: 84.0 (1.2 per 100K, #45 highest)
- Test positive ratio: 0.0% (#51 highest, recommended ratio: under 5%)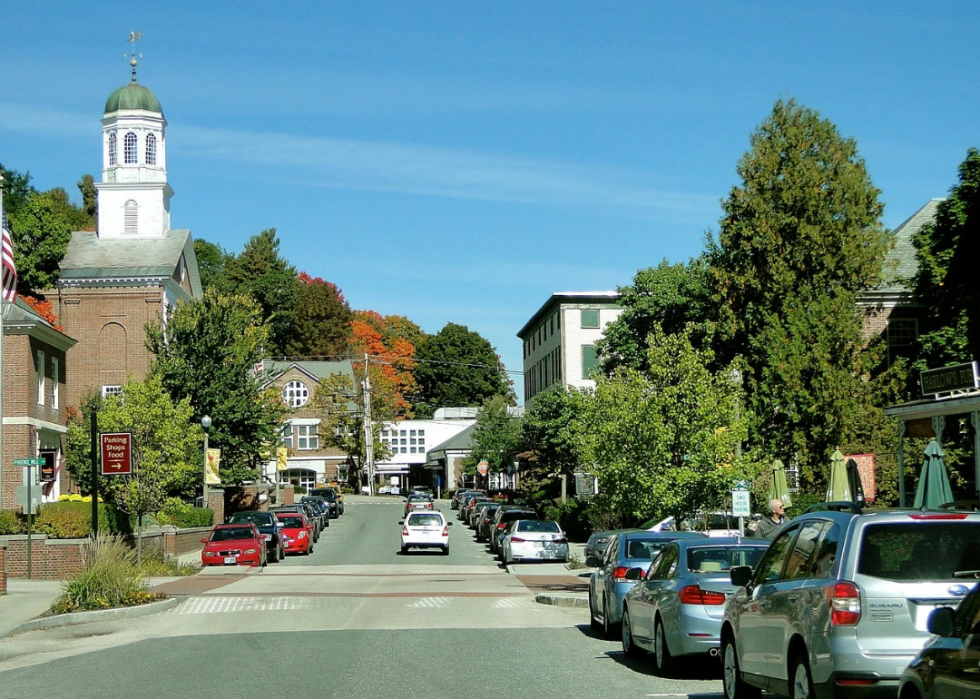 5 / 51
#47. New Hampshire
COVID-19 patients currently hospitalized in New Hampshire as of Nov. 29:
- 189 total patients (14 per 100,000 people)
- 30 patients in the ICU (2 per 100K)
Hospital capacity as of Nov. 29:
- Inpatient beds: 65.4% occupied (6.1% with COVID-19 patients)
- ICU beds: 59.0% occupied (10.6% with COVID-19 patients)
Hospital staffing shortages:
- Current staffing shortage: 6 hospitals (20.0%)
- Anticipating a shortage in the next week: 8 hospitals (26.7%)
Reported in the past week (Nov. 23 to Nov. 29):
- New cases: 2,882 (214 per 100K, #45 highest among all states)
- New deaths: 14.0 (1.0 per 100K, #48 highest)
- Test positive ratio: 2.9% (#47 highest, recommended ratio: under 5%)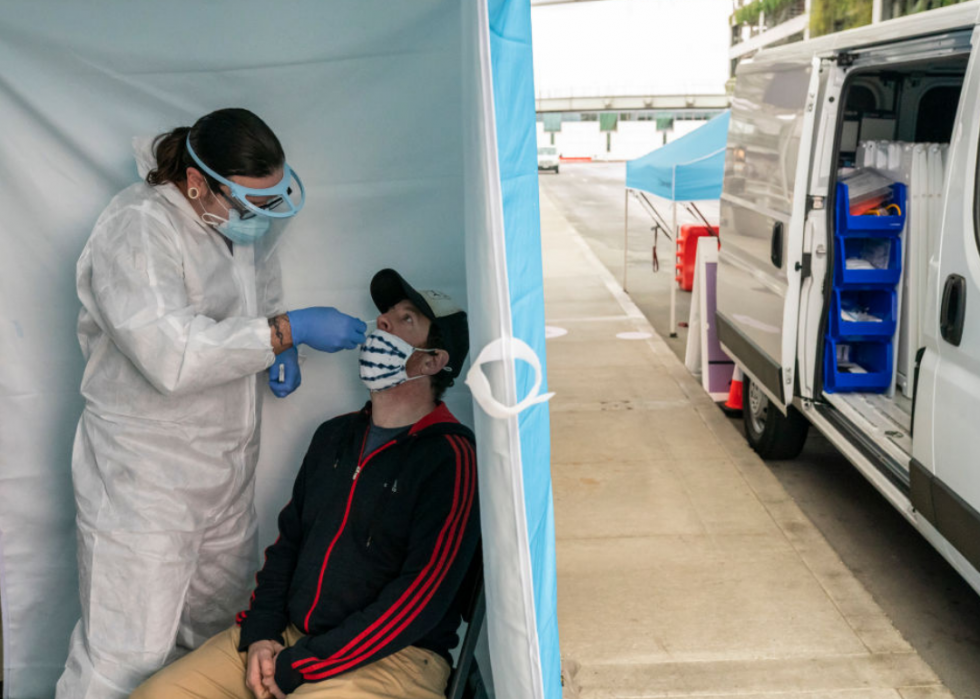 6 / 51
Nathan Howard // Getty Images
#46. Oregon
COVID-19 patients currently hospitalized in Oregon as of Nov. 29:
- 660 total patients (16 per 100,000 people)
- 63 patients in the ICU (2 per 100K)
Hospital capacity as of Nov. 29:
- Inpatient beds: 69.4% occupied (10.0% with COVID-19 patients)
- ICU beds: 64.6% occupied (8.1% with COVID-19 patients)
Hospital staffing shortages:
- Current staffing shortage: 4 hospitals (6.3%)
- Anticipating a shortage in the next week: 4 hospitals (6.3%)
Reported in the past week (Nov. 23 to Nov. 29):
- New cases: 8,950 (219 per 100K, #43 highest among all states)
- New deaths: 85.0 (2.1 per 100K, #39 highest)
- Test positive ratio: 52.3% (#4 highest, recommended ratio: under 5%)
7 / 51
#45. Massachusetts
COVID-19 patients currently hospitalized in Massachusetts as of Nov. 29:
- 1,171 total patients (17 per 100,000 people)
- 103 patients in the ICU (2 per 100K)
Hospital capacity as of Nov. 29:
- Inpatient beds: 67.0% occupied (5.3% with COVID-19 patients)
- ICU beds: 50.1% occupied (5.3% with COVID-19 patients)
Hospital staffing shortages:
- Current staffing shortage: 6 hospitals (5.8%)
- Anticipating a shortage in the next week: 6 hospitals (5.8%)
Reported in the past week (Nov. 23 to Nov. 29):
- New cases: 18,114 (265 per 100K, #35 highest among all states)
- New deaths: 210.0 (3.1 per 100K, #26 highest)
- Test positive ratio: 3.2% (#45 highest, recommended ratio: under 5%)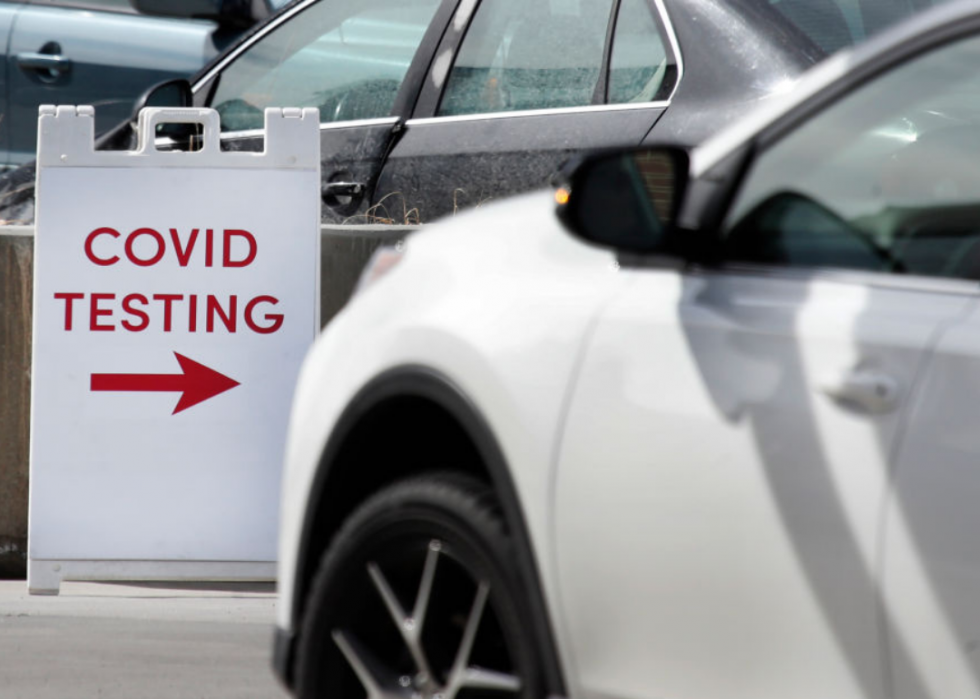 8 / 51
GEORGE FREY // Getty Images
#44. Utah
COVID-19 patients currently hospitalized in Utah as of Nov. 29:
- 565 total patients (19 per 100,000 people)
- 59 patients in the ICU (2 per 100K)
Hospital capacity as of Nov. 29:
- Inpatient beds: 52.7% occupied (9.1% with COVID-19 patients)
- ICU beds: 70.0% occupied (9.2% with COVID-19 patients)
Hospital staffing shortages:
- Current staffing shortage: 8 hospitals (13.6%)
- Anticipating a shortage in the next week: 7 hospitals (11.9%)
Reported in the past week (Nov. 23 to Nov. 29):
- New cases: 16,633 (546 per 100K, #13 highest among all states)
- New deaths: 75.0 (2.5 per 100K, #32 highest)
- Test positive ratio: 15.7% (#18 highest, recommended ratio: under 5%)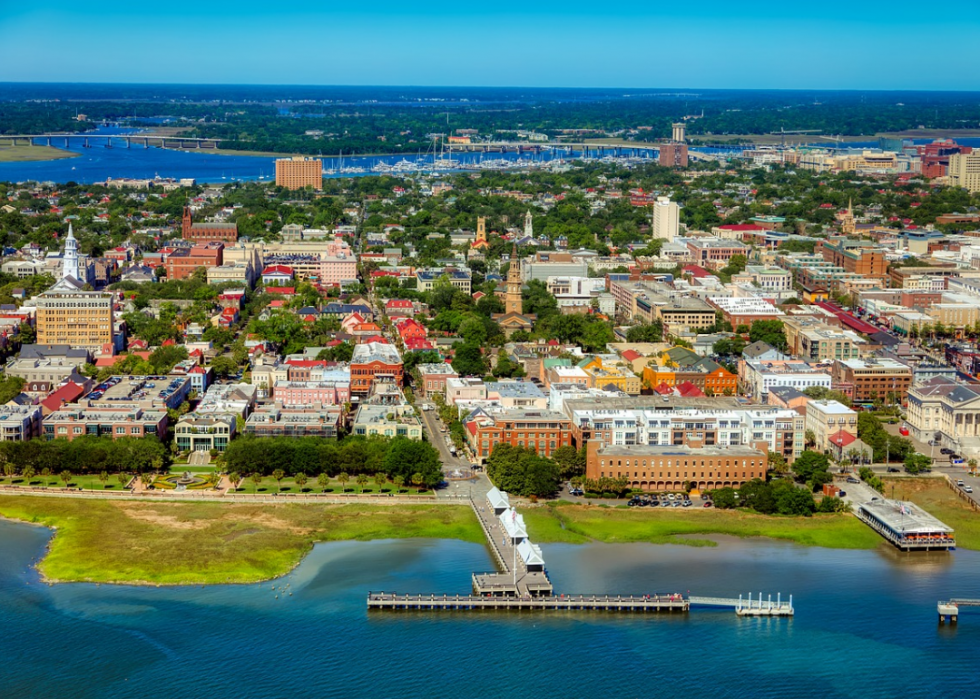 9 / 51
#43. South Carolina
COVID-19 patients currently hospitalized in South Carolina as of Nov. 29:
- 937 total patients (19 per 100,000 people)
- 86 patients in the ICU (2 per 100K)
Hospital capacity as of Nov. 29:
- Inpatient beds: 72.3% occupied (8.3% with COVID-19 patients)
- ICU beds: 72.0% occupied (6.6% with COVID-19 patients)
Hospital staffing shortages:
- Current staffing shortage: 24 hospitals (27.9%)
- Anticipating a shortage in the next week: 29 hospitals (33.7%)
Reported in the past week (Nov. 23 to Nov. 29):
- New cases: 9,834 (198 per 100K, #46 highest among all states)
- New deaths: 70.0 (1.4 per 100K, #44 highest)
- Test positive ratio: 6.1% (#39 highest, recommended ratio: under 5%)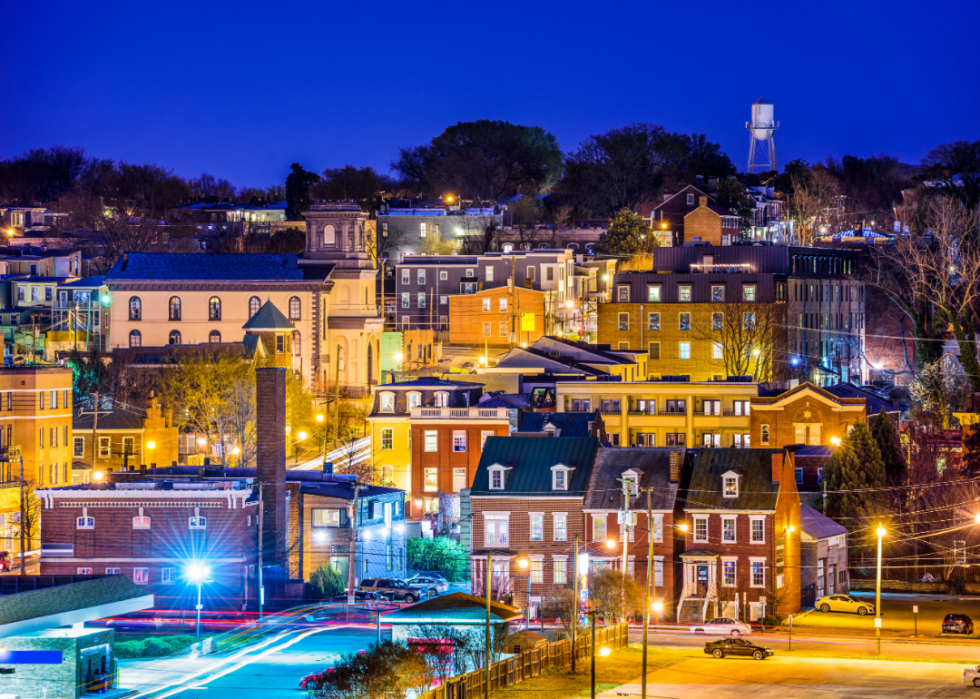 10 / 51
#42. Virginia
COVID-19 patients currently hospitalized in Virginia as of Nov. 29:
- 1,656 total patients (20 per 100,000 people)
- 107 patients in the ICU (1 per 100K)
Hospital capacity as of Nov. 29:
- Inpatient beds: 63.7% occupied (8.8% with COVID-19 patients)
- ICU beds: 64.5% occupied (5.2% with COVID-19 patients)
Hospital staffing shortages:
- Current staffing shortage: 27 hospitals (25.2%)
- Anticipating a shortage in the next week: 36 hospitals (33.6%)
Reported in the past week (Nov. 23 to Nov. 29):
- New cases: 18,146 (216 per 100K, #44 highest among all states)
- New deaths: 120.0 (1.4 per 100K, #43 highest)
- Test positive ratio: 10.4% (#27 highest, recommended ratio: under 5%)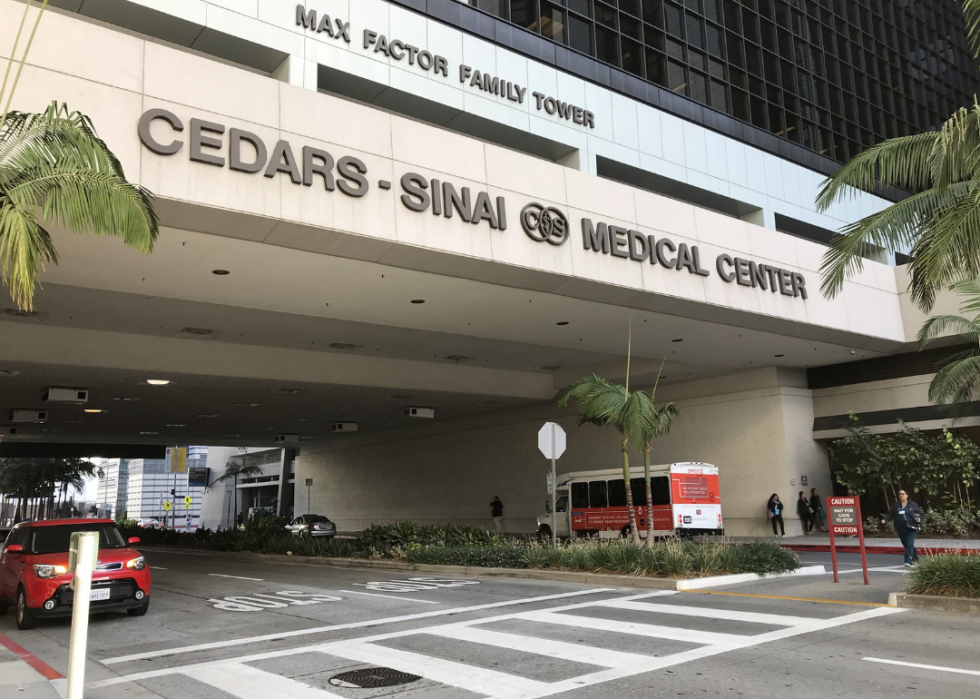 11 / 51
Alex Millauer // Shutterstock
#41. California
COVID-19 patients currently hospitalized in California as of Nov. 29:
- 7,901 total patients (20 per 100,000 people)
- 408 patients in the ICU (1 per 100K)
Hospital capacity as of Nov. 29:
- Inpatient beds: 70.4% occupied (12.9% with COVID-19 patients)
- ICU beds: 75.1% occupied (5.9% with COVID-19 patients)
Hospital staffing shortages:
- Current staffing shortage: 75 hospitals (18.3%)
- Anticipating a shortage in the next week: 100 hospitals (24.4%)
Reported in the past week (Nov. 23 to Nov. 29):
- New cases: 96,901 (248 per 100K, #38 highest among all states)
- New deaths: 445.0 (1.1 per 100K, #46 highest)
- Test positive ratio: 6.4% (#36 highest, recommended ratio: under 5%)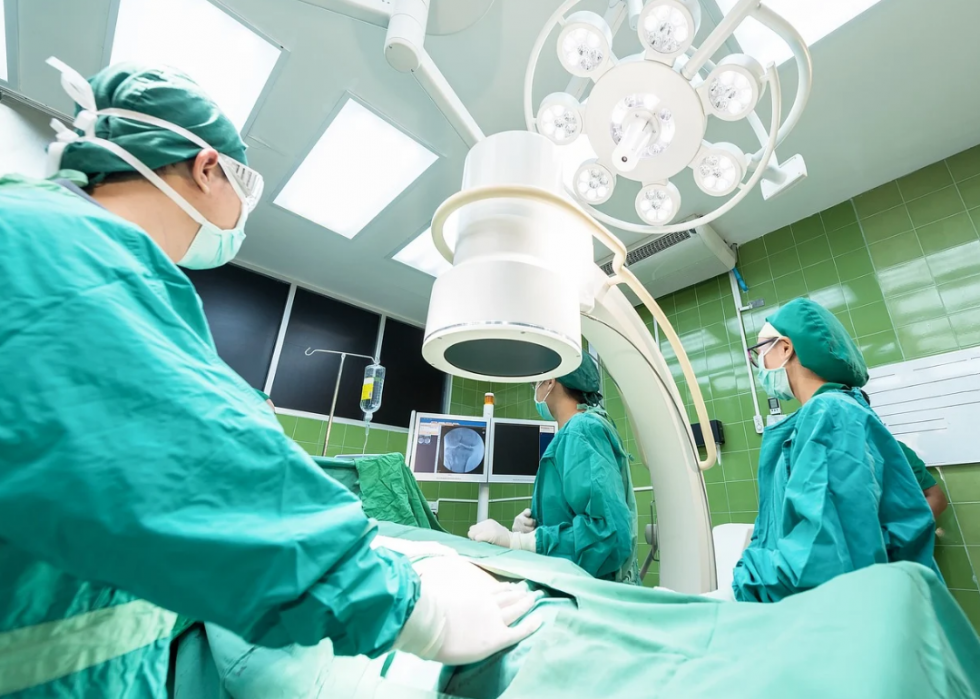 12 / 51
#40. Alaska
COVID-19 patients currently hospitalized in Alaska as of Nov. 29:
- 162 total patients (22 per 100,000 people)
- 24 patients in the ICU (3 per 100K)
Hospital capacity as of Nov. 29:
- Inpatient beds: 60.4% occupied (10.2% with COVID-19 patients)
- ICU beds: 67.2% occupied (17.9% with COVID-19 patients)
Hospital staffing shortages:
- Current staffing shortage: 5 hospitals (20.8%)
- Anticipating a shortage in the next week: 6 hospitals (25.0%)
Reported in the past week (Nov. 23 to Nov. 29):
- New cases: 4,229 (573 per 100K, #9 highest among all states)
- New deaths: 18.0 (2.4 per 100K, #36 highest)
- Test positive ratio: 6.1% (#40 highest, recommended ratio: under 5%)
13 / 51
#39. North Carolina
COVID-19 patients currently hospitalized in North Carolina as of Nov. 29:
- 2,228 total patients (22 per 100,000 people)
- 129 patients in the ICU (1 per 100K)
Hospital capacity as of Nov. 29:
- Inpatient beds: 70.3% occupied (9.7% with COVID-19 patients)
- ICU beds: 75.1% occupied (5.2% with COVID-19 patients)
Hospital staffing shortages:
- Current staffing shortage: 8 hospitals (6.2%)
- Anticipating a shortage in the next week: 11 hospitals (8.5%)
Reported in the past week (Nov. 23 to Nov. 29):
- New cases: 25,003 (246 per 100K, #39 highest among all states)
- New deaths: 206.0 (2.0 per 100K, #40 highest)
- Test positive ratio: 6.3% (#38 highest, recommended ratio: under 5%)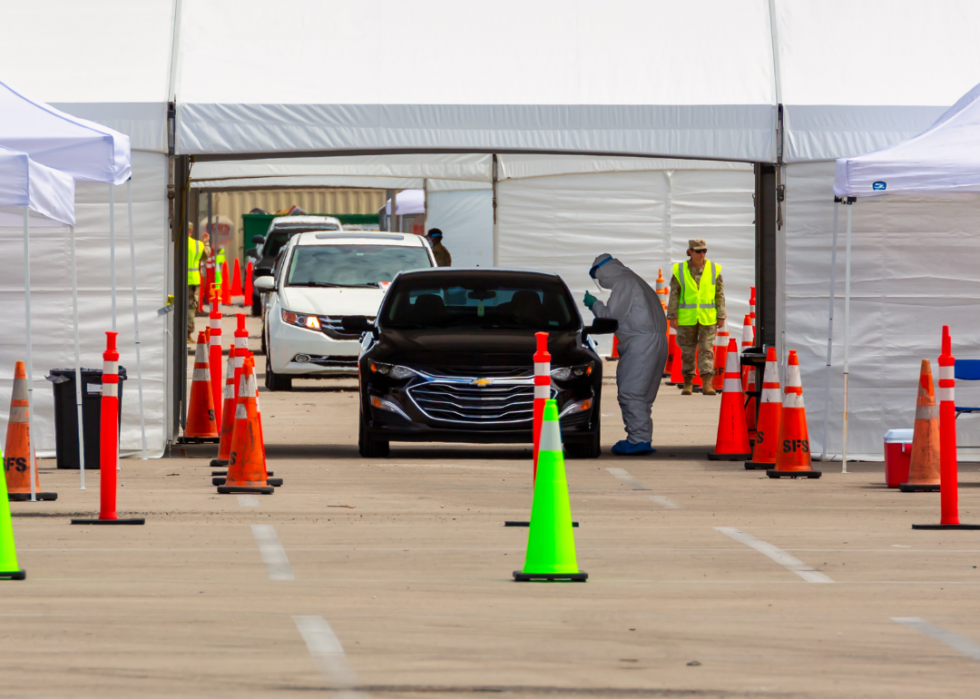 14 / 51
YES Market Media // Shutterstock
#38. Florida
COVID-19 patients currently hospitalized in Florida as of Nov. 29:
- 4,644 total patients (23 per 100,000 people)
- 267 patients in the ICU (1 per 100K)
Hospital capacity as of Nov. 29:
- Inpatient beds: 71.1% occupied (8.1% with COVID-19 patients)
- ICU beds: 75.4% occupied (4.3% with COVID-19 patients)
Hospital staffing shortages:
- Current staffing shortage: 5 hospitals (1.9%)
- Anticipating a shortage in the next week: 22 hospitals (8.2%)
Reported in the past week (Nov. 23 to Nov. 29):
- New cases: 52,330 (254 per 100K, #37 highest among all states)
- New deaths: 522.0 (2.5 per 100K, #30 highest)
- Test positive ratio: 6.6% (#35 highest, recommended ratio: under 5%)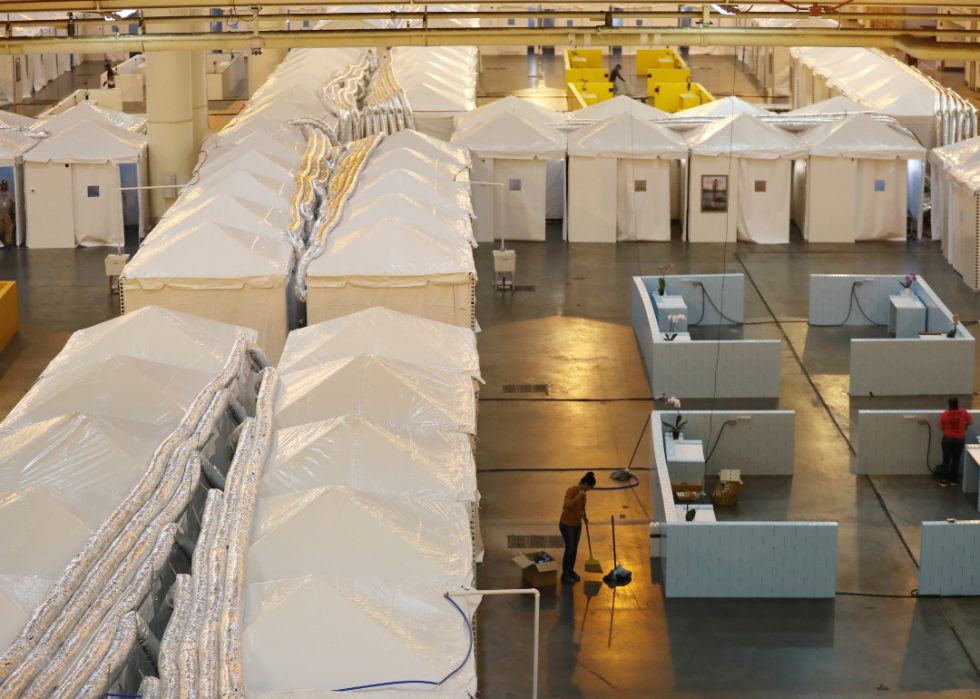 15 / 51
Chris Graythen // Getty Images
#37. Louisiana
COVID-19 patients currently hospitalized in Louisiana as of Nov. 29:
- 1,124 total patients (24 per 100,000 people)
- 221 patients in the ICU (5 per 100K)
Hospital capacity as of Nov. 29:
- Inpatient beds: 62.5% occupied (8.0% with COVID-19 patients)
- ICU beds: 69.5% occupied (11.8% with COVID-19 patients)
Hospital staffing shortages:
- Current staffing shortage: 37 hospitals (16.7%)
- Anticipating a shortage in the next week: 40 hospitals (18.1%)
Reported in the past week (Nov. 23 to Nov. 29):
- New cases: 12,053 (258 per 100K, #36 highest among all states)
- New deaths: 147.0 (3.2 per 100K, #25 highest)
- Test positive ratio: 6.0% (#41 highest, recommended ratio: under 5%)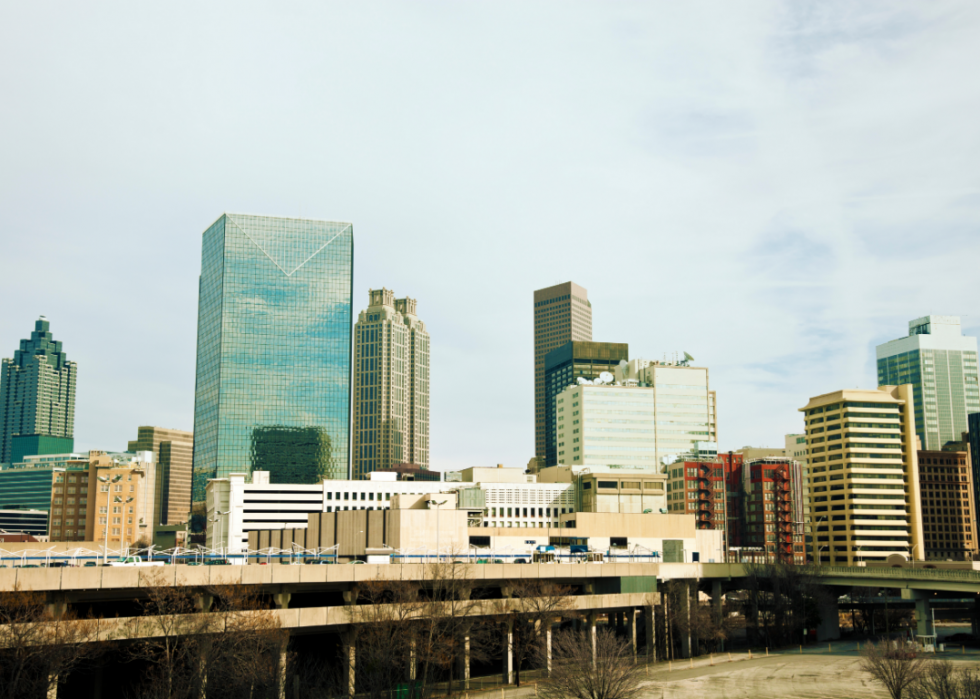 16 / 51
#36. Georgia
COVID-19 patients currently hospitalized in Georgia as of Nov. 29:
- 2,527 total patients (25 per 100,000 people)
- 171 patients in the ICU (2 per 100K)
Hospital capacity as of Nov. 29:
- Inpatient beds: 73.2% occupied (11.2% with COVID-19 patients)
- ICU beds: 81.3% occupied (6.3% with COVID-19 patients)
Hospital staffing shortages:
- Current staffing shortage: 30 hospitals (17.5%)
- Anticipating a shortage in the next week: 37 hospitals (21.6%)
Reported in the past week (Nov. 23 to Nov. 29):
- New cases: 16,190 (157 per 100K, #48 highest among all states)
- New deaths: 244.0 (2.4 per 100K, #37 highest)
- Test positive ratio: 8.9% (#32 highest, recommended ratio: under 5%)
17 / 51
Victor J. Blue // Getty Images
#35. New York
COVID-19 patients currently hospitalized in New York as of Nov. 29:
- 4,815 total patients (25 per 100,000 people)
- 197 patients in the ICU (1 per 100K)
Hospital capacity as of Nov. 29:
- Inpatient beds: 68.8% occupied (8.3% with COVID-19 patients)
- ICU beds: 55.6% occupied (2.8% with COVID-19 patients)
Hospital staffing shortages:
- Current staffing shortage: 17 hospitals (8.6%)
- Anticipating a shortage in the next week: 15 hospitals (7.6%)
Reported in the past week (Nov. 23 to Nov. 29):
- New cases: 44,947 (229 per 100K, #41 highest among all states)
- New deaths: 333.0 (1.7 per 100K, #41 highest)
- Test positive ratio: 3.5% (#44 highest, recommended ratio: under 5%)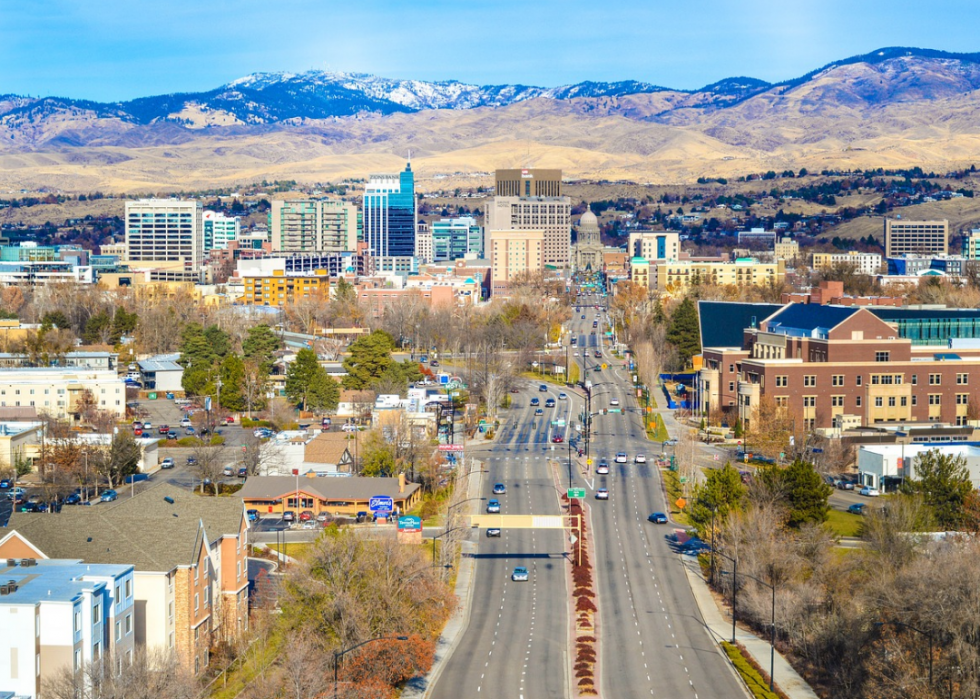 18 / 51
#34. Idaho
COVID-19 patients currently hospitalized in Idaho as of Nov. 29:
- 448 total patients (27 per 100,000 people)
- 51 patients in the ICU (3 per 100K)
Hospital capacity as of Nov. 29:
- Inpatient beds: 58.0% occupied (11.9% with COVID-19 patients)
- ICU beds: 77.8% occupied (16.9% with COVID-19 patients)
Hospital staffing shortages:
- Current staffing shortage: 5 hospitals (9.8%)
- Anticipating a shortage in the next week: 9 hospitals (17.6%)
Reported in the past week (Nov. 23 to Nov. 29):
- New cases: 8,826 (523 per 100K, #17 highest among all states)
- New deaths: 66.0 (3.9 per 100K, #19 highest)
- Test positive ratio: 38.3% (#8 highest, recommended ratio: under 5%)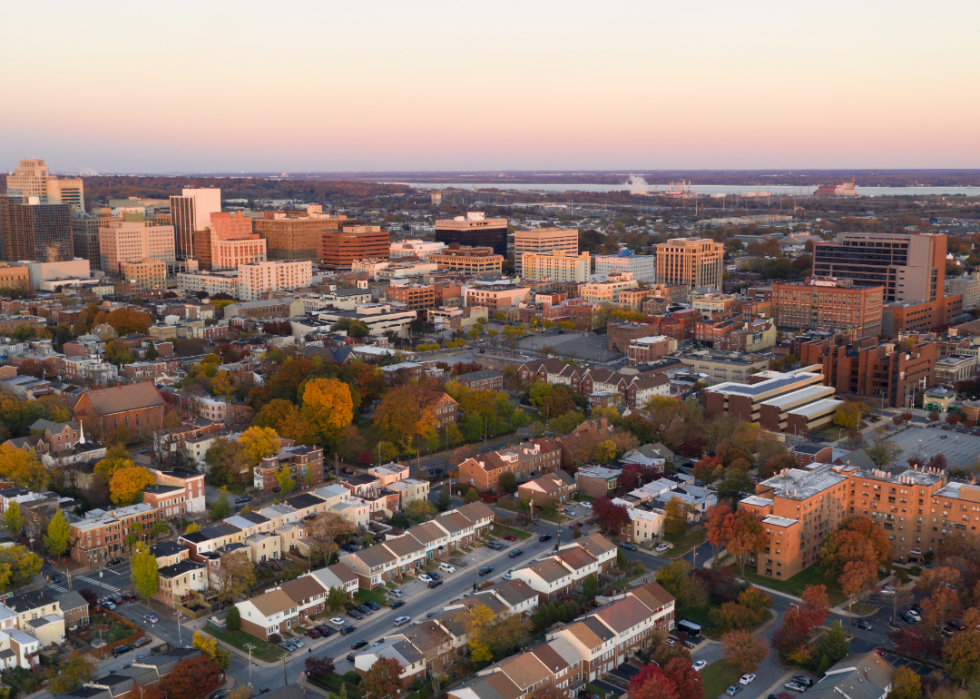 19 / 51
#33. Delaware
COVID-19 patients currently hospitalized in Delaware as of Nov. 29:
- 255 total patients (27 per 100,000 people)
- 16 patients in the ICU (2 per 100K)
Hospital capacity as of Nov. 29:
- Inpatient beds: 69.2% occupied (7.9% with COVID-19 patients)
- ICU beds: 81.7% occupied (8.9% with COVID-19 patients)
Hospital staffing shortages:
- Current staffing shortage: 2 hospitals (12.5%)
- Anticipating a shortage in the next week: 3 hospitals (18.8%)
Reported in the past week (Nov. 23 to Nov. 29):
- New cases: 3,443 (363 per 100K, #27 highest among all states)
- New deaths: 22.0 (2.3 per 100K, #38 highest)
- Test positive ratio: 7.9% (#34 highest, recommended ratio: under 5%)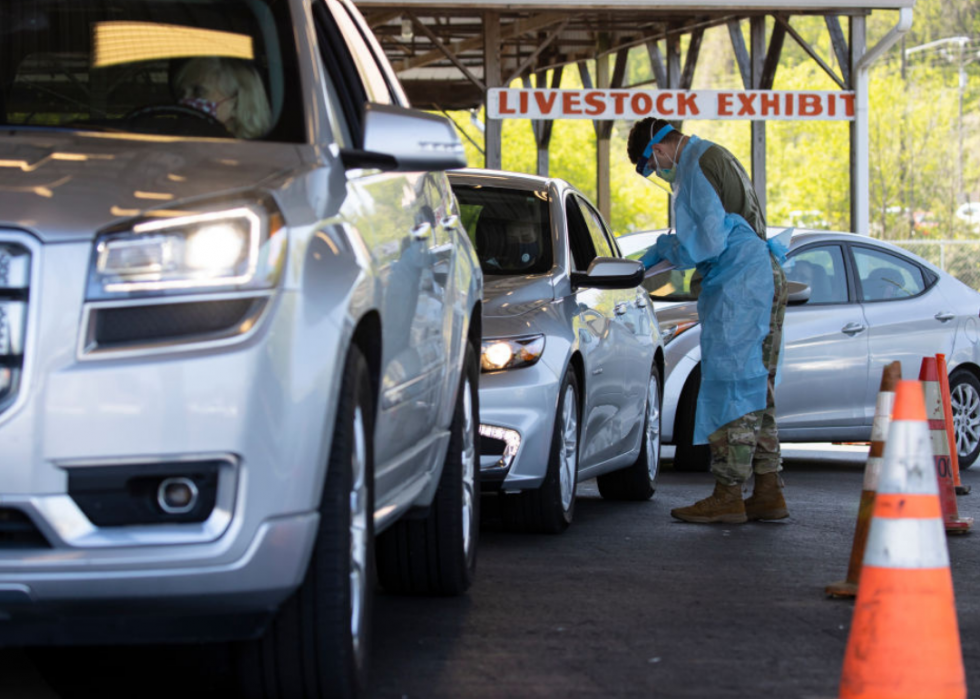 20 / 51
Brett Carlsen // Getty Images
#32. Tennessee
COVID-19 patients currently hospitalized in Tennessee as of Nov. 29:
- 2,038 total patients (31 per 100,000 people)
- 97 patients in the ICU (1 per 100K)
Hospital capacity as of Nov. 29:
- Inpatient beds: 63.4% occupied (10.3% with COVID-19 patients)
- ICU beds: 75.2% occupied (4.2% with COVID-19 patients)
Hospital staffing shortages:
- Current staffing shortage: 23 hospitals (15.9%)
- Anticipating a shortage in the next week: 36 hospitals (24.8%)
Reported in the past week (Nov. 23 to Nov. 29):
- New cases: 26,042 (392 per 100K, #23 highest among all states)
- New deaths: 288.0 (4.3 per 100K, #14 highest)
- Test positive ratio: 15.3% (#20 highest, recommended ratio: under 5%)
21 / 51
Alex Edelman // Getty Images
#31. Maryland
COVID-19 patients currently hospitalized in Maryland as of Nov. 29:
- 1,874 total patients (31 per 100,000 people)
- 59 patients in the ICU (1 per 100K)
Hospital capacity as of Nov. 29:
- Inpatient beds: 76.5% occupied (15.5% with COVID-19 patients)
- ICU beds: 76.1% occupied (4.4% with COVID-19 patients)
Hospital staffing shortages:
- Current staffing shortage: 10 hospitals (16.9%)
- Anticipating a shortage in the next week: 9 hospitals (15.3%)
Reported in the past week (Nov. 23 to Nov. 29):
- New cases: 14,308 (238 per 100K, #40 highest among all states)
- New deaths: 191.0 (3.2 per 100K, #24 highest)
- Test positive ratio: 5.5% (#42 highest, recommended ratio: under 5%)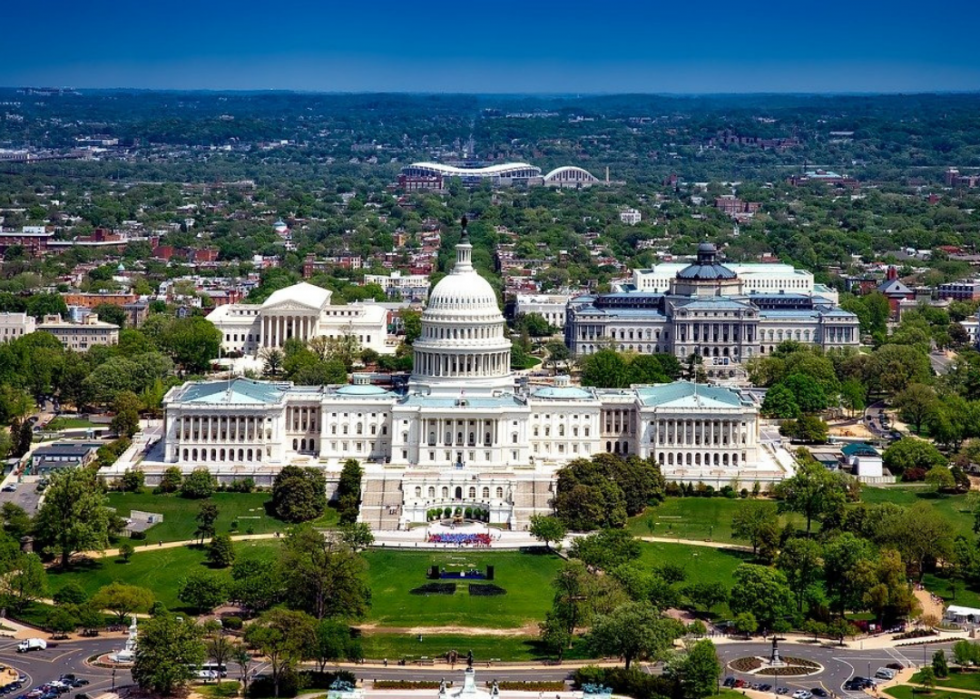 22 / 51
#30. District of Columbia
COVID-19 patients currently hospitalized in District of Columbia as of Nov. 29:
- 217 total patients (32 per 100,000 people)
- 13 patients in the ICU (2 per 100K)
Hospital capacity as of Nov. 29:
- Inpatient beds: 75.6% occupied (6.4% with COVID-19 patients)
- ICU beds: 68.3% occupied (3.8% with COVID-19 patients)
Hospital staffing shortages:
- Current staffing shortage: 1 hospitals (7.7%)
- Anticipating a shortage in the next week: 1 hospitals (7.7%)
Reported in the past week (Nov. 23 to Nov. 29):
- New cases: 1,297 (189 per 100K, #47 highest among all states)
- New deaths: 10.0 (1.5 per 100K, #42 highest)
- Test positive ratio: 2.9% (#46 highest, recommended ratio: under 5%)
23 / 51
Jim Lambert // Shutterstock
#29. Colorado
COVID-19 patients currently hospitalized in Colorado as of Nov. 29:
- 1,787 total patients (32 per 100,000 people)
- 102 patients in the ICU (2 per 100K)
Hospital capacity as of Nov. 29:
- Inpatient beds: 65.5% occupied (15.8% with COVID-19 patients)
- ICU beds: 67.3% occupied (7.2% with COVID-19 patients)
Hospital staffing shortages:
- Current staffing shortage: 12 hospitals (11.8%)
- Anticipating a shortage in the next week: 17 hospitals (16.7%)
Reported in the past week (Nov. 23 to Nov. 29):
- New cases: 30,172 (545 per 100K, #14 highest among all states)
- New deaths: 166.0 (3.0 per 100K, #27 highest)
- Test positive ratio: 9.6% (#30 highest, recommended ratio: under 5%)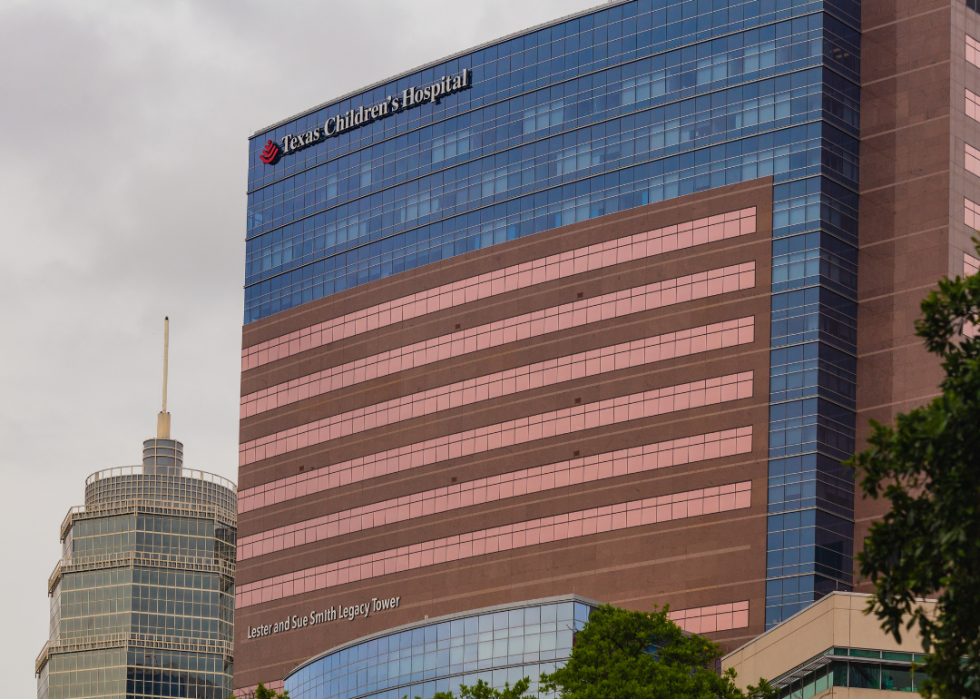 24 / 51
Patrish Jackson // Shutterstock
#28. Texas
COVID-19 patients currently hospitalized in Texas as of Nov. 29:
- 9,071 total patients (33 per 100,000 people)
- 588 patients in the ICU (2 per 100K)
Hospital capacity as of Nov. 29:
- Inpatient beds: 69.6% occupied (12.8% with COVID-19 patients)
- ICU beds: 79.6% occupied (7.5% with COVID-19 patients)
Hospital staffing shortages:
- Current staffing shortage: 134 hospitals (22.8%)
- Anticipating a shortage in the next week: 159 hospitals (27.0%)
Reported in the past week (Nov. 23 to Nov. 29):
- New cases: 62,998 (226 per 100K, #42 highest among all states)
- New deaths: 801.0 (2.9 per 100K, #28 highest)
- Test positive ratio: 10.2% (#28 highest, recommended ratio: under 5%)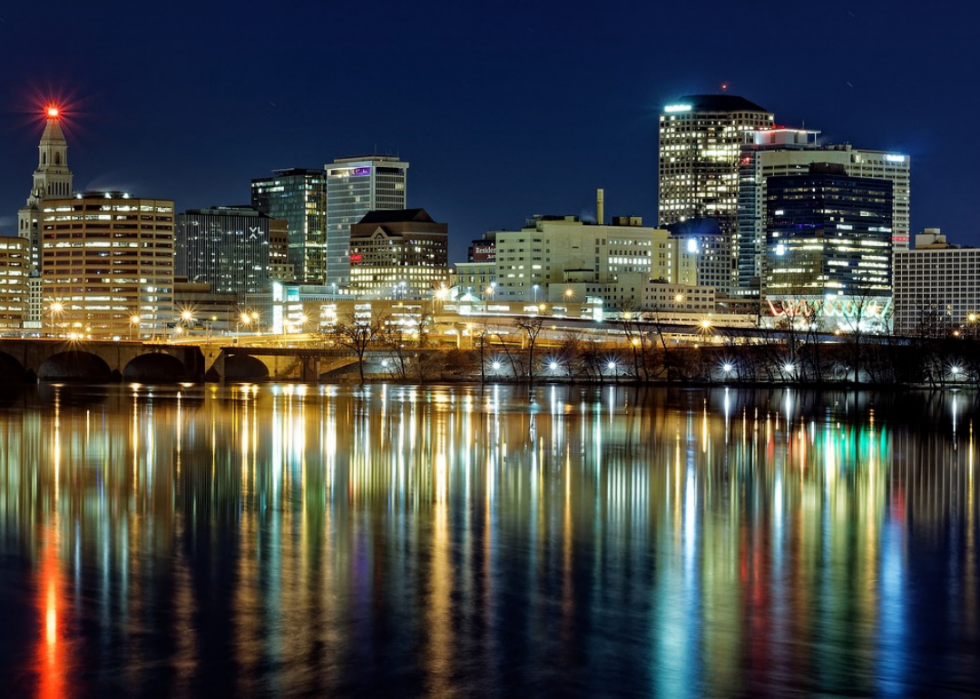 25 / 51
#27. Connecticut
COVID-19 patients currently hospitalized in Connecticut as of Nov. 29:
- 1,175 total patients (33 per 100,000 people)
- 33 patients in the ICU (1 per 100K)
Hospital capacity as of Nov. 29:
- Inpatient beds: 68.8% occupied (14.5% with COVID-19 patients)
- ICU beds: 55.6% occupied (3.1% with COVID-19 patients)
Hospital staffing shortages:
- Current staffing shortage: 8 hospitals (23.5%)
- Anticipating a shortage in the next week: 10 hospitals (29.4%)
Reported in the past week (Nov. 23 to Nov. 29):
- New cases: 11,112 (310 per 100K, #31 highest among all states)
- New deaths: 133.0 (3.7 per 100K, #21 highest)
- Test positive ratio: 2.8% (#48 highest, recommended ratio: under 5%)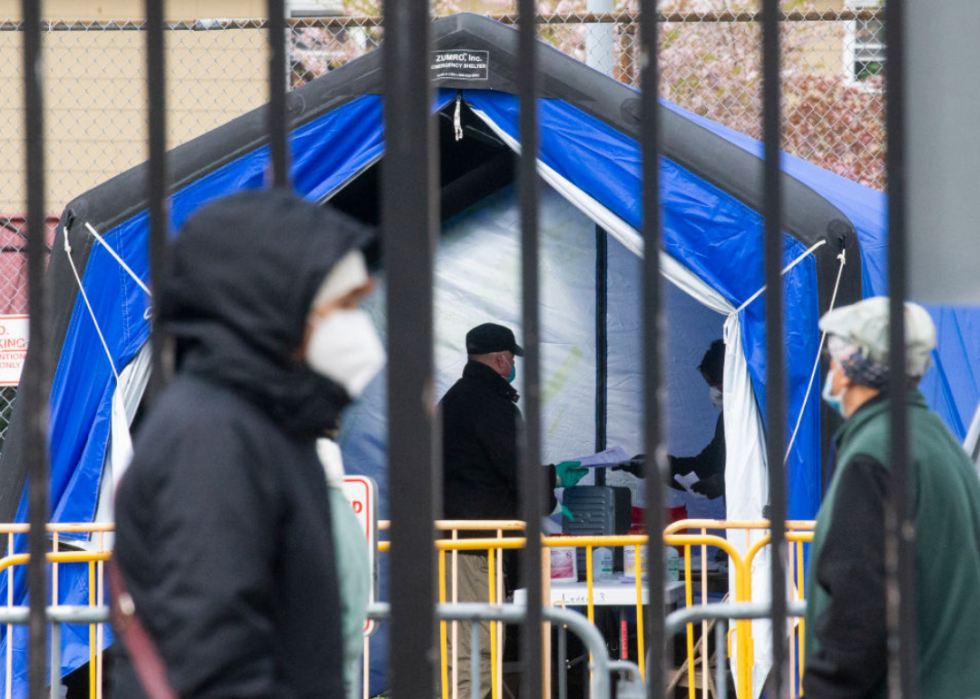 26 / 51
Kena Betancur // Getty Images
#26. New Jersey
COVID-19 patients currently hospitalized in New Jersey as of Nov. 29:
- 3,023 total patients (34 per 100,000 people)
- 92 patients in the ICU (1 per 100K)
Hospital capacity as of Nov. 29:
- Inpatient beds: 71.5% occupied (13.5% with COVID-19 patients)
- ICU beds: 64.8% occupied (4.0% with COVID-19 patients)
Hospital staffing shortages:
- Current staffing shortage: 12 hospitals (13.0%)
- Anticipating a shortage in the next week: 13 hospitals (14.1%)
Reported in the past week (Nov. 23 to Nov. 29):
- New cases: 28,107 (316 per 100K, #30 highest among all states)
- New deaths: 217.0 (2.4 per 100K, #35 highest)
- Test positive ratio: 46.1% (#5 highest, recommended ratio: under 5%)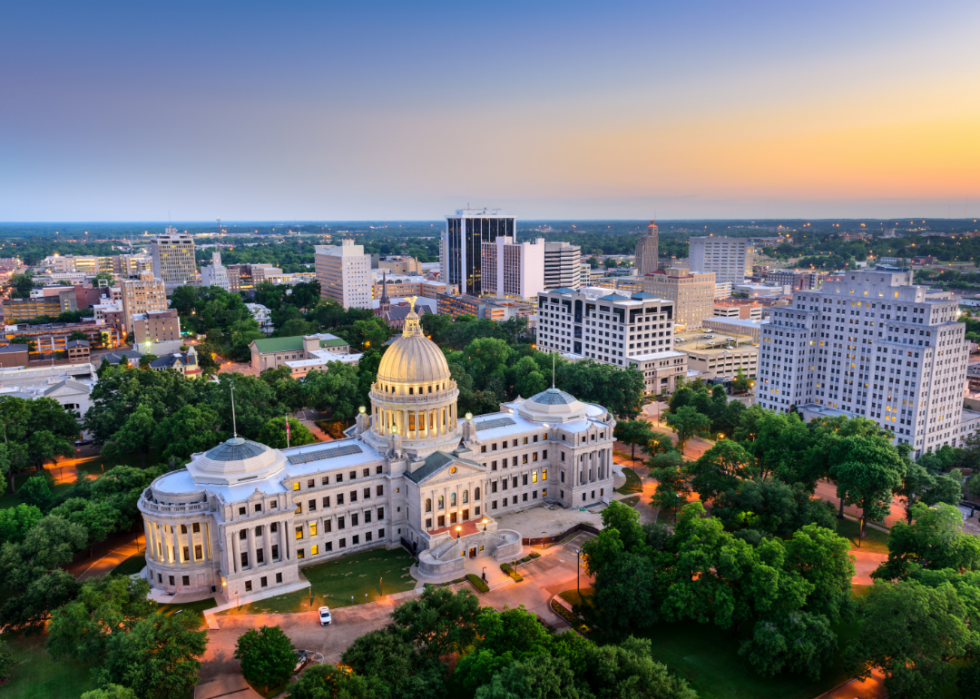 27 / 51
#25. Mississippi
COVID-19 patients currently hospitalized in Mississippi as of Nov. 29:
- 1,041 total patients (35 per 100,000 people)
- 107 patients in the ICU (4 per 100K)
Hospital capacity as of Nov. 29:
- Inpatient beds: 59.5% occupied (11.9% with COVID-19 patients)
- ICU beds: 74.9% occupied (11.8% with COVID-19 patients)
Hospital staffing shortages:
- Current staffing shortage: 21 hospitals (19.6%)
- Anticipating a shortage in the next week: 26 hospitals (24.3%)
Reported in the past week (Nov. 23 to Nov. 29):
- New cases: 8,605 (288 per 100K, #33 highest among all states)
- New deaths: 130.0 (4.3 per 100K, #12 highest)
- Test positive ratio: 86.0% (#2 highest, recommended ratio: under 5%)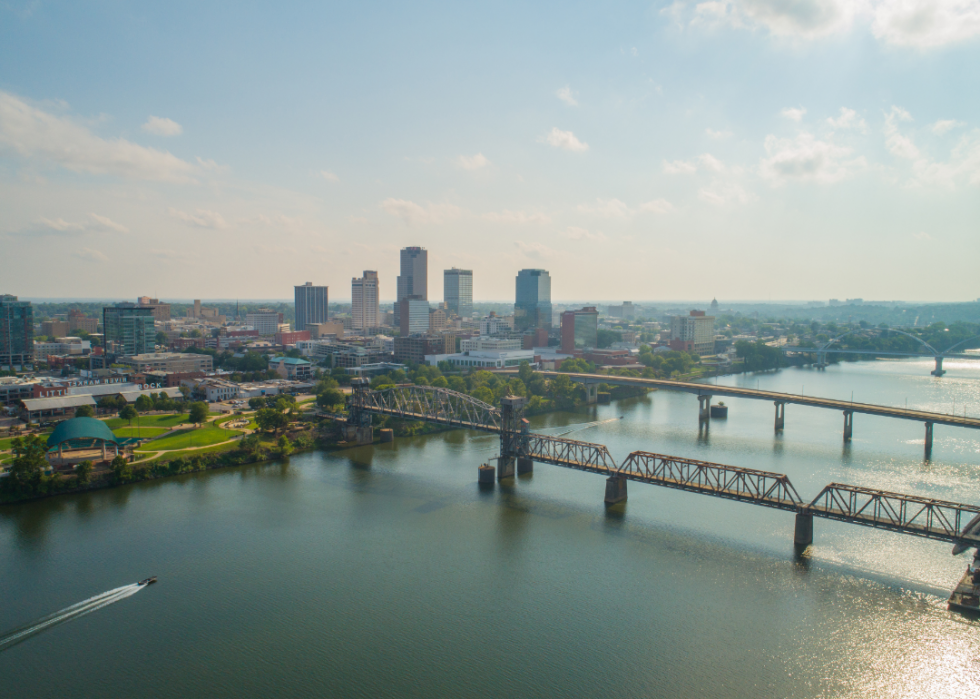 28 / 51
#24. Arkansas
COVID-19 patients currently hospitalized in Arkansas as of Nov. 29:
- 1,065 total patients (36 per 100,000 people)
- 108 patients in the ICU (4 per 100K)
Hospital capacity as of Nov. 29:
- Inpatient beds: 66.7% occupied (12.1% with COVID-19 patients)
- ICU beds: 79.0% occupied (10.5% with COVID-19 patients)
Hospital staffing shortages:
- Current staffing shortage: 35 hospitals (32.4%)
- Anticipating a shortage in the next week: 40 hospitals (37.0%)
Reported in the past week (Nov. 23 to Nov. 29):
- New cases: 11,074 (370 per 100K, #26 highest among all states)
- New deaths: 113.0 (3.8 per 100K, #20 highest)
- Test positive ratio: 13.4% (#23 highest, recommended ratio: under 5%)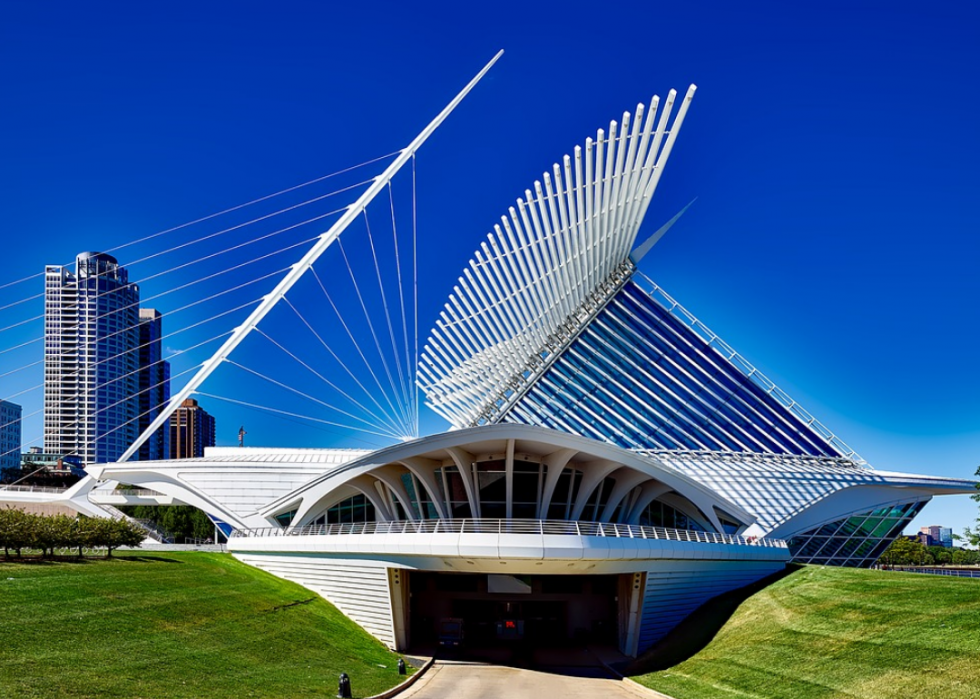 29 / 51
#23. Wisconsin
COVID-19 patients currently hospitalized in Wisconsin as of Nov. 29:
- 2,084 total patients (36 per 100,000 people)
- 148 patients in the ICU (3 per 100K)
Hospital capacity as of Nov. 29:
- Inpatient beds: 62.7% occupied (14.9% with COVID-19 patients)
- ICU beds: 66.4% occupied (9.0% with COVID-19 patients)
Hospital staffing shortages:
- Current staffing shortage: 60 hospitals (40.3%)
- Anticipating a shortage in the next week: 60 hospitals (40.3%)
Reported in the past week (Nov. 23 to Nov. 29):
- New cases: 32,816 (568 per 100K, #12 highest among all states)
- New deaths: 337.0 (5.8 per 100K, #8 highest)
- Test positive ratio: 14.6% (#21 highest, recommended ratio: under 5%)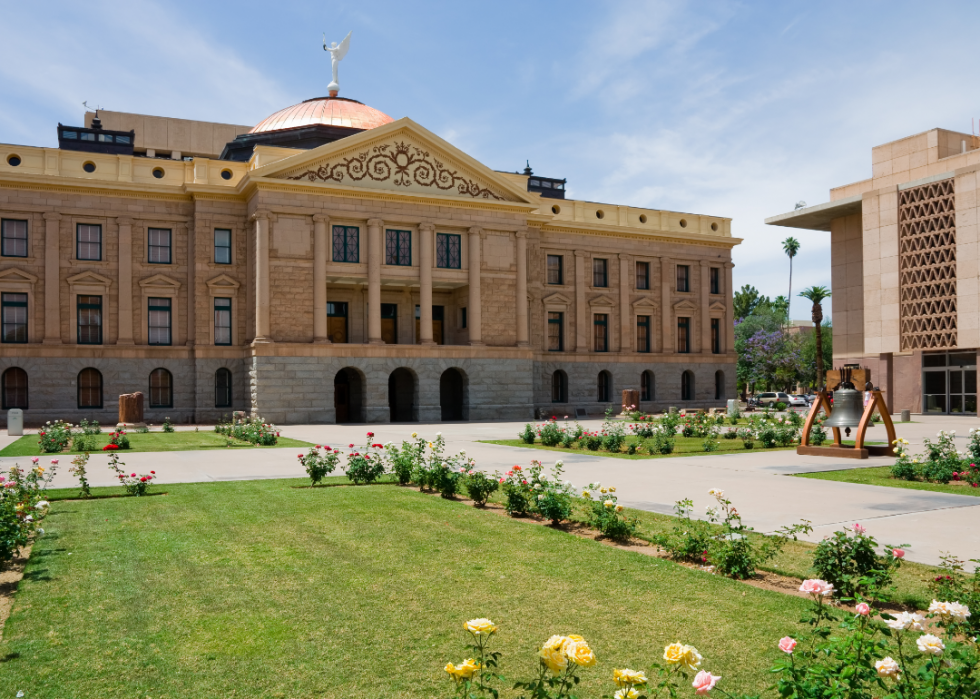 30 / 51
#22. Arizona
COVID-19 patients currently hospitalized in Arizona as of Nov. 29:
- 2,558 total patients (37 per 100,000 people)
- 123 patients in the ICU (2 per 100K)
Hospital capacity as of Nov. 29:
- Inpatient beds: 70.8% occupied (16.1% with COVID-19 patients)
- ICU beds: 64.2% occupied (6.1% with COVID-19 patients)
Hospital staffing shortages:
- Current staffing shortage: 29 hospitals (23.6%)
- Anticipating a shortage in the next week: 32 hospitals (26.0%)
Reported in the past week (Nov. 23 to Nov. 29):
- New cases: 26,330 (379 per 100K, #24 highest among all states)
- New deaths: 170.0 (2.4 per 100K, #34 highest)
- Test positive ratio: 20.9% (#13 highest, recommended ratio: under 5%)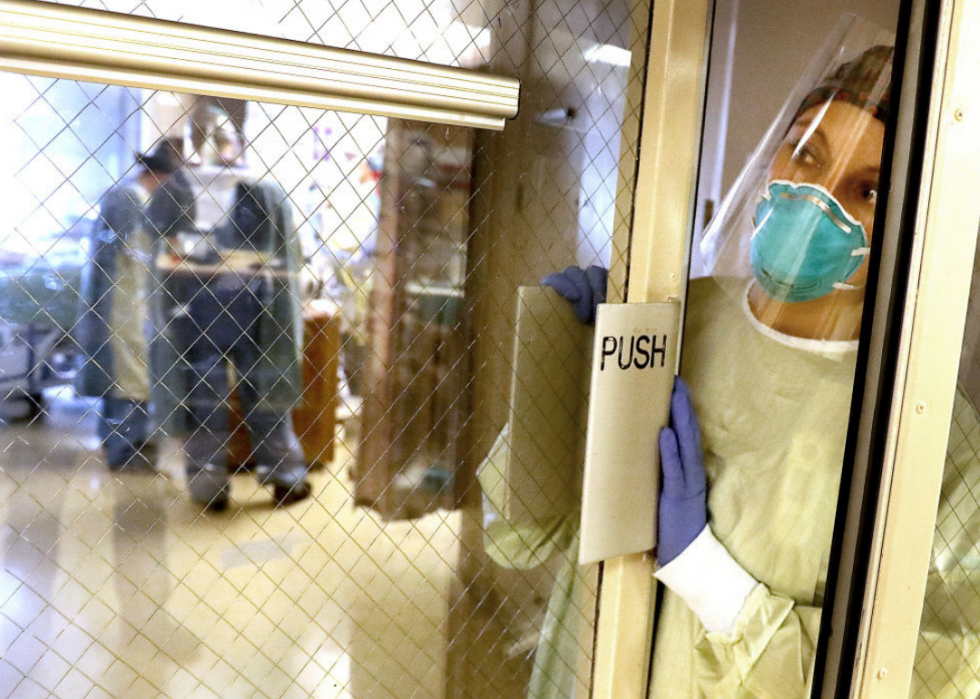 31 / 51
Star Tribune // Getty Images
#21. Minnesota
COVID-19 patients currently hospitalized in Minnesota as of Nov. 29:
- 2,039 total patients (37 per 100,000 people)
- 139 patients in the ICU (3 per 100K)
Hospital capacity as of Nov. 29:
- Inpatient beds: 71.9% occupied (19.6% with COVID-19 patients)
- ICU beds: 80.6% occupied (13.7% with COVID-19 patients)
Hospital staffing shortages:
- Current staffing shortage: 26 hospitals (18.7%)
- Anticipating a shortage in the next week: 29 hospitals (20.9%)
Reported in the past week (Nov. 23 to Nov. 29):
- New cases: 42,812 (775 per 100K, #3 highest among all states)
- New deaths: 337.0 (6.1 per 100K, #6 highest)
- Test positive ratio: 9.1% (#31 highest, recommended ratio: under 5%)
32 / 51
Lost_in_the_Midwest // Shutterstock
#20. Iowa
COVID-19 patients currently hospitalized in Iowa as of Nov. 29:
- 1,176 total patients (38 per 100,000 people)
- 126 patients in the ICU (4 per 100K)
Hospital capacity as of Nov. 29:
- Inpatient beds: 56.0% occupied (13.9% with COVID-19 patients)
- ICU beds: 71.0% occupied (17.9% with COVID-19 patients)
Hospital staffing shortages:
- Current staffing shortage: 6 hospitals (4.8%)
- Anticipating a shortage in the next week: 11 hospitals (8.7%)
Reported in the past week (Nov. 23 to Nov. 29):
- New cases: 13,762 (439 per 100K, #20 highest among all states)
- New deaths: 175.0 (5.6 per 100K, #10 highest)
- Test positive ratio: 40.3% (#7 highest, recommended ratio: under 5%)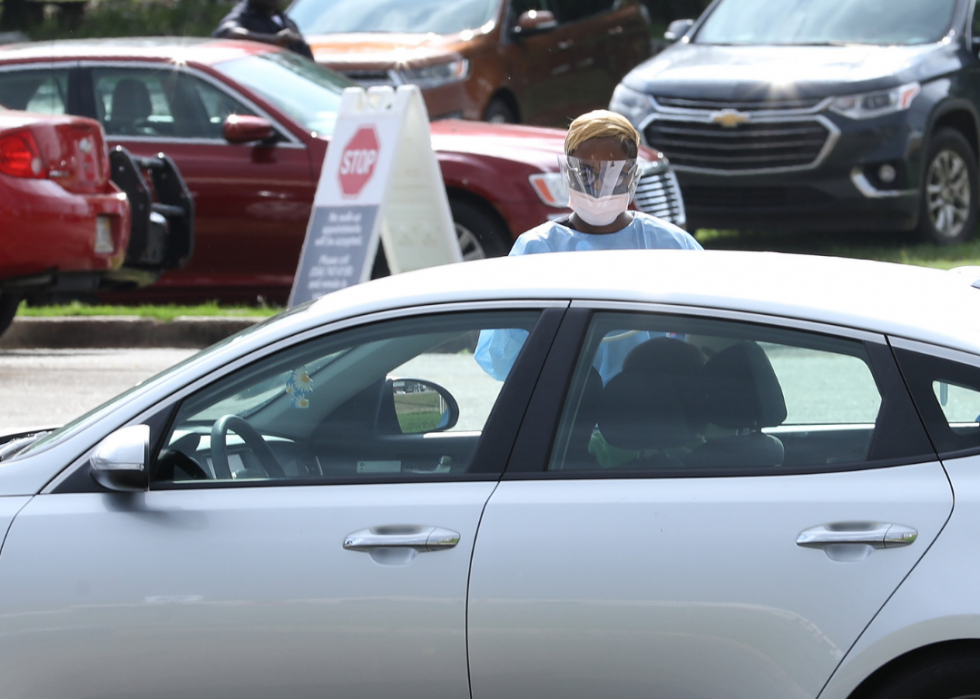 33 / 51
Taylor Hill // Getty Images
#19. Alabama
COVID-19 patients currently hospitalized in Alabama as of Nov. 29:
- 1,851 total patients (38 per 100,000 people)
- 113 patients in the ICU (2 per 100K)
Hospital capacity as of Nov. 29:
- Inpatient beds: 69.6% occupied (11.9% with COVID-19 patients)
- ICU beds: 83.5% occupied (7.3% with COVID-19 patients)
Hospital staffing shortages:
- Current staffing shortage: 31 hospitals (27.0%)
- Anticipating a shortage in the next week: 34 hospitals (29.6%)
Reported in the past week (Nov. 23 to Nov. 29):
- New cases: 14,723 (303 per 100K, #32 highest among all states)
- New deaths: 120.0 (2.5 per 100K, #31 highest)
- Test positive ratio: 27.5% (#11 highest, recommended ratio: under 5%)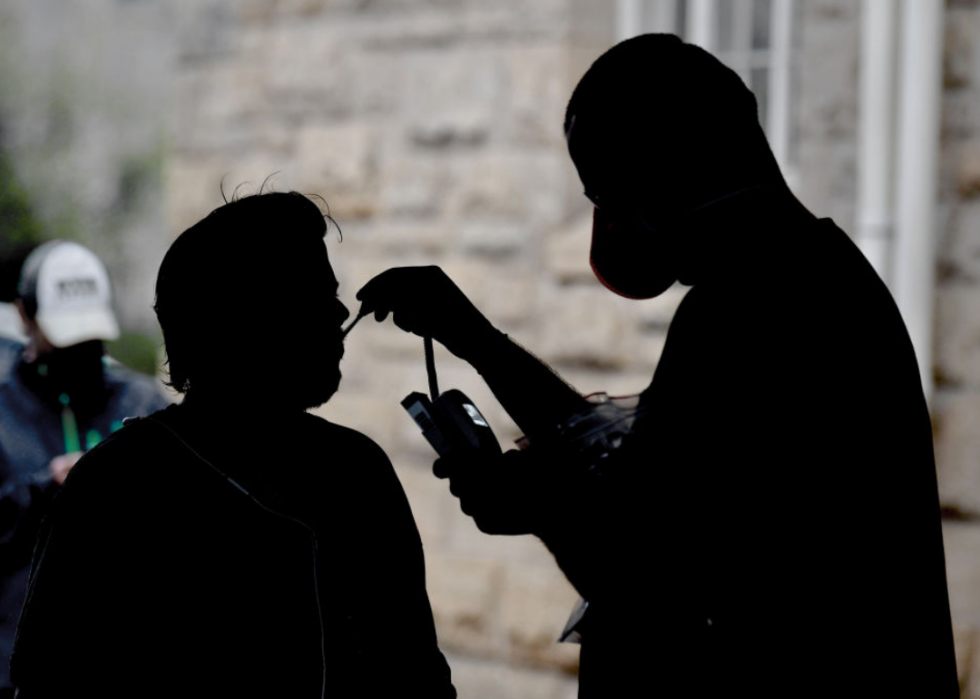 34 / 51
The Washington Post // Getty Images
#18. West Virginia
COVID-19 patients currently hospitalized in West Virginia as of Nov. 29:
- 700 total patients (38 per 100,000 people)
- 63 patients in the ICU (3 per 100K)
Hospital capacity as of Nov. 29:
- Inpatient beds: 70.8% occupied (11.3% with COVID-19 patients)
- ICU beds: 78.9% occupied (9.6% with COVID-19 patients)
Hospital staffing shortages:
- Current staffing shortage: 17 hospitals (27.0%)
- Anticipating a shortage in the next week: 20 hospitals (31.7%)
Reported in the past week (Nov. 23 to Nov. 29):
- New cases: 6,519 (356 per 100K, #29 highest among all states)
- New deaths: 67.0 (3.7 per 100K, #22 highest)
- Test positive ratio: 6.4% (#37 highest, recommended ratio: under 5%)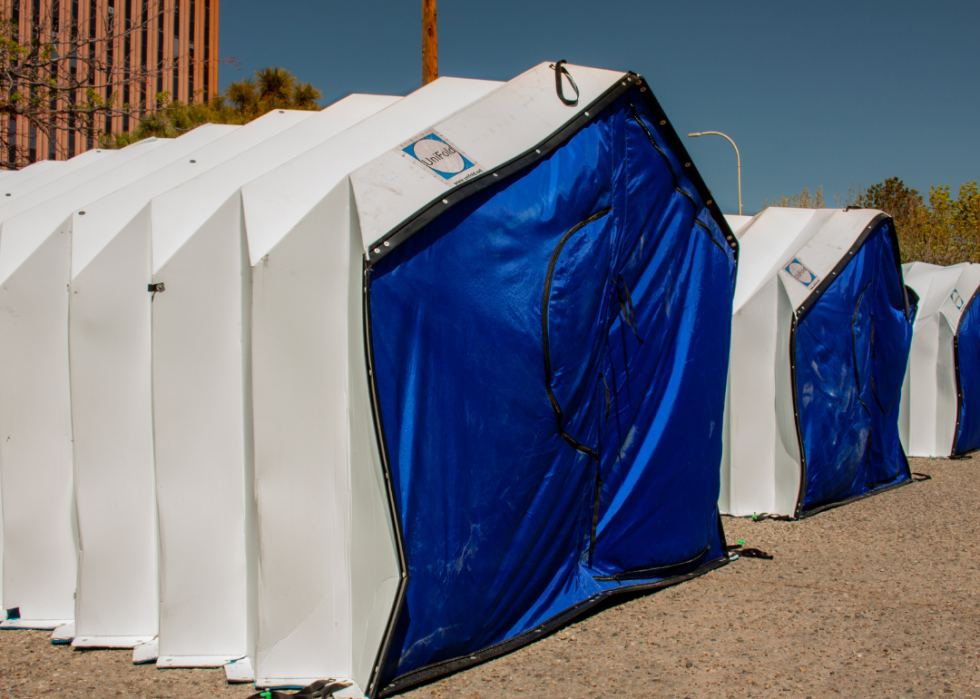 35 / 51
Raisa Nastukova // Shutterstock
#17. New Mexico
COVID-19 patients currently hospitalized in New Mexico as of Nov. 29:
- 828 total patients (40 per 100,000 people)
- 50 patients in the ICU (2 per 100K)
Hospital capacity as of Nov. 29:
- Inpatient beds: 71.9% occupied (19.3% with COVID-19 patients)
- ICU beds: 95.8% occupied (11.6% with COVID-19 patients)
Hospital staffing shortages:
- Current staffing shortage: 17 hospitals (32.7%)
- Anticipating a shortage in the next week: 19 hospitals (36.5%)
Reported in the past week (Nov. 23 to Nov. 29):
- New cases: 13,521 (646 per 100K, #5 highest among all states)
- New deaths: 157.0 (7.5 per 100K, #2 highest)
- Test positive ratio: 15.4% (#19 highest, recommended ratio: under 5%)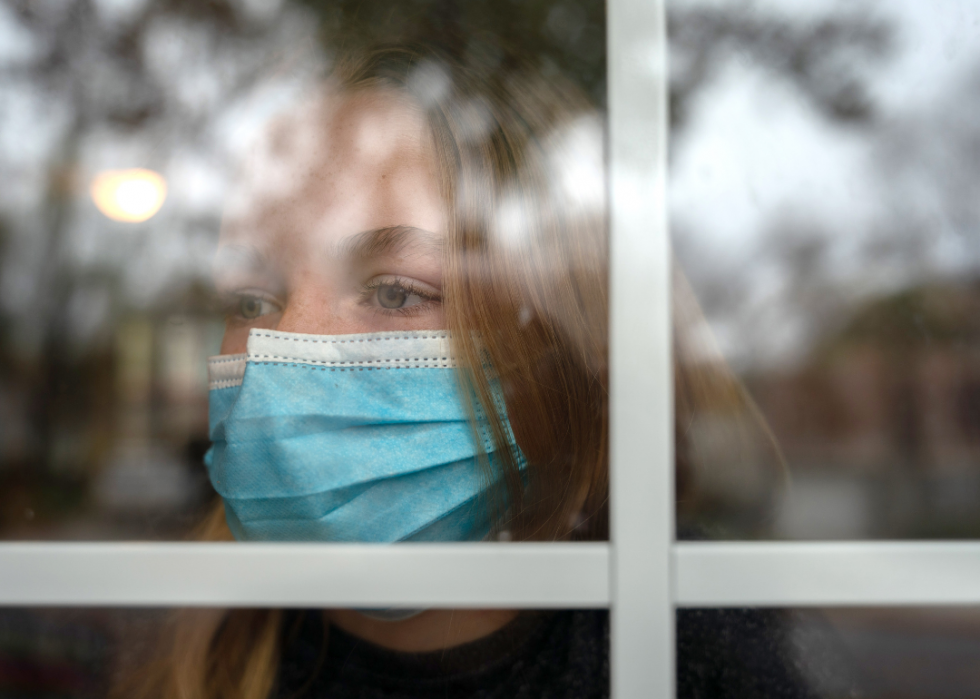 36 / 51
The Washington Post // Getty Images
#16. Kansas
COVID-19 patients currently hospitalized in Kansas as of Nov. 29:
- 1,178 total patients (40 per 100,000 people)
- 143 patients in the ICU (5 per 100K)
Hospital capacity as of Nov. 29:
- Inpatient beds: 59.3% occupied (14.4% with COVID-19 patients)
- ICU beds: 73.3% occupied (17.7% with COVID-19 patients)
Hospital staffing shortages:
- Current staffing shortage: 45 hospitals (31.5%)
- Anticipating a shortage in the next week: 57 hospitals (39.9%)
Reported in the past week (Nov. 23 to Nov. 29):
- New cases: 18,488 (636 per 100K, #7 highest among all states)
- New deaths: 119.0 (4.1 per 100K, #15 highest)
- Test positive ratio: 16.4% (#17 highest, recommended ratio: under 5%)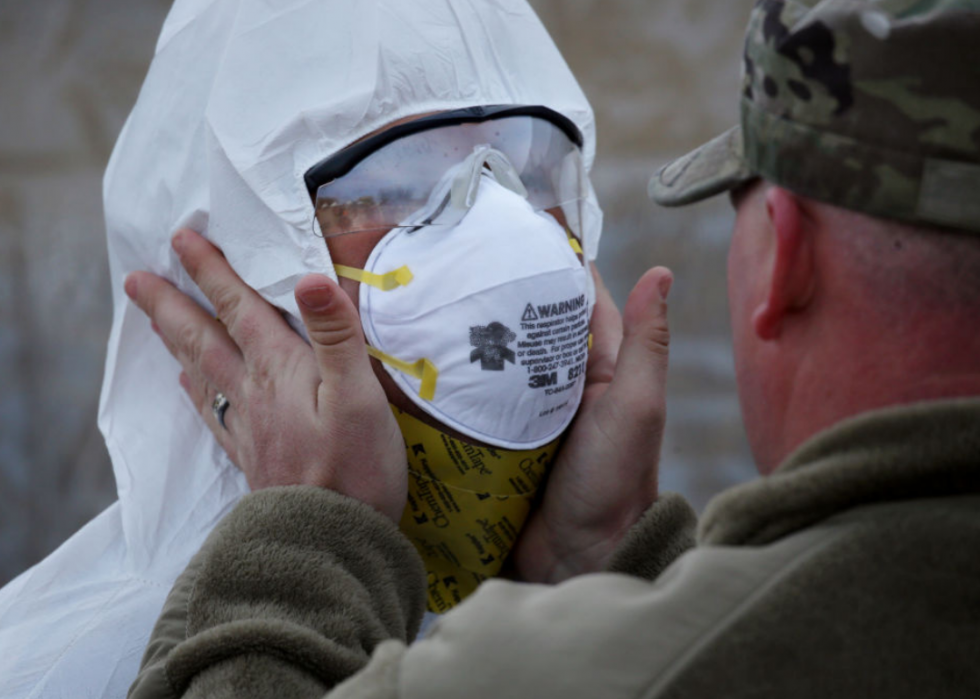 37 / 51
Boston Globe // Getty Images
#15. Rhode Island
COVID-19 patients currently hospitalized in Rhode Island as of Nov. 29:
- 436 total patients (41 per 100,000 people)
- 15 patients in the ICU (1 per 100K)
Hospital capacity as of Nov. 29:
- Inpatient beds: 89.2% occupied (20.4% with COVID-19 patients)
- ICU beds: 80.6% occupied (9.1% with COVID-19 patients)
Hospital staffing shortages:
- Current staffing shortage: 2 hospitals (13.3%)
- Anticipating a shortage in the next week: 3 hospitals (20.0%)
Reported in the past week (Nov. 23 to Nov. 29):
- New cases: 3,810 (361 per 100K, #28 highest among all states)
- New deaths: 43.0 (4.1 per 100K, #17 highest)
- Test positive ratio: 3.7% (#43 highest, recommended ratio: under 5%)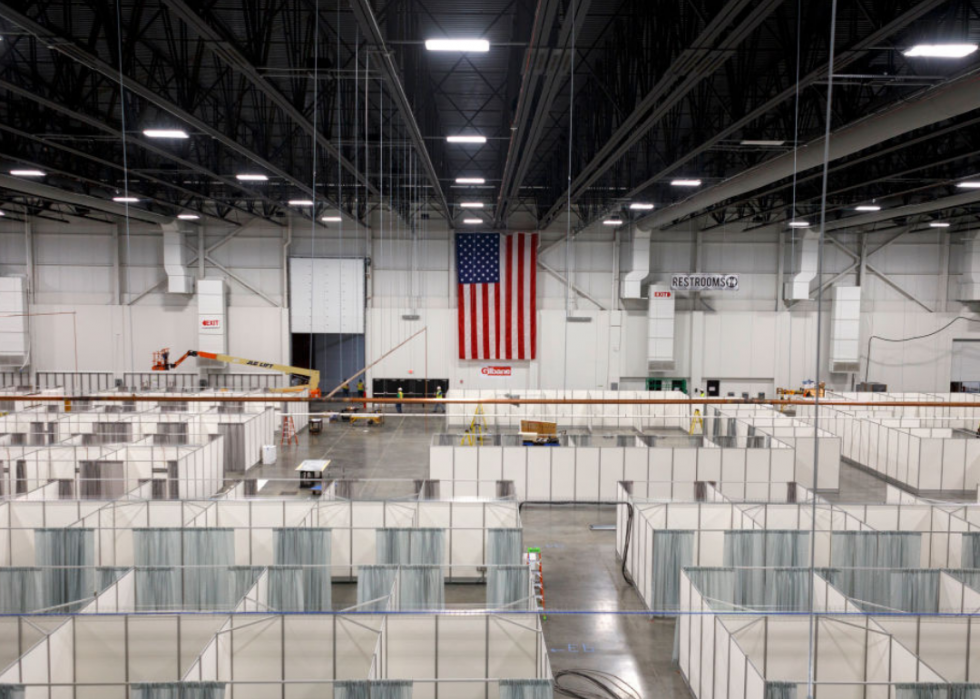 38 / 51
Elaine Cromie // Getty Images
#14. Michigan
COVID-19 patients currently hospitalized in Michigan as of Nov. 29:
- 4,166 total patients (42 per 100,000 people)
- 163 patients in the ICU (2 per 100K)
Hospital capacity as of Nov. 29:
- Inpatient beds: 75.8% occupied (17.3% with COVID-19 patients)
- ICU beds: 76.3% occupied (5.6% with COVID-19 patients)
Hospital staffing shortages:
- Current staffing shortage: 11 hospitals (6.7%)
- Anticipating a shortage in the next week: 16 hospitals (9.8%)
Reported in the past week (Nov. 23 to Nov. 29):
- New cases: 49,131 (493 per 100K, #19 highest among all states)
- New deaths: 592.0 (5.9 per 100K, #7 highest)
- Test positive ratio: 8.2% (#33 highest, recommended ratio: under 5%)
39 / 51
#13. Kentucky
COVID-19 patients currently hospitalized in Kentucky as of Nov. 29:
- 1,859 total patients (42 per 100,000 people)
- 124 patients in the ICU (3 per 100K)
Hospital capacity as of Nov. 29:
- Inpatient beds: 67.0% occupied (13.1% with COVID-19 patients)
- ICU beds: 73.5% occupied (7.6% with COVID-19 patients)
Hospital staffing shortages:
- Current staffing shortage: 4 hospitals (3.2%)
- Anticipating a shortage in the next week: 10 hospitals (8.1%)
Reported in the past week (Nov. 23 to Nov. 29):
- New cases: 18,825 (424 per 100K, #21 highest among all states)
- New deaths: 109.0 (2.5 per 100K, #33 highest)
- Test positive ratio: 10.4% (#26 highest, recommended ratio: under 5%)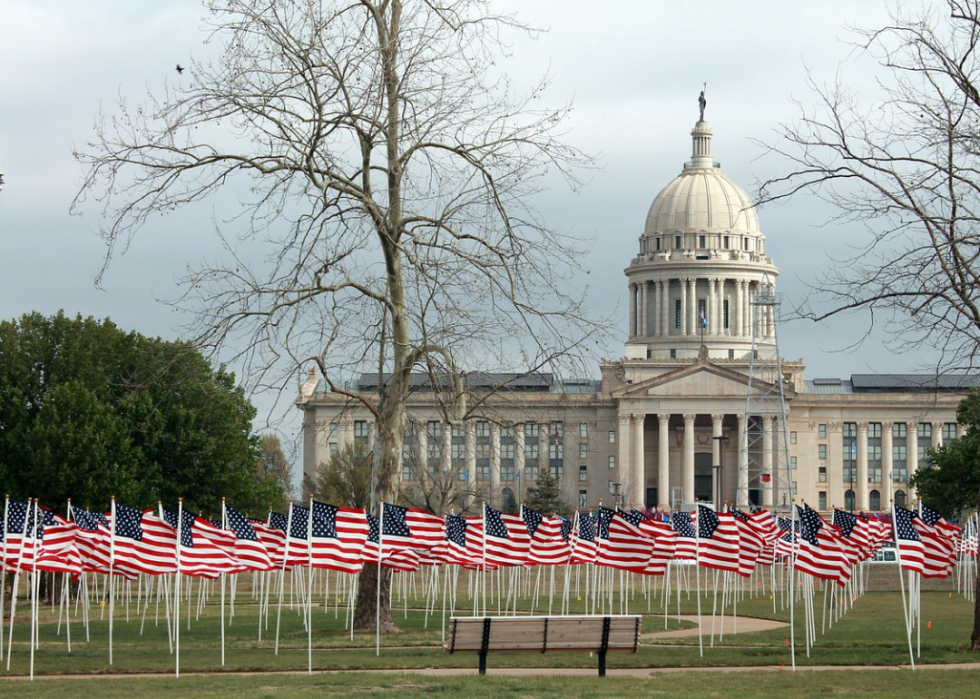 40 / 51
#12. Oklahoma
COVID-19 patients currently hospitalized in Oklahoma as of Nov. 29:
- 1,655 total patients (42 per 100,000 people)
- 154 patients in the ICU (4 per 100K)
Hospital capacity as of Nov. 29:
- Inpatient beds: 68.7% occupied (15.7% with COVID-19 patients)
- ICU beds: 85.0% occupied (14.1% with COVID-19 patients)
Hospital staffing shortages:
- Current staffing shortage: 48 hospitals (31.2%)
- Anticipating a shortage in the next week: 56 hospitals (36.4%)
Reported in the past week (Nov. 23 to Nov. 29):
- New cases: 21,215 (541 per 100K, #15 highest among all states)
- New deaths: 102.0 (2.6 per 100K, #29 highest)
- Test positive ratio: 60.5% (#3 highest, recommended ratio: under 5%)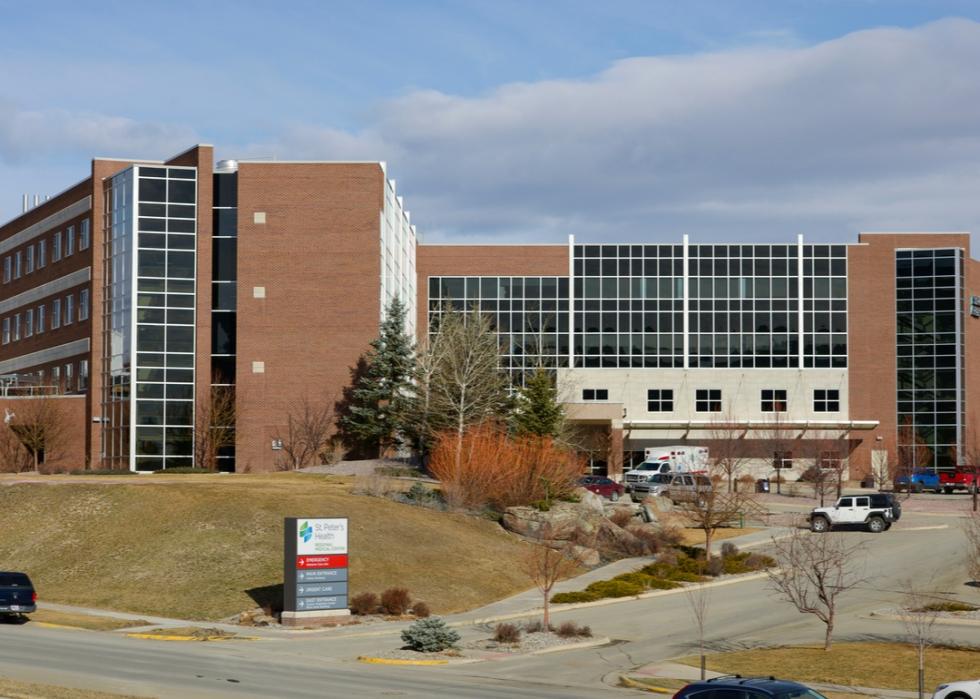 41 / 51
Brandi Lyon Photography // Shutterstock
#11. Montana
COVID-19 patients currently hospitalized in Montana as of Nov. 29:
- 442 total patients (42 per 100,000 people)
- 67 patients in the ICU (6 per 100K)
Hospital capacity as of Nov. 29:
- Inpatient beds: 64.1% occupied (13.8% with COVID-19 patients)
- ICU beds: 66.8% occupied (27.5% with COVID-19 patients)
Hospital staffing shortages:
- Current staffing shortage: 22 hospitals (32.8%)
- Anticipating a shortage in the next week: 21 hospitals (31.3%)
Reported in the past week (Nov. 23 to Nov. 29):
- New cases: 6,121 (588 per 100K, #8 highest among all states)
- New deaths: 68.0 (6.5 per 100K, #4 highest)
- Test positive ratio: 20.4% (#14 highest, recommended ratio: under 5%)
42 / 51
#10. Wyoming
COVID-19 patients currently hospitalized in Wyoming as of Nov. 29:
- 247 total patients (42 per 100,000 people)
- 31 patients in the ICU (5 per 100K)
Hospital capacity as of Nov. 29:
- Inpatient beds: 48.0% occupied (14.7% with COVID-19 patients)
- ICU beds: 48.5% occupied (23.8% with COVID-19 patients)
Hospital staffing shortages:
- Current staffing shortage: 7 hospitals (22.6%)
- Anticipating a shortage in the next week: 9 hospitals (29.0%)
Reported in the past week (Nov. 23 to Nov. 29):
- New cases: 4,320 (742 per 100K, #4 highest among all states)
- New deaths: 39.0 (6.7 per 100K, #3 highest)
- Test positive ratio: 413.9% (#1 highest, recommended ratio: under 5%)
43 / 51
#9. Pennsylvania
COVID-19 patients currently hospitalized in Pennsylvania as of Nov. 29:
- 5,494 total patients (43 per 100,000 people)
- 226 patients in the ICU (2 per 100K)
Hospital capacity as of Nov. 29:
- Inpatient beds: 72.6% occupied (14.8% with COVID-19 patients)
- ICU beds: 80.4% occupied (5.8% with COVID-19 patients)
Hospital staffing shortages:
- Current staffing shortage: 27 hospitals (11.9%)
- Anticipating a shortage in the next week: 28 hospitals (12.4%)
Reported in the past week (Nov. 23 to Nov. 29):
- New cases: 47,557 (372 per 100K, #25 highest among all states)
- New deaths: 509.0 (4.0 per 100K, #18 highest)
- Test positive ratio: 27.8% (#10 highest, recommended ratio: under 5%)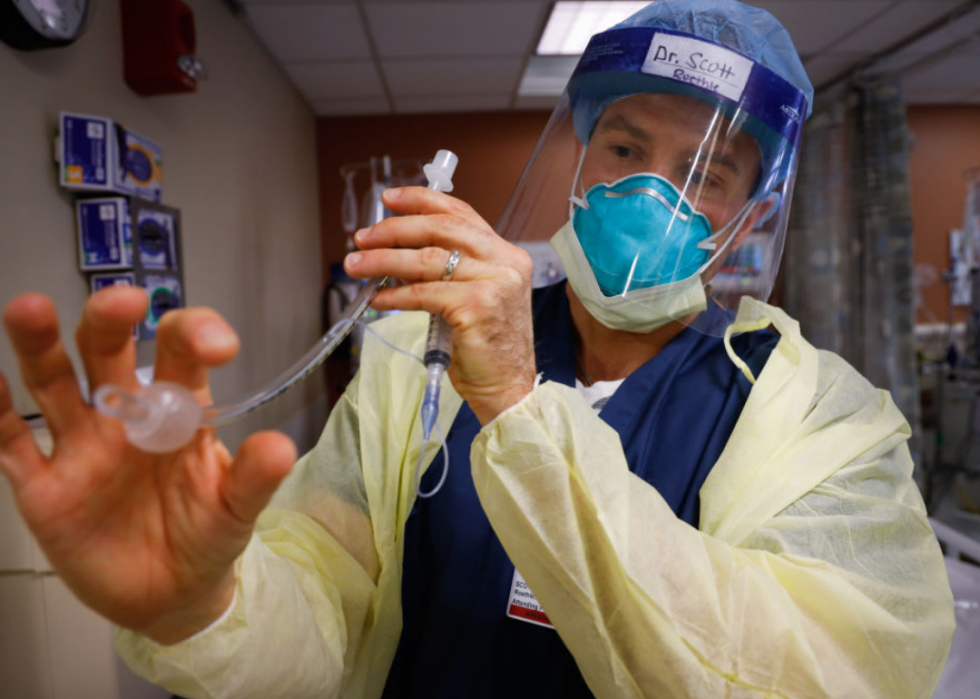 44 / 51
Newsday LLC // Getty Images
#8. Missouri
COVID-19 patients currently hospitalized in Missouri as of Nov. 29:
- 2,689 total patients (44 per 100,000 people)
- 141 patients in the ICU (2 per 100K)
Hospital capacity as of Nov. 29:
- Inpatient beds: 74.0% occupied (16.1% with COVID-19 patients)
- ICU beds: 83.9% occupied (7.4% with COVID-19 patients)
Hospital staffing shortages:
- Current staffing shortage: 47 hospitals (33.3%)
- Anticipating a shortage in the next week: 60 hospitals (42.6%)
Reported in the past week (Nov. 23 to Nov. 29):
- New cases: 24,406 (401 per 100K, #22 highest among all states)
- New deaths: 264.0 (4.3 per 100K, #13 highest)
- Test positive ratio: 18.1% (#15 highest, recommended ratio: under 5%)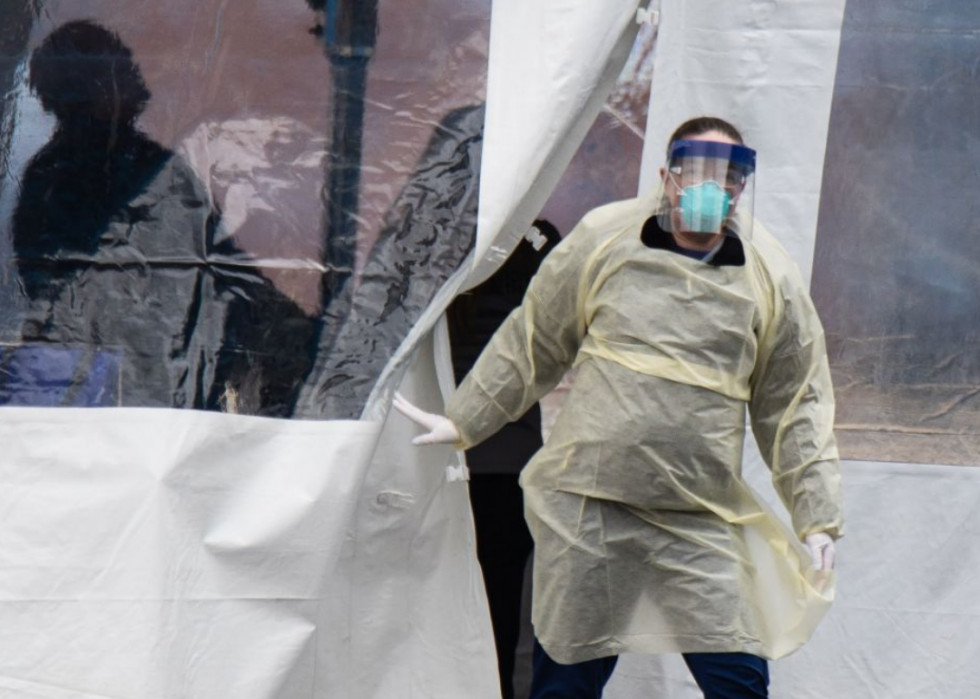 45 / 51
MEGAN JELINGER // Getty Images
#7. Ohio
COVID-19 patients currently hospitalized in Ohio as of Nov. 29:
- 5,351 total patients (46 per 100,000 people)
- 223 patients in the ICU (2 per 100K)
Hospital capacity as of Nov. 29:
- Inpatient beds: 66.7% occupied (16.2% with COVID-19 patients)
- ICU beds: 72.5% occupied (5.3% with COVID-19 patients)
Hospital staffing shortages:
- Current staffing shortage: 33 hospitals (14.8%)
- Anticipating a shortage in the next week: 50 hospitals (22.4%)
Reported in the past week (Nov. 23 to Nov. 29):
- New cases: 63,013 (541 per 100K, #16 highest among all states)
- New deaths: 403.0 (3.5 per 100K, #23 highest)
- Test positive ratio: 25.1% (#12 highest, recommended ratio: under 5%)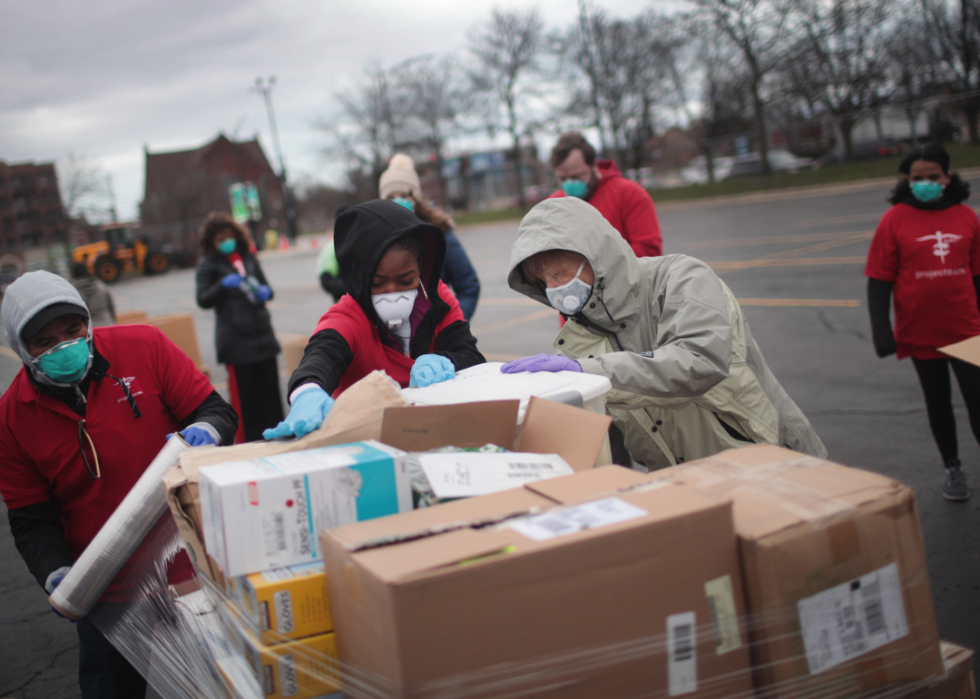 46 / 51
Scott Olson // Getty Images
#6. Illinois
COVID-19 patients currently hospitalized in Illinois as of Nov. 29:
- 6,004 total patients (47 per 100,000 people)
- 199 patients in the ICU (2 per 100K)
Hospital capacity as of Nov. 29:
- Inpatient beds: 65.0% occupied (19.1% with COVID-19 patients)
- ICU beds: 65.3% occupied (5.4% with COVID-19 patients)
Hospital staffing shortages:
- Current staffing shortage: 42 hospitals (21.1%)
- Anticipating a shortage in the next week: 45 hospitals (22.6%)
Reported in the past week (Nov. 23 to Nov. 29):
- New cases: 63,816 (498 per 100K, #18 highest among all states)
- New deaths: 831.0 (6.5 per 100K, #5 highest)
- Test positive ratio: 10.2% (#29 highest, recommended ratio: under 5%)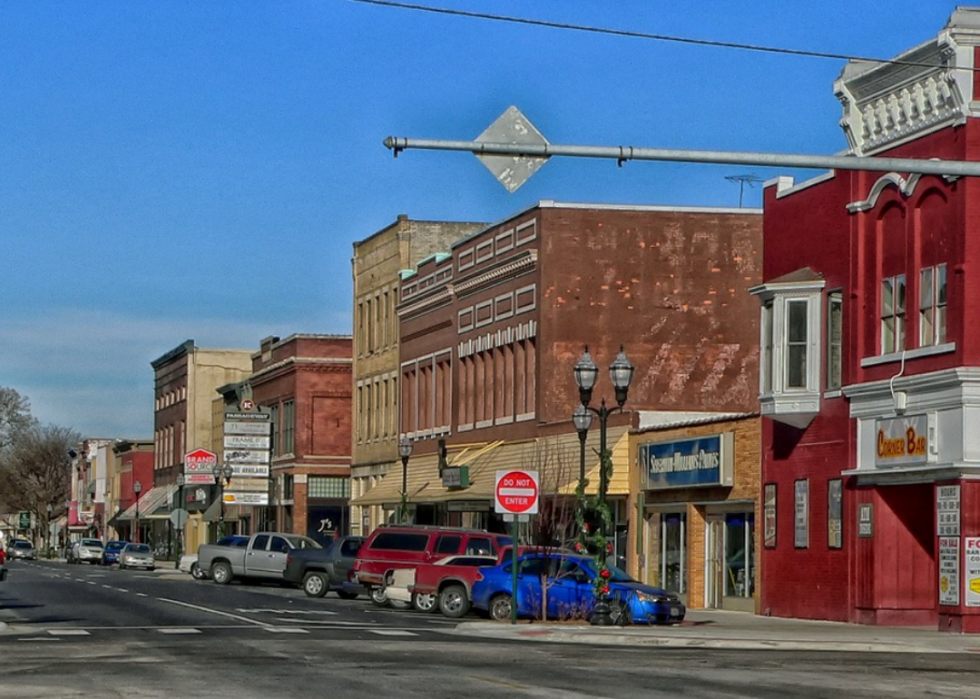 47 / 51
#5. Nebraska
COVID-19 patients currently hospitalized in Nebraska as of Nov. 29:
- 927 total patients (49 per 100,000 people)
- 99 patients in the ICU (5 per 100K)
Hospital capacity as of Nov. 29:
- Inpatient beds: 62.8% occupied (18.7% with COVID-19 patients)
- ICU beds: 69.9% occupied (17.3% with COVID-19 patients)
Hospital staffing shortages:
- Current staffing shortage: 19 hospitals (19.2%)
- Anticipating a shortage in the next week: 31 hospitals (31.3%)
Reported in the past week (Nov. 23 to Nov. 29):
- New cases: 12,294 (645 per 100K, #6 highest among all states)
- New deaths: 84.0 (4.4 per 100K, #11 highest)
- Test positive ratio: 13.8% (#22 highest, recommended ratio: under 5%)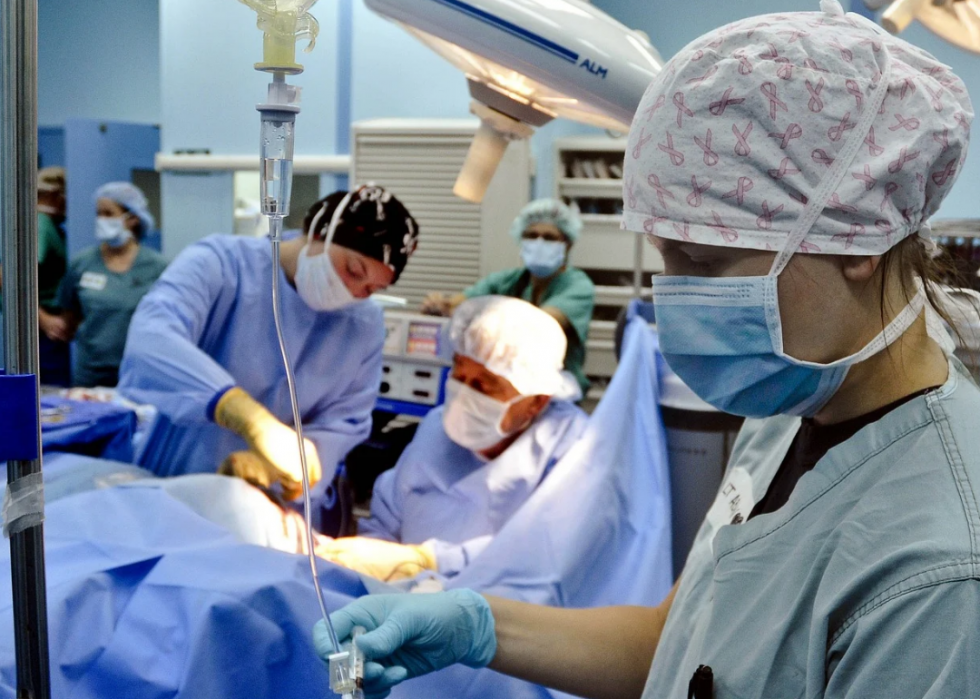 48 / 51
#4. Indiana
COVID-19 patients currently hospitalized in Indiana as of Nov. 29:
- 3,349 total patients (50 per 100,000 people)
- 161 patients in the ICU (2 per 100K)
Hospital capacity as of Nov. 29:
- Inpatient beds: 63.9% occupied (18.4% with COVID-19 patients)
- ICU beds: 74.9% occupied (7.5% with COVID-19 patients)
Hospital staffing shortages:
- Current staffing shortage: 28 hospitals (17.4%)
- Anticipating a shortage in the next week: 37 hospitals (23.0%)
Reported in the past week (Nov. 23 to Nov. 29):
- New cases: 37,955 (572 per 100K, #10 highest among all states)
- New deaths: 380.0 (5.7 per 100K, #9 highest)
- Test positive ratio: 12.0% (#24 highest, recommended ratio: under 5%)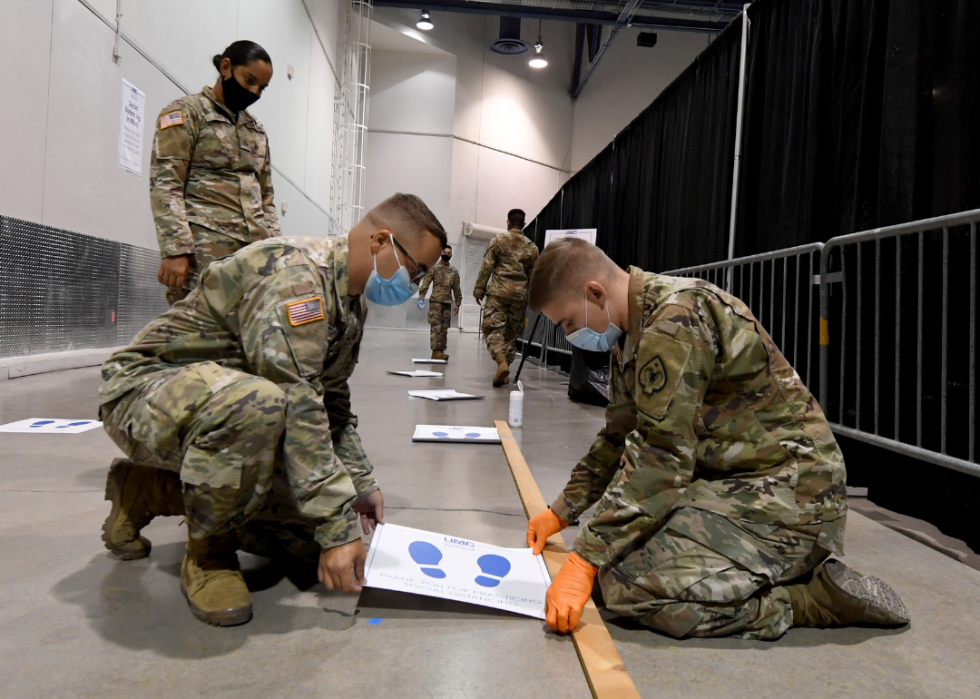 49 / 51
Ethan Miller // Getty Images
#3. Nevada
COVID-19 patients currently hospitalized in Nevada as of Nov. 29:
- 1,548 total patients (53 per 100,000 people)
- 61 patients in the ICU (2 per 100K)
Hospital capacity as of Nov. 29:
- Inpatient beds: 76.4% occupied (18.0% with COVID-19 patients)
- ICU beds: 78.8% occupied (7.0% with COVID-19 patients)
Hospital staffing shortages:
- Current staffing shortage: 9 hospitals (14.8%)
- Anticipating a shortage in the next week: 14 hospitals (23.0%)
Reported in the past week (Nov. 23 to Nov. 29):
- New cases: 16,639 (569 per 100K, #11 highest among all states)
- New deaths: 119.0 (4.1 per 100K, #16 highest)
- Test positive ratio: 17.1% (#16 highest, recommended ratio: under 5%)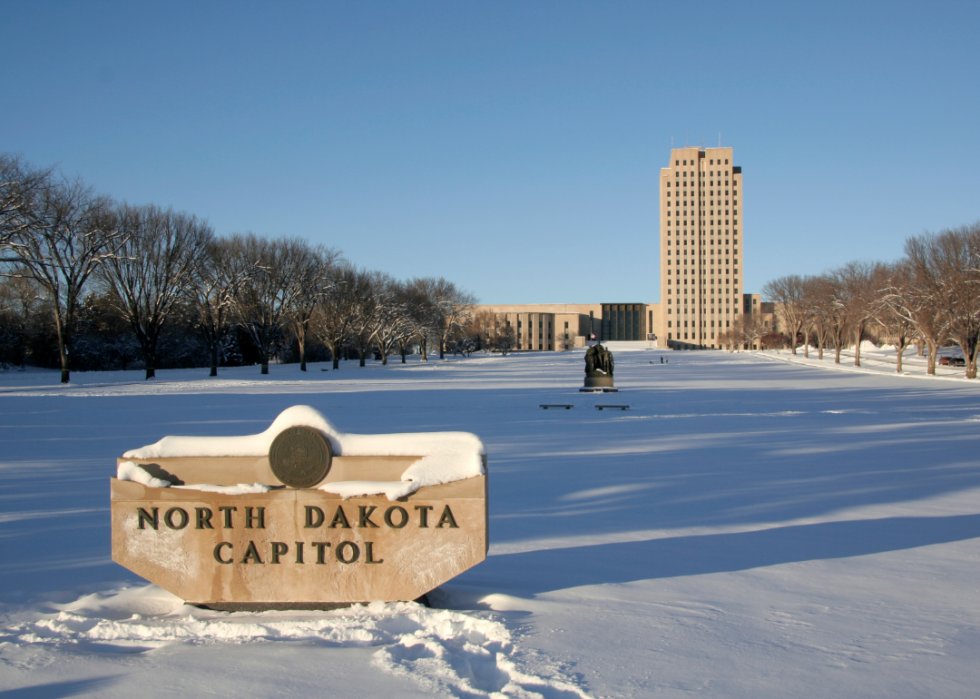 50 / 51
#2. North Dakota
COVID-19 patients currently hospitalized in North Dakota as of Nov. 29:
- 458 total patients (61 per 100,000 people)
- 50 patients in the ICU (7 per 100K)
Hospital capacity as of Nov. 29:
- Inpatient beds: 74.2% occupied (19.4% with COVID-19 patients)
- ICU beds: 92.5% occupied (37.3% with COVID-19 patients)
Hospital staffing shortages:
- Current staffing shortage: 22 hospitals (44.0%)
- Anticipating a shortage in the next week: 22 hospitals (44.0%)
Reported in the past week (Nov. 23 to Nov. 29):
- New cases: 5,975 (794 per 100K, #1 highest among all states)
- New deaths: 7.0 (0.9 per 100K, #49 highest)
- Test positive ratio: 11.1% (#25 highest, recommended ratio: under 5%)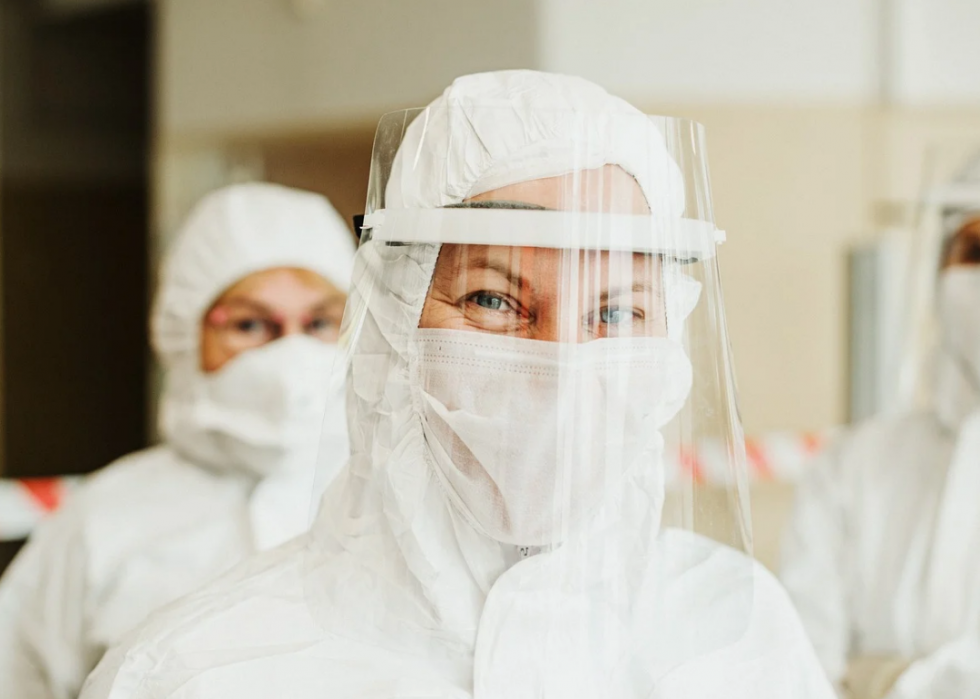 51 / 51
#1. South Dakota
COVID-19 patients currently hospitalized in South Dakota as of Nov. 29:
- 546 total patients (63 per 100,000 people)
- 63 patients in the ICU (7 per 100K)
Hospital capacity as of Nov. 29:
- Inpatient beds: 60.2% occupied (18.8% with COVID-19 patients)
- ICU beds: 78.7% occupied (28.0% with COVID-19 patients)
Hospital staffing shortages:
- Current staffing shortage: 10 hospitals (15.9%)
- Anticipating a shortage in the next week: 14 hospitals (22.2%)
Reported in the past week (Nov. 23 to Nov. 29):
- New cases: 6,835 (791 per 100K, #2 highest among all states)
- New deaths: 124.0 (14.3 per 100K, #1 highest)
- Test positive ratio: 35.3% (#9 highest, recommended ratio: under 5%)
You may also like: What you need to know about how COVID-19 spreads through air