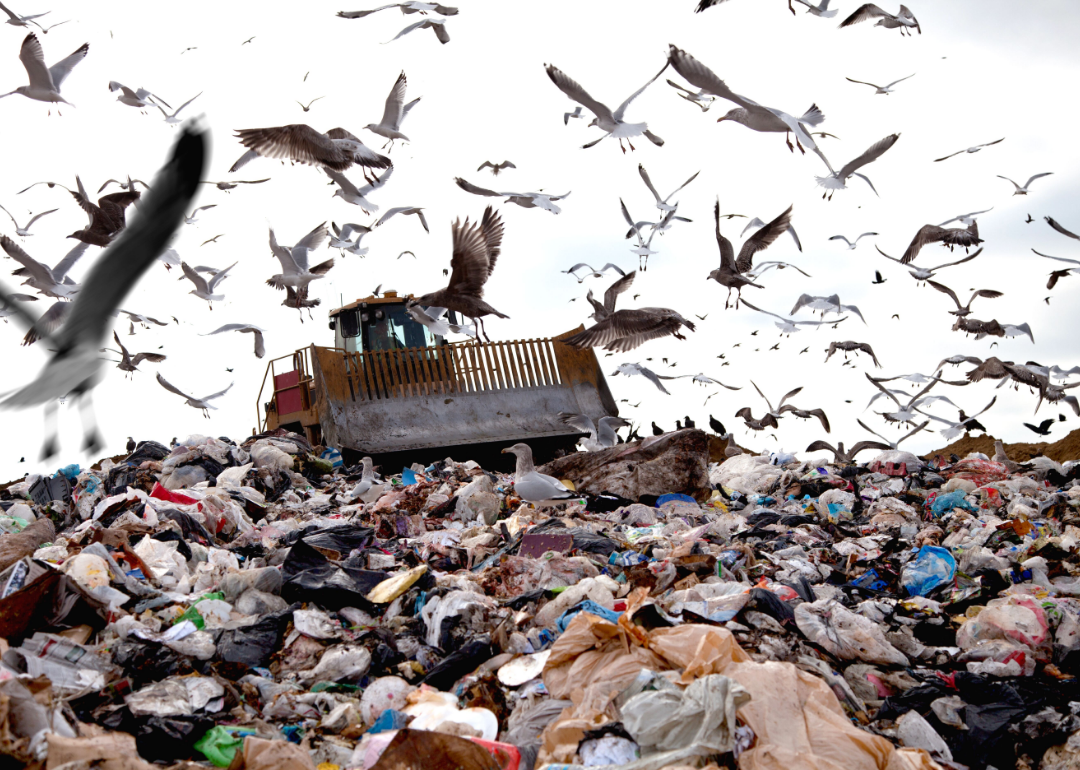 States with the most landfill waste
States with the most landfill waste
Landfills are an indelible feature of the American landscape, visible among rolling hills, in mountain hollows, and even from space. With the United States producing some 728,000 tons of garbage every day, working out to 4.4 pounds per person, the country's thousands of landfills are an integral part of solid waste management.
In years past, landfills were open town dumps, barely regulated if at all. Garbage often was simply set on fire. Modern landfills are far more efficient and environmentally conscious, sometimes intricately ventilated and using impervious liners to limit seepage and groundwater contamination.
Inside landfills, decomposing matter creates methane, a potent greenhouse gas that contributes to global warming. In fact, landfills are one of the largest contributors to methane emissions in the United States, accounting for 14% of emissions in 2017. Some landfills use flares to burn off methane from below to ensure it does not build up and possibly explode. Others use the methane as an energy source to generate electricity.
Solid waste management has been forced to make dramatic adjustments in the United States since China in late 2017 stopped importing plastic waste. Called the National Sword policy, the Chinese move was aimed at protecting its environment and people's health. The impact was big: Some 70% of the world's plastic waste had been going to China—around 7 million tons a year. Other countries in Southeast Asia stepped in, particularly Malaysia and also the Philippines, Thailand, and Vietnam, some without well-developed regulatory systems.
Many worry that more of the world's plastic will end up discarded in illegal dumps, rivers, and the ocean—or burned. China's abrupt waste restrictions left U.S. recycling firms facing skyrocketing costs. Where once they paid municipalities for waste that could be turned into recycled goods, they began charging for the cost of getting rid of waste instead. Cities and towns have suspended recycling, raised fees and taxes, and sent more waste to landfills.
Today, U.S. landfills hold about 7.4 billion tons of waste. The state with the most waste in landfills is Nevada, while Idaho, North Dakota, and Connecticut have the least.
Stacker has listed the states, ranked by the amount of their landfill waste per capita, and the sum of their landfill gasses, based on Save On Energy, using the EPA's 2016 Greenhouse Gas Reporting Program data.
You may also like: How much carbon dioxide does your state emit?