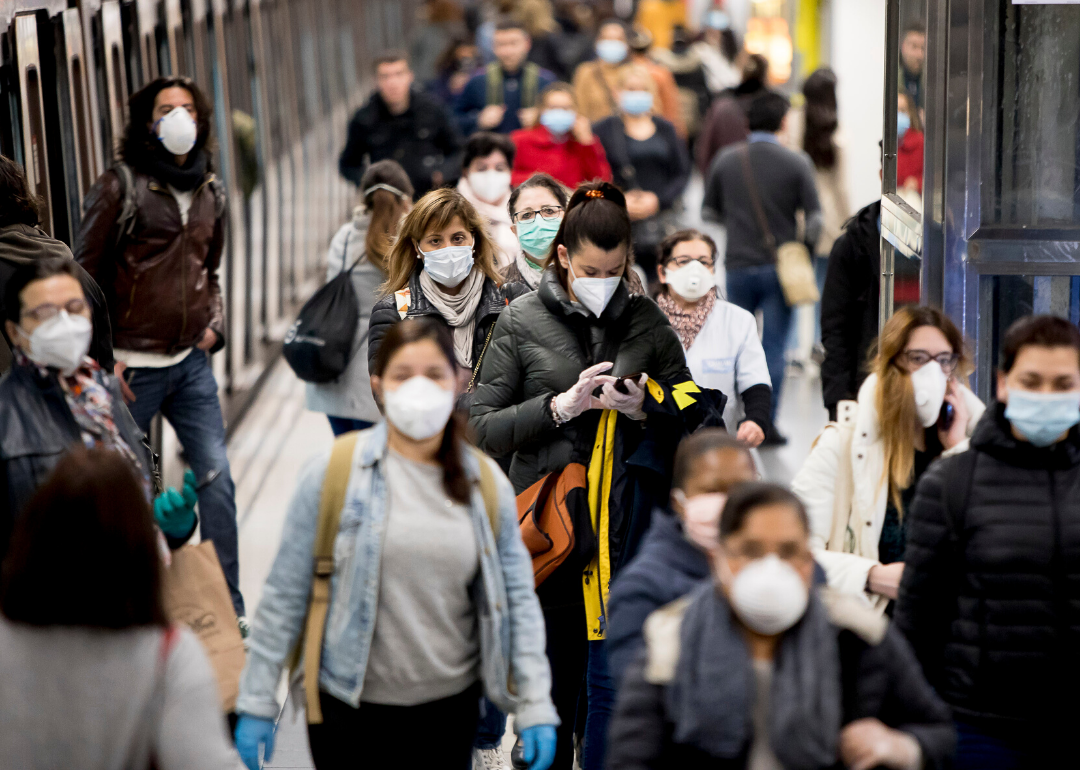 27 factors that make you vulnerable to COVID-19
Miquel Llop/NurPhoto via Getty Images
27 factors that make you vulnerable to COVID-19
There are still many unknowns when it comes to how COVID-19 acts in the body, how it is transmitted, how long it is contagious, and which populations are most vulnerable. A vulnerable population could refer to a group of people more likely to contract SARS-CoV-2 due to working conditions or where dwellings are located; or a group of people that, upon contracting the disease, is more likely to suffer complications or die due to pre-existing health conditions or disparities in health care. Although a vaccine is on the way, America is experiencing a huge surge in COVID-19 cases and deaths, with experts warning the worst is yet to come.
Stacker compiled a list of 27 population groups that are vulnerable to COVID-19 using data from the Centers for Disease Control (CDC) on high-risk conditions along with other public health resources such as the Kaiser Family Foundation (KFF) and health reporting from trusted journalistic sources. For each group, Stacker then compiled data on this population's distribution across the United States and how these areas with high-risk populations are experiencing the virus. Stacker also used the data to create maps to show the distribution of each risk factor by state across the United States.
Some of these population groups have been scientifically shown to be at higher levels of risk, while others have been highlighted by the CDC or KFF as potential risk factors. Some of these populations are at risk for physical reasons, while others are more at risk due to social and economic factors. And while in some cases, measures have been taken to try to protect these at-risk groups, in other cases, the populations in question remain especially vulnerable.
It is important to note that while breaking out data on vulnerable populations is useful for identifying particular risk factors in every state, this method does not fully capture vulnerability in each region, as many indicators are correlated. For example, Black populations disproportionately live in more crowded housing, have lower wages, and have higher rates of respiratory conditions influenced by pollution; all of these indicators are listed separately in this story, but many of the same people may be counted in all four groups.
Stacker has also created a public spreadsheet where you can see more information on the methodology used to create this piece. This spreadsheet includes data sources for each indicator as well as population breakdowns for every state. Stacker has also created maps to show the distribution of high-risk groups across the country.
Understanding COVID-19 with Stacker:
States with the highest COVID-19 infection rates
From Wuhan to the White House: A timeline of COVID-19's spread
How vaccines get made and approved in the US
15 ways doctors are now treating COVID-19
35 COVID-19 symptoms to be aware of