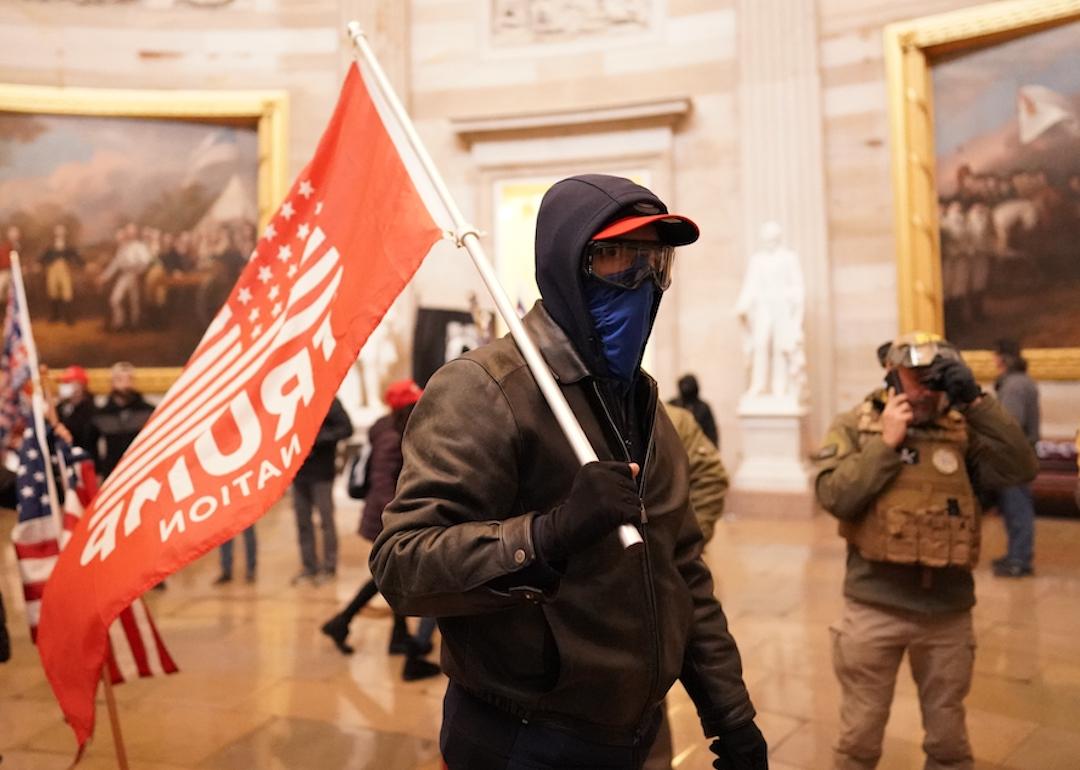 States where the most Jan. 6 rioters were arrested
Kent Nishimura // Los Angeles Times via Getty Images
States where the most Jan. 6 rioters were arrested
Leading up to the riot in which supporters of then-President Donald Trump attempted to storm the U.S. Capitol Building on Jan. 6, 2021, it had been clear to international and national intelligence and research institutions for years that right-wing extremism was on the rise in the country.
As far back as 2009, the Department of Homeland Security noted a cyclicality to the emergence of right-wing extremism, which was catalyzed in the 2000s by an economic downturn and the election of America's first Black president. And indeed, the Center for Strategic and International Studies found in 2020 that right-wing terrorism had surpassed terrorism spawned from other ideologies at an alarming rate.
The CSIS defines right-wing terrorism as "the use or threat of violence by sub-national or non-state entities whose goals may include racial, ethnic, or religious supremacy; opposition to government authority; and the end of practices like abortion."
Right-wing terrorism in the U.S. has found tragic, deadly, and racist expression in crimes such as the antisemitic mass shooting at the Tree of Life Congregation in Pittsburgh and the shooting that took the lives of nine Black worshippers at the Emanuel African Methodist Episcopal Church in Charleston, South Carolina. On the first day of the Biden administration in 2021, the White House officially listed domestic terrorism spawned from right-wing extremism as the main terrorist threat to the U.S.
As a singular event, the Jan. 6 riot was the culmination of years of political division and mounting activity and violence by right-wing extremists. To paint a picture of how widespread such activity has been across the U.S., Stacker investigated where the most Jan. 6 rioters were arrested using data from the Department of Justice.
An estimated 2,000 to 2,500 people entered the Capitol Building during the Jan. 6 riot. As of Feb. 16, 2023, the DOJ has charged 1,003 people in association with the riot, either for actions occurring that day or for having a connection to those who performed them. Of those, 518 have pleaded guilty, and 420 have been adjudicated and sentenced.
There are currently two states without any indicted Jan. 6 rioters—North Dakota and Wyoming—and there are 30 indicted people who have not been traced back to a particular state. The DOJ is still actively pursuing cases; full details on all current cases associated with the Capitol Siege are publicly available from a variety of sources.
States are ranked by the number of rioters arrested in that state; ties are broken by rioters per million state residents.