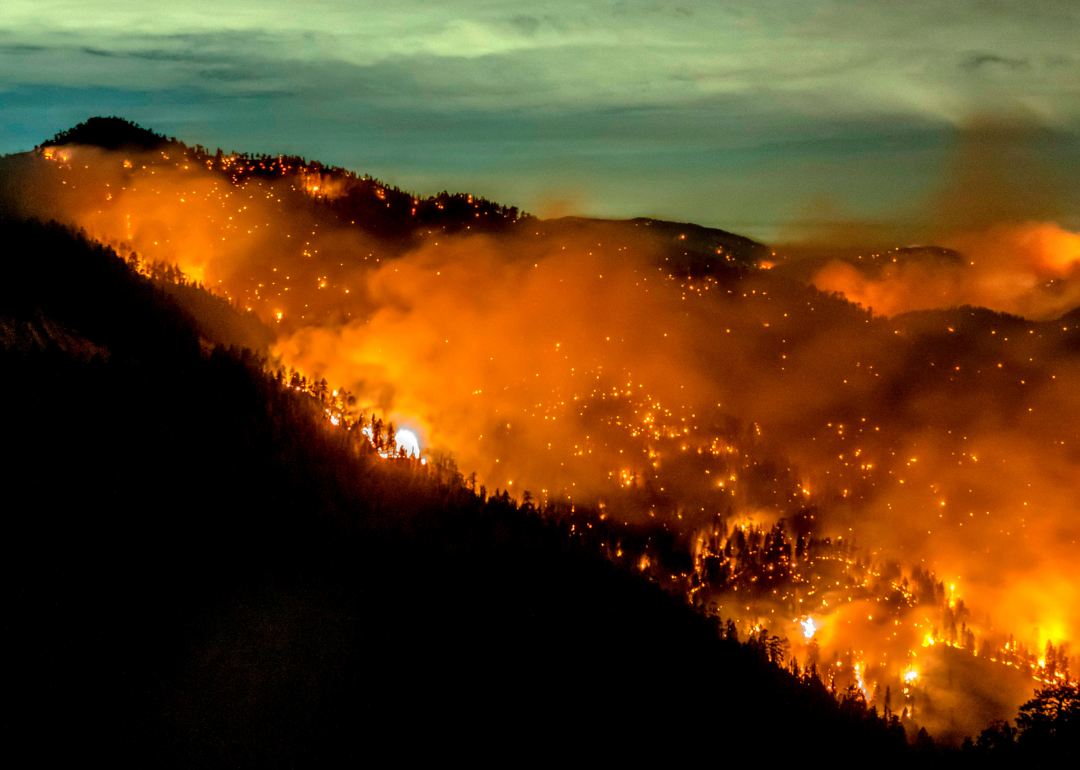 How wildfires have worsened in recent years
How wildfires have worsened in recent years
A series of lightning storms in mid-August 2020 hit Northern California, a region already experiencing a severe drought season, igniting what would become the August Complex fire. Over the course of almost three months, it burned through national forests, destroying 935 buildings and forcing the evacuation of thousands of people. By the time it was fully contained, its total range was over twice the size of California's previous record and among the largest fires in U.S. history. 
Less than a year later, the August Complex's record was nearly broken when the Dixie fires broke out in Northern California, burning more than 963,000 acres and destroying more than 1,300 structures in the region.
Stacker cited data from the National Interagency Fire Center, National Oceanic and Atmospheric Administration, and the California Department of Forestry and Fire Protection to visualize how the spread of wildfires has worsened in recent years.
New breakouts of megafires (fires burning in excess of 100,000 acres) have become a seasonal repetition in the Western United States. Wildfires are innate to forest ecosystems, clearing out dead debris and paving the way for new growth, but climate change has elongated dry seasons, increased temperatures, and widened the potential for large-scale wildfires. Beyond weather-related factors, the prevalence of insects like bark beetles damage trees and make them more prone to burning. Invasive vegetation such as cheatgrass also easily burns and contributes to spread.
Trees, traditionally a storage vessel for carbon, release carbon immediately when burning and during decomposition. The EU's Copernicus Atmosphere Monitoring Service estimated that global wildfires in 2021 released 1,760 megatonnes of carbon emissions, just over what the nation of Russia emitted in 2020. Black carbon, or soot, can also travel beyond wildfire zones, absorbing sunlight and warming the earth further. 
Beyond the environmental threats, the widening reach of wildfires threatens the displacement of countless residents. The Marshall fire in January of this year destroyed more than 1,000 homes in Colorado, demonstrating the harm a wildfire can cause in a densely populated area such as the suburbs. The Camp Fire in 2018 permanently displaced an estimated 20,000 residents in California's Butte County. Despite this, people continue moving to wildfire-prone areas, putting a growing population at risk of longer fire seasons and associated health risks.
You may also like: How climate change impacts extreme weather across America