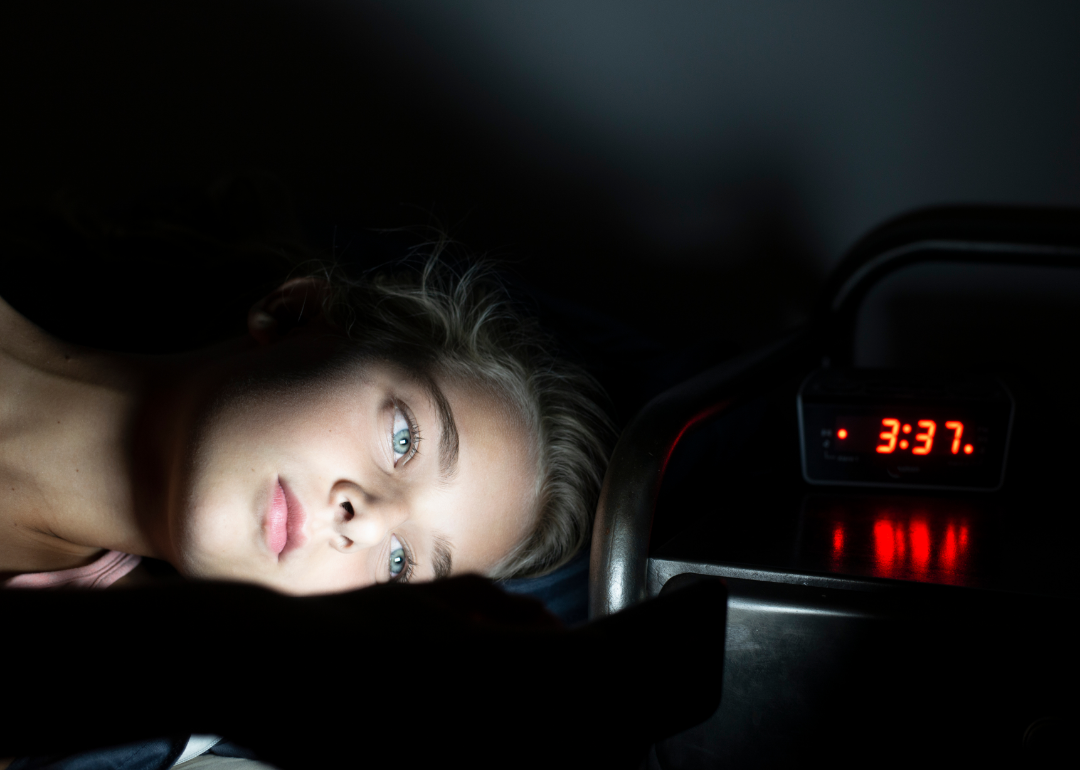 Stacker Studio
5 scientifically proven ways to improve your sleep
5 scientifically proven ways to improve your sleep
The CDC recommends at least seven hours of sleep a night for an average adult—yet that is a far cry from the actual amount many Americans get. 
Sleep disorders impact roughly 70 million Americans, according to data from the Cleveland Clinic, and more than 100 million Americans do not get the recommended amount of sleep each night. 
While we can all relate to the difficulty of making it through the day after a poor night of sleep, the consequences of sleep impairment are much direr. In the short term, sleep deprivation can lead to irritability, performance problems, and slowed reaction times. In fact, 6% more car accidents occur the day after daylight savings when everyone loses an hour of sleep. Over time, sleep has chronic impacts on the cardiovascular system, metabolism, reproductive health, aging and is even considered a carcinogen. 
To further understand sleep and its importance on both physical and mental health, it is vital to have a basic understanding of circadian rhythms, which help carry out the body's most essential functions. Connected to the body's internal master clock, located in the brain—more specifically in the suprachiasmatic nucleus (SCN), which is in the hypothalamus—these 24-hour cycles regulate virtually every hormone and neurotransmitter in the body. Daylight sends a signal to the SCN every day to reset the clock and keep it aligned with the local time on earth. A properly aligned circadian rhythm promotes restorative and consistent sleep, while a rhythm that is not aligned by daylight can lead to sleep issues.
There are two types of sleep: NREM, or non-rapid eye movement, and REM, or rapid eye movement. We cycle back and forth between the two sleep cycles, with each being essential for achieving a decent night's sleep. NREM takes far less energy and helps the brain restore its supply of adenosine triphosphate (ATP) and is divided into sub-stages. REM sleep has many benefits, according to several studies, and can impact learning, mood, and memory, and is tied to mental well-being and overall physical health.
Many factors can cause sleep disorders, including genetics, aging, certain medications, psychiatric disorders, nighttime work shifts, and medical conditions like asthma. Sleep disorder symptoms include memory impairment, irritability, falling asleep during the day, slowed responses, and performance problems at school or work.
Therapy and medical attention can help address underlying causes of poor sleep, but the best solutions are widely believed by medical experts to come from maintaining a healthy, active lifestyle.
Below is a list of five scientifically proven ways people can improve their sleep, citing peer-reviewed studies such as Mount Sinai's recent REVOLV Study, which was sponsored by View Inc.
This story originally appeared on View Inc. and was produced and distributed in partnership with Stacker Studio.